The Honorable Barbara Comstock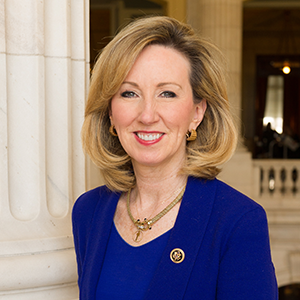 The Honorable Barbara Comstock, former Congresswoman (R-VA-10)
Barbara Comstock was elected to Congress in 2014, and served two terms representing Virginia's Tenth Congressional District, and was the first woman elected to that seat and served as the Chairwoman on the Science, Space and Technology Subcommittee.  She also served in the Virginia General Assembly for 5 years, where she was the Chairwoman of the Science and Technology Committee and received numerous business awards for her leadership on business issues in Virginia.  Prior to that, she was a senior staffer and Chief Counsel on Capitol Hill, the Director of Public Affairs at the Justice Department, and senior partner at Blank Rome law firm. Comstock worked on several Presidential campaigns and started her own public affairs firm.
She is the mother of three children and grandmother of five, and her husband Chip is a longtime Fairfax County teacher and principal.  Comstock was named as one of the "Top Ten Most Effective Lawmakers" in the 115th Congress by the Center for Effective Lawmaking, and was a Resident Fellow at the Harvard Institute of Politics.  She now leads the Barbara Comstock Program for Women in Leadership at George Mason's Schar School of Public Policy and serves as a Resident Fellow at the University of Virginia this semester.  She is a senior advisor at Baker Donelson law firm and an ABC news contributor.
Comstock earned a Bachelor of Arts degree from Middlebury College and a J.D. from Georgetown University.
The Honorable Barbara Comstock spoke at the January 2020 training session.