The Honorable Haley Stevens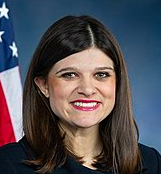 Rep. Haley Stevens, U.S. Congress (MI)
 
Congresswoman Haley Stevens was elected to Congress in 2018 along with a wave of other young, Democratic women. She represents Michigan's 11th congressional district, which includes many of Detroit's northern and western suburbs, such as Auburn Hills, Troy, Livonia, Canton Township, Bloomfield Hills, West Bloomfield Township, Novi, Rochester Hills, Birmingham, and Northville.
Stevens became involved in politics in 2006, working for the Michigan Democratic Party as a volunteer organizer. She worked on the Hillary Clinton and Barack Obama presidential campaigns in 2008, beginning with Clinton before the primary. In 2009, Steven Rattner hired her to join the Presidential Task Force on the Auto Industry, and she served as his chief of staff. She went to work for Digital Manufacturing and Design Innovation Institute in Chicago, returning to Michigan in 2017.
Stevens earned a Bachelor of Arts degree in Political Science & Philosophy and a Master of Arts degree in Social Policy & Philosophy from American University.