Tonia Bui WeLead Class of 2010-2011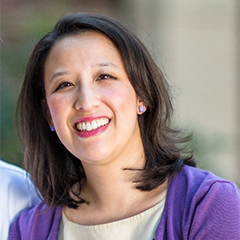 Tonia Bui
Communications Specialist
Montgomery County Public Schools

What was the most valuable thing you learned from WeLead?
The most valuable lesson I learned was how fundraise.  Our group project to raise funds to pay for a portion of our WeLead program really strengthened my networking, communications, and critical thinking skills.  The women in my group were very talented.  I learned how to remain persistent with donor asks.  Our group acquired a sponsorship for a reception room at one of the downtown DC hotels.  We had former Congressional candidate Krystal Ball and previous Running Start Executive Director Jessica Grounds headline our event.  It was such a blast.  That was when I realized I enjoyed fundraising.  I also learned that making the asks for donations wasn't so bad! 

What was your favorite part of the program?
My favorite part was meeting women from many different backgrounds.  Not everyone had a policy background like me.  Some of my WeLead cohort members had degrees in computer science and others owned small businesses or worked in the media industry.  Despite our different career paths, we shared the common goal of promoting women's leadership.

What advice would you give to the current WeLead class? 
Relationship building is a key component of this program.  However, you don't have to be an extrovert to thrive in this environment.  Everyone is a different kind of 'WeLeader'.  Come to the training with your own personal or professional goals and make the best of the sessions that resonate with your goals.

How did you secure your current position, and did it include any WeLead networking or alumnae?
Currently, I'm a Communications Specialist at Montgomery County Public Schools (MCPS) TV station.  My job is focused on building strategic plans to increase audiences, engagement, and viewership among MCPS TV's online platforms that house our television programs.  This role applies my background in communications, journalism, public policy, community outreach, and politics all in one place.  Skills aside, I was drawn to this position because the dynamics of local government was new to me.  I wanted a challenge in my career.  Using the networking skills I gained from the WeLead program, I reached out to many folks throughout Montgomery County to learn about MCPS.  They shared with me that MCPS was a great place to work.  Their experiences sold me, so here I am today with MCPS TV!

Any other thoughts on your WeLead experience?
The WeLead program truly is a space of women who empower other women.  I learned about WeLead through WeLead 2008-09 alumna Ellen Kamei (current Councilmember of the City of Mountain View, California), while we were working on Capitol Hill nearly 10 years ago.  I'm so glad she encouraged me to apply because I'm now part of a network of women that I truly admire.

Bui was working on the Hill and at several non-profits before spending five years as a Senior Consultant at Booz Allen Hamilton.  She is also the founder of the Politics Within Politics blog.