Achievements
Pushing Boundaries: Taylor Dumpson Forges a New Path at AU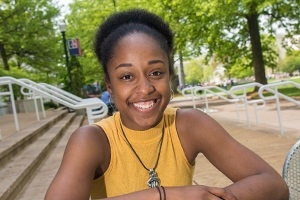 As Taylor Dumpson was walking across campus in early April, another student recognized her and sought her attention. "Are you Taylor?" the student asked. "I voted for you."
Has Dumpson reached celebrity status? At the very least, she is an influential student leader, having just been elected president of American University Student Government. In addition, the national nonprofit Campus Compact recently awarded her with the Newman Civic Fellowship, which supports students committed to helping communities.
Dumpson took a collaborative approach to her campaign, talking with a number of students, clubs and organizations on campus. And she'll continue that approach after her 2018 graduation, hoping to set up a one-stop center that pools the resources of an entire community.
"I've always been a people person," she says. "And I'd really love to be able to work with people, work with community leaders, and work with different organizations to bring everyone together in one spot."
Small Town Feel
Dumpson grew up in Salisbury, Md. on the Eastern Shore. Her mother is an executive vice president at University of Maryland Eastern Shore, and her father is an executive movie producer (he's executive produced The Preacher's Son and The Man in 3B, both available on Netflix). Salisbury had "a very small town feel. Everyone knew everyone. I've had family members in that town for seven generations," she says. 
It was AU's "big city vibe, small town feel" that led her to enroll here, she adds. Having played lacrosse in high school, she was on the AU D1 team during her freshman year.
Planting and Growing
Yet it wasn't smooth sailing at AU that first year. A Yik Yak incident, when anonymous online users made virulent racist comments that were geographically traced to this area, was deeply upsetting to Dumpson and other racial minorities on campus. She soon talked with her parents about transferring.
"But my parents were saying, 'We're going to let you grow where you're planted. We're going to see where it takes you,'" she recalls. Dumpson not only stayed at AU, but she began working to improve race relations on campus. "Everything I've done since my freshman year has really been to make sure that we're opening and pushing the boundaries for students of color, specifically those who are going to come after me," she explains.
As Dumpson notes, she is the first African-American woman elected as student government president at AU. In addition, the new student government leadership team is believed to be the most racially and ethnically diverse in AU history. "We're really changing the culture by being in the room. You know, sometimes it's just being at the table. And with that, we're bringing different ideas and different perspectives," she says.
She also sees some change—albeit, unfinished—in the university's racial climate. "Diversity has definitely gotten better. Inclusion efforts have gotten better, but there's always more work to be done," says Dumpson.
Activities Across Campus
Dumpson spread her wings and got involved in quite a few campus activities. She's the inaugural president of the AU Intercultural Greek Collective, and she's been a program coordinator for the Explore DC through Social Justice program. She was also an Alternative Break leader in Baltimore, as part of a trip to examine racism in the city.
She's currently a junior law and society major and a minor in sociology. Among her favorite classes, Dumpson mentions "Great Trials" taught by School of Public Affairs Assistant Professor Chana Barron.
"She is bright. She is passionate. She is a joy to have in the classroom," says Barron. "I find her delightful, for the hours that we have spent sitting in my office and talking about the world."
Beauty in the Struggle
Dumpson has drawn inspiration from a variety of places. A favorite book is Zora Neale Hurston's classic Their Eyes Were Watching God. She absorbs lessons from the J. Cole song "Love Yourz," with lyrics about "beauty in the struggle" and "ugliness in the success."
"Life isn't going to be perfect. You have to look for the beauty in ugly days, and success isn't always going to be easy," she says.
She also looks back on that shaky initial period at AU. Dumpson never expected to be AUSG president, and she appreciates the journey it took to get here.
"AU is what you make of it," she says. "And while my experiences have not fit the mainstream experience, I'm definitely better for it. And if I could do college over again, I'd definitely still be here."