Television & Film
Two Steps Forward: Grad Student's Film to Screen at DC Black Film Festival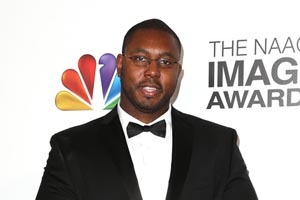 R. Kayeen Thomas's film may be called Two Steps Back, but he's definitely moving forward. The short film will be screened at the DC Black Film Festival on Thursday, August 17, and it's a project that originated in an American University class.
Thomas shot Two Steps Back for a course, Producing the Historical Documentary, co-taught by Alan Kraut, University Professor of history in the College of Arts and Sciences, and Maggie Stogner, an associate professor in the School of Communication. The class partnered with the Smithsonian's new National Museum of African American History and Culture (Kraut had formerly taught AU alum and NMAAHC founding director Lonnie Bunch).
Thomas—a published fiction writer—was more inclined towards movies, but access to the Smithsonian piqued his interest in the course. "I loved the class. It really gave me a broader perspective on documentary film," said Thomas.
Now, with his filmmaking skills expanded, he's considering other ways to promote his work. "The DC Black Film Festival is the only festival I've submitted the film to," he said. "So now that it's made it into this, I'll spend a little more money and submit it to a few other festivals."
Two Steps Back: Rethinking Brown v. Board of Education
If documentary films aspire to confront hard truths, then Two Steps Back accomplishes its goal. Many Americans believe the Brown v. Board of Education of Topeka Supreme Court decision was a civil rights triumph, a key crack in the wall of legalized segregation. Yet Thomas's film questions Brown v. Board of Education's legacy through the views of the late Derrick Bell, a Harvard law professor who worked on school desegregation cases for the NAACP Legal Defense and Educational Fund.
Despite its intention to integrate schools, Bell posited, Brown v. Board of Education failed to ameliorate deep racial disparities in American life. "Derrick Bell says we focused too much on the separate and not enough on the equal," the film summarized.
The short film is anchored by interviews with four experts, including AU associate professor of history Theresa Runstedtler and Howard University law professor Okianer Dark. The film captures moments where interviewees disagree, highlighting the complexity of the subject matter.
"After 246 years of chattel enslavement, we have figuratively discovered a weakened immune system," said Temple University professor Aaron Smith. "For you to go outside and play with everybody that's well, when you have a weakened immune system, can operate to your detriment."
Thomas found that metaphor compelling, and he asked other interviewees for their thoughts. Jefferi Lee, general manager of Howard's WHUT-TV, argued that it was the surrounding environment—and not the African American population—that was damaged. The crux of Brown v. Board of Education, AU's Runstedtler explained, said that segregation caused harm to the psyche of black children. "Then it becomes a situation where you constantly have to prove this individual psychic harm, when, in fact, the system itself is creating this inequality, and there's actually nothing wrong with black people," she said.
Along with Thomas as director and narrator, several other AU students worked on the film: Matt Cipollone was the cinematographer; Jean-Michel Fischre was the editor; and Jimmy Alsberg was the archivist. Two Steps Back utilizes stock footage and public domain images. For digital use, Cipollone took high-definition photos of images from Howard University museum archives.
In the Midwest
Thomas grew up in Washington, DC before heading to Carleton College in Minnesota. In one formative experience, he remembers that many black students disliked an older white girl at Carleton. "It turns out this girl was an African American studies major. People said, 'She thinks she's black!' And when I finally took a couple of classes with her, the reality of it is, she knew black history better than most of the black kids," he recalled. "I knew that I never wanted to be in a situation where I could not speak intelligently about my own culture."
Thomas majored in African American studies and earned his bachelor's degree in 2006. It was while attending Carleton that he first heard Derrick Bell speak. Thomas found him fascinating and, years later, decided to explore Bell's ideas through film.
"When the opportunity presented itself to make a documentary about the African American experience, this is the first thing that popped into my head," he said.
Becoming an Artist
Thomas now works in public affairs for the federal judiciary in DC, and he was recently a communications intern with Vox Media.
While still in college he self-published his first book, Light: Stories of Urban Resurrection. He would later publish two books with Simon and Schuster, and the publisher turned his first work into an e-book. He garnered a nomination for a 2013 NAACP Image Award for debut author, and he won the 2013 Phillis Wheatley Book Award for first fiction. Yet with changes in media consumption, he started looking for other approaches to storytelling. He's now getting his MFA in film and electronic media from AU's School of Communication.
"If the end goal is to affect the community and to really tell a story that's going to touch the hearts and minds of people, then in 2017, you better figure out a way to make it accessible on a cell phone," he argued.
In adopting the label of artist, Thomas sees numerous avenues for self-expression. "Whether it's through film, whether it's through fiction writing, whether it's through lyricism and hip hop, it's creating. Bringing things to life with a message."