In the Community
On the Road: Chaplain Mark Schaefer Rides his Bike for Kay Spiritual Life Center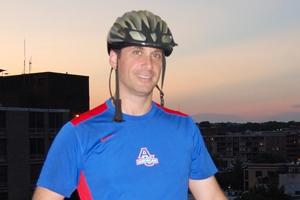 Many people enthusiastically embrace their work. Some even say their job doesn't really feel like a job. Well, there can be little doubt about University Chaplain Mark Schaefer's passion for Kay Spiritual Life Center: This month, he's riding his bike a whopping 505 miles for it.
He'll start and finish this lengthy bicycle trip in the Albany, New York, area where he grew up. He'll make it up to Montreal and cover ground in central Vermont, Upstate New York, Lake Placid and the Adirondacks.
If that sounds like a spiritual journey—he does think up the occasional sermon while riding—it's primarily about supporting Kay Spiritual Life Center. He's asking for sponsorship from friends, colleagues, students, and alumni.
"The money will be used for programming. One of the things that we've been trying to do is really create opportunities for people to come together in the community, to get to know each other and build those relationships," he says.
Kay's programming provides opportunities for students, faculty, and staff to engage with one another. AU community members gather for Table Talks to discuss timely moral, ethical, and political issues. The center also hosts lunches to help international and US-born students connect and holds sandwich-making events to benefit the hungry and homeless.
Avoid the Headwinds, Smell the Wildflowers
In an interview before he started—his ride is already underway—Schaefer mentioned a goal to raise about $5,050, or $10 per mile. As with previous riding excursions, he's blogging about his experiences, and he's planning to occasionally tweet or post a Facebook message.
"I try to disconnect a little bit from social media. But it also is an easy way for people to follow and see if I'm still alive," he jokes.
In this hyperkinetic digital age, it's rare for anyone to have that many hours of uninterrupted reflection. "I think of everything," he notes. "Sometimes I will get ideas for sermons. And because I blog to share with anyone who wants to read about it, I sometimes even start crafting the narrative. I'll think, 'Well, how will I describe this later?'"
On an earlier bike trip to Chicago, he realized he'd made a mistake in traveling from east to west. "There were 25-mile-per-hour headwinds. And I remember in the middle of that day thinking my journal entry tonight is going to be, 'I don't know that I can do this.' And how demoralizing that would be," he recalls. "But I also think about what this trip means in the moment." 
This time, he'll draw on his training and biking experiences over the years. He remembers a middle school ride around the Adirondacks to Lake George and into Vermont. Yet he didn't do hard core riding until many years later, circa 2010, when he embarked on a trip from DC to Albany and another to Harpers Ferry. About four years ago, he went much farther and rode 816 miles in the same Upstate New York area.
"You get to see the country in a way that's far more intimate than any other mode of travel. There's sort of decreasing levels of intimacy as you go from car to train to plane," he says. "On the bike, you really get to experience being on the road. You can stop more easily and take a photograph of something. You smell the wildflowers as you ride by—you just notice more details."
Finding the Ministry
Schaefer earned a bachelor's and master's in Russian language and literature from University at Albany (SUNY) before attending law school at George Washington University. Though raised in the Methodist tradition, he was disillusioned with the church by the time he was practicing law in DC. But then he joined Foundry United Methodist Church in DuPont Circle, which Bill Clinton and family attended during his presidency.
"That church's witness for inclusion, for justice, for making a difference in the world really spoke to me in a way that I had drifted away from," he says. "I very much found a home there."
He garnered recognition for his DC voting rights advocacy, and people suggested he explore the ministry. After some hesitation, he enrolled at Wesley Theological Seminary and got a pastoral internship next door at AU. He eventually became United Methodist campus minister here, and following Joe Eldridge's retirement, he was selected as university chaplain in 2016.
Interfaith by Design
Like Eldridge, Schaefer's United Methodist worldviews are shaped by the "social gospel" or social holiness.
"What our faith impels us to do is to make meaningful change in the world," says Schafer, who also teaches in the Philosophy and Religion Department. "Because we have a campus full of people engaged in social justice, I try to give them a framework that helps us understand why we're doing this, and what is the value that we're serving."
Other universities may convert chapels to include other religions, but Schaefer notes how Kay Spiritual Life Center was specifically devised from the beginning to be an interfaith space. The center serves 24 different religious communities, with some 40 chaplains, encouraging interaction between Hillel, Muslims, Catholics, Chi Alpha (Assemblies of God), Sikhs, and many other groups.
"I love getting to have these interesting conversations with my colleagues in different faith traditions. What I've come to see is how all our traditions are really these big metaphors for some unknowable mystery. And we sometimes get hung up on the different ways our metaphors are expressed, but they're all kind of pointing in the same direction."