Achievements
Two of a Kind: Argentine Twins are Fulbright Scholars at SPA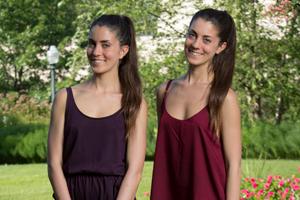 Most people would love to call their daughter a "Fulbright scholar." By that measure, Sabina Blanco Vecchi and Candela Blanco Vecchi are probably making their mother especially proud. The Argentine twins both secured Fulbright scholarships to attend graduate school at American University, and they're just getting their feet wet this semester.
Sabina and Candela are both earning master's degrees in public policy from AU's School of Public Affairs. Though they each have their own specialty—Sabina is focused on environmental issues and Candela has an international development concentration—they're both ecstatic to be studying in the United States.
"I'm really happy being here. I always wanted to study here and be in contact with other people and other cultures," says Candela. "As a city, Washington, DC, is amazing. And, of course, American University is an amazing place."
Sabina adds: "For us, this is a dream come true."
Beachside Beginnings
Sabina and Candela grew up in Mar del Plata, a coastal city in Argentina, southeast of Buenos Aires. Living near the Atlantic Ocean gave them a lifelong affinity for the beach and water, and Candela still likes heading down to DC's Waterfront and Wharf.
Their mother, who now lives near the southernmost tip of Argentina, is a psychologist specializing in mediation and conflict resolution. Their father was a lawyer who passed away five years ago.
"He's my idol. My father was one of my inspirations. And he always believed that we were going to be here, [at least] once in our life," Sabina says.
"Both of our parents were really passionate about their work," Candela notes. "So that was something that was very important for us to see."
Their charismatic personalities—both are self-declared extroverts—and the twin novelty led them to appear together in commercials in Argentina. They say those Coca-Cola and Crest ads may have previously floated around the internet, but now they're probably lost to history.
Academic Pursuits at SPA
Sabina and Candela did their undergraduate work at University of Buenos Aires, and they also got advanced degrees in their home country before accepting the Fulbright.
Sabina is a research assistant at the Center for Environmental Policy, working for director Daniel Fiorino. She has an international outlook, with interest in climate change and renewable energy. Though environmental regulation is a source of contention in Washington, Sabina still sees positive US actions on these issues. "You have state-level initiatives that we did not have in Argentina," she says.
As she learns so much abroad, she hopes to apply those ideas back home. "I'm from Argentina, and I love my country, and I know that there is much more to do there," Sabina notes. "I'll probably go back, but I'm open to working for environmental goals at a global level."
In high school, Candela had a knack for languages, and she still speaks five: Spanish, English, French, Portuguese, and Italian. She earned her bachelor's degree in political science, and she's drifted toward the international development field. Candela spent many years working for the Ministry of Foreign Affairs, and as a permanent staffer, will have a role there when she returns.
"International cooperation is the topic that really interests me. And I have always dreamed of having an experience working at an international organization," says Candela, mentioning the World Bank, the Inter-American Development Bank, and the United Nations.
Lending a Hand
Though this is Sabina's first time in Washington, Candela visited the city briefly as part of a US trip. But neither expresses unease about moving to a foreign country.
"Perhaps it's because I really want to be here," says Sabina. "And every day I learn something different."
Argentina's economy is struggling, and the Fulbright scholars notice a higher quality of life and better services in the US. They've also observed subtle differences among the two populations. Argentines tend to be warmer, while Americans put a premium on personal space and not knowing their neighbors. But Sabina and Candela also say Americans are quite willing to lend a hand.
"When we arrived in the US, everyone told us, 'Just ask for help if you don't know what to do.' And here that really works," says Candela.
Sabina and Candela live together in DuPont Circle, and they enjoy biking around town. In fact, it's harder to find differences between them than similarities. They both like soccer and field hockey, though only Sabina dabbles in music and plays the piano.
Do they ever suffer from an identity crisis? Being twins is all they've ever known, they explain, and they wouldn't have it any other way.
As Candela sums up, "You have somebody every time you need somebody in your life."