On Campus
Inspiring Grad Stories: Annelise Straw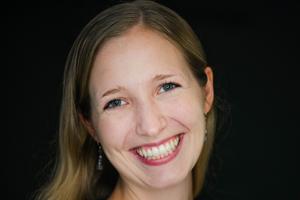 You know those Facebook flashback alerts reminding you of your whereabouts five years ago? Annelise Straw saw one recently, and she can hardly believe how much her life has changed. Straw graduated this month, but she traveled a winding road to American University. She pursued not one, but two, potential careers—as a ballerina and a professional chef—before deciding to study food access issues. And as she sees it, those detours were worth the trip.
"I am so lucky, because I've had the chance to do some very unique things. Everything that I've done, and every decision that I've made, has led me to this place right now," she says.
She's earning her BA from the School of International Service. Next semester, she'll finish up her SIS master's degree in global environmental policy with a focus on agriculture and food studies. And Straw performed exceptionally well to boot, becoming a Rhodes Scholar finalist this fall.
Dancing and Baking
Straw hails from Blacksburg, Virginia. Her parents are both teachers, but she had ancestors who worked in coal mines near the Virginia-Kentucky border. Those Appalachian roots instilled in her the importance of familial bonds and neighborhood support.
"The feeling that you are deeply connected to a certain place, and to certain land. That's something that I carry with me," she says.
Yet she got accustomed to moving often, sparked by her passion for dance. With the aim of becoming a professional ballerina, she undertook a rigorous training regimen and started homeschooling in 6th grade. In 8th and 9th grade, she attended boarding school in DC at the Kirov Academy of Ballet. While taking her high school classes online, she worked in ballet companies in South Florida and Richmond, Virginia.
But as the training became increasingly intense, she grew frustrated. "Ballet, especially with female dancers, is associated with a very specific body aesthetic," she says. "At the Richmond Ballet, they would weigh us like once a week. And it just became very emotionally and mentally harmful."
During those years, Straw worked at a restaurant to supplement her income, and she started questioning her career goals. "I was enjoying my time at my job cooking more so than going to rehearsal all day," she says. "I got incredibly passionate about baking, and I was doing that with all my free time."
Straw then made a dramatic decision. She gave up dancing to enroll in a two-year program at the Culinary Institute of America in Hyde Park, New York. "It was an amazing experience," she says. "I really credit going there for figuring out who I was as an individual."
Food Equity and Fairness
While at the Culinary Institute, she got an externship at a restaurant on a completely sustainable farm. She was hired there full time as a pastry chef and earned her associate degree from the Culinary Institute. Straw began thinking more deeply about sustainable agriculture, how food should be produced, and the relationship between farmer and eater. And she contemplated moral issues surrounding food equity.
"I began wondering why poor people—like some people in the area where I grew up—couldn't have access to this amazingly grown quality of food that supports larger ecosystems," she recalls. "I felt that the only way those questions were going to be answered was if I went to school."
After taking a class at the New School in New York City, she researched programs and saw a great fit at SIS. As a nontraditional student, it took her a while to adjust to her new life. But while delving deeper into graduate school classes, she made friends in the program and got valuable assistance from her research professor, Anthony Fontes.
Returning to Her Roots
While taking Fontes' research methods class, she proposed going to Southwest Virginia's Dickenson County—where her mother grew up—to examine how people's relationships with food shift over time. As part of the AU Summer Scholars and Artists Program, she got $4,000 to conduct research on the ground.
"It's a community that's extremely poor, malnourished, and food insecure. So, I was really interested in how this transition happened," she explains. "Most people I spoke to remember when they were kids, if they didn't grow it, they didn't eat it."
Now, without a parent's garden or semi-subsistence farming, she says, they need to buy their food through retail. But in that county, you can travel hundreds of miles before finding a major grocery store. Since locals might be less forthcoming with outsiders, Straw's ties to the region helped her gain people's trust.
"It was looking at how people access their food, their procurement practices, and just the type of food they ate."
She went through an extensive Rhodes scholarship application process, with invaluable assistance from the Office of Merit Awards and a recommendation letter from AU president Sylvia Burwell. Although she wasn't selected, the cliché is apt: It's an honor to be considered for a prestigious scholarship.
"Everything is for a purpose," she says now. "It really helped me craft what I'm interested in, be able to talk about it, and figure it out for myself."
Finding Her Space
Straw worked full time while earning her undergraduate degree. She was a nanny for a while, and she also put in long hours at a Capitol Hill restaurant. She's interned in DC for the No Kid Hungry campaign.
After finishing at SIS, Straw wants to earn her PhD in critical human geography, through the lens of food and agriculture. And she clearly loves the higher ed environment, hoping to rejoin it one day as a college professor.
"The space in the academy is where I want to be, because of the openness and acceptance of so many different ideas," she says. "AU has definitely opened up my perspective on the world, in so many ways that I didn't even think possible."