Alumni
Black Millennials and the American Dream: Alumna Pens Book on Her Generation's Struggles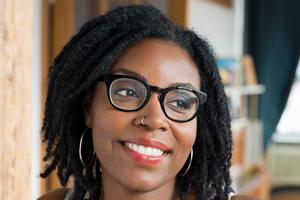 If you've been paying attention to national discourse, you've probably heard a variation on this dispiriting theme: "What happened to the American Dream?" Huge gaps of inequality, with barely growing—or even stagnant—wages have left more than a few millennials pessimistic about the future. According to AU alumna and journalist Reniqua Allen, the problem is particularly acute for African-American millennials. They're dealing with similar economic challenges as whites, while facing old and newer forms of discrimination and struggles with identity.
"The American Dream is hard. I think it's hard for millennials to attain overall, but it's even harder for young black millennials. It's not just about feelings of burnout. I think it's also about having to consistently fight for this humanity, for people to see you as full human beings," Allen says in an interview. "It's kind of unbelievable to me that this fight is still here."
Allen (SOC, SPA/BA '03; SPA/MA '04) covers this extensively in her new book, It Was All a Dream: A New Generation Confronts the Broken Promise to Black America.
Roadblocks, Old and New
In her book, Allen interviewed some 75 black millennials about their life experiences and perspectives. She felt millennial discussions often center on urban elites, so she also spoke with people in rural and suburban communities.
In comparing black millennials to their parents—many of whom lived during legal or de facto segregation—Allen found young people struggling with new roadblocks. For instance, a homebuyer in the 1950s and 1960s dealt with redlining, while newer African-American homeowners got caught in the subprime mortgage crisis. As she wrote in the New York Times, and recounts in the book, Allen herself was a predatory lending target because of her race.
"We, too, face economic challenges. Unions are obviously declining, and studies show that that's affected African Americans in particular," she explains. "And honestly, home ownership rates aren't that much different than they were in our parents' time, which is astounding to me."
What's also apparent to her is a sense of limited opportunities and disappointment among African-American millennials. For a generation alive during the election of the first black president, she says people felt there would be—or at least should be—more racial progress.
"We've been operating in this environment where people are saying that you can be anything that you want to be. Oprah's on television. Black Panther just got nominated for an Academy Award. But people still don't fully recognize how challenging it is to be young and black in America, and how much those successes are often anomalies more than every day occurrences," Allen says.
Gray Areas and the American Dream
In Michael Moore's classic documentary, Roger & Me, he spotlighted the random jobs people resorted to after General Motors' layoffs. Most famously, he spoke with a woman who sold rabbits.
Using aliases, Allen found similarly offbeat but fascinating people whose stories illuminate the hardships of some black millennials. She interviewed a woman working as a dominatrix to help pay college tuition, after her parents stopped supporting her. Allen also spoke with a sex worker in jail for a crime she says was self-defense.
But Allen notes that, while she expected memorable stories from marginalized people, she was surprised by her conversations with black professionals. The racism they've experienced was hard to pin down, she says, and that uncertainty became a source of frustration.
"It was in our parents' generation where there'd be signs showing segregation, or calling someone the n-word. Here, there are these gray areas that are really hard to prove," she says. "There are a lot more questions for people: 'Is this racism? Is this not? Who do I report it to?'"
The appeal of the American Dream is deeply rooted in the nation's founding, Allen notes. In some ways, she says, black Americans believe in this ideal strongly. "We love a good rags-to-riches tale. And who exemplifies that more than black Americans? We were slaves, and we have been able to reach the highest positions in the country," she says. "But it's really still hard for black millennials. I want people to understand that, and I don't think they do."
Storytelling and Powerful Moments
Allen grew up in Englewood, New Jersey. As an 11-year-old, she enrolled in a youth journalism program that inspired her eventual chosen profession. She interviewed public figures like Al Sharpton and Rudolph Giuliani, but it was speaking with voiceless individuals that really resonated with her. When she was 16, she took a trip to Haiti with UNICEF and met with child slaves.
"They were my age, or a little bit younger, and it was a really powerful moment. And I think that made me want to tell those kinds of stories," she recalls.
She came to AU because it offered a high-quality study of both journalism and politics. During her time here, she landed internships at the National Education Association, the Brookings Institution, and NewsChannel 8.
About her AU experience, she says, "I really adored it. I really liked the professors … DC is a great place to go to school. I just really loved it." Allen graduated with a bachelor's in print journalism and political science. She then earned her MA in political science, with a concentration in applied politics, from the School of Public Affairs. She still keeps in touch with School of Communication assistant professor Amy Eisman, as well as some of her former classmates.
Recently, she got to know professor Ibram Kendi (she attended AU before he joined the faculty), and Kendi interviewed Allen at Politics and Prose about It Was All a Dream.
Allen has worked at MSNBC headquarters in New Jersey, Fox News, and eventually spent years doing production for Bill Moyers at PBS. She's now a producer and working on a documentary for Fork Films. Allen is also getting her PhD in American Studies from Rutgers University.
In her recent New York Times piece, she wrote that she'd always aspired to be Khadijah James—Queen Latifah's character on Living Single—but real life has been much more difficult. Still, Allen's in a good place right now. She's getting married this year, and of course, she just got her book published.
"In many ways, financially, writing books doesn't make you rich. But even just getting my voice out there—that's amazing and wonderful. That's definitely what I would define as success."