Achievements
Appetite for Knowledge: Annelise Straw is the 2019 President's Award Winner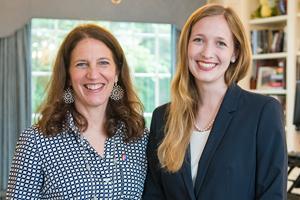 Annelise Straw took a circuitous route to American University, but she speaks about her time here with focus and clarity. A former professional chef, she turned toward studying the complicated access issues surrounding the food she was preparing. Straw embraced her classes with intellectual vigor, and she's getting recognition for her efforts.
The university is now honoring Straw with the President's Award, the highest distinction for an AU undergraduate each year. Straw is completing a BA/MA program at the School of International Service. She'll be noted for her undergraduate achievements at commencement in May, and she's slated to finish her SIS master's degree in global environmental policy, food and agriculture concentration, in December.
After meeting with President Sylvia Burwell last week, Straw sat down with University Communications and Marketing to discuss AU, her fascination with food studies, and how she worked her way through college. You can also learn more about Straw's backstory in an earlier profile. The conversation below has been lightly edited.
UCM: How did you find out you were the President's Award winner?
Straw: It was on a day when I didn't have work, so I was lucky enough to spend the morning in the library here. And I like to sit on the quiet floor, and I saw I got a phone call from a 202 number. I didn't know who it was. But since it was 202, I figured I should answer it. So I answered it very quietly, because you're not allowed to talk on the quiet floor. And then President Burwell says, "Hi Annelise, it's President Burwell." And I ran out of the quiet floor. Then I ran downstairs and ran outside the library!
UCM: Were you surprised?
Straw: I was very surprised, because it was only a few days after we had had our initial conversation together. I don't know why I was expecting a longer amount of time between the president's meeting and the decision. And I had really no idea, you know?
UCM: You took a nontraditional path to get here. Do you think your AU experience was perhaps different than if you had come in straight from high school?
Straw: Absolutely. Coming in as an older student and having a lot of life experience behind me really let me have a very clear perspective about my time here. And I think that sometimes when you come in right out of high school, there are so many conceptions of what college is supposed to be like. And I think that you can get easily wrapped up in the social aspect of college. But coming in, I totally had a clear focus and a clear goal. And that really allowed me to prioritize. Even though I was working full time, it allowed me to set high standards for myself in school.
UCM: You worked at a Michelin star restaurant before attending AU. Why did you want to study food access and agriculture from an academic perspective?
Straw: I was working at a restaurant on this farm that was doing sustainable agriculture and growing the food. We were using that food in the restaurant in the most idyllic way—the way all foods should be grown. But the only people who were able to access that food were those who were going to spend large amounts of money at the restaurant. So I began questioning the broader practices, and the restaurant's claim that we were changing the food system. It was bettering the food system—that was true—but it was true for a very small sum of people. I really was questioning broader economic and sociopolitical powers at play. That led me to want to come to school, because I didn't know how to answer the questions that I began to have without immersing myself in education.
UCM: You've said you plan to earn your doctorate and become an academic. Will your research be geared toward influencing food policy? What do you hope to achieve?
Straw: Well, I want to study critical geography. And within critical geography, geographies of food. I'm honestly not sure of my exact place, and where I want my research to have an impact. But I think I'd really like to help the next generation, so these entrenched food inequities are not just perpetuated generation to generation. And I think the only way that you can do that is really shedding light on the issues, and critically thinking about the broader system.
UCM: How has AU aided your personal development? Do you feel like a very different person than when you started?
Straw: I do. I feel like AU has transformed me into the person I've always strived to be. Throughout my whole time at AU, I've been grateful to have opportunities that I didn't even know existed. Getting into the BA/MA program very fast, with the help of my advisers, was really something I wasn't expecting. And that really helped my trajectory, and it helped me find my space. Coming in as an older student, my first semester was a bit challenging. Just kind of figuring out who I was here on this campus. But once I met some faculty, and I realized that you could just focus on your scholarship, I felt at peace. And then the grant I got last summer, through the AU Summer Scholars and Artists Program, was my first opportunity to really grapple with my own original research. And that helped me get into the field, and I think solidified the kind of field work that I like to do. That was an eye-opening experience in terms of what research can do, and how research is so transformative.
UCM: So you did that study about Dickenson County and some Appalachian parts of Virginia. Was it valuable to learn about a place where your mom grew up, and where some of your ancestors lived?
Straw: It was really valuable. I'm from southwestern Virginia. I grew up about two hours south of Dickenson County. Coming at it from an academic perspective is interesting, because you see the area in a little different way. You have to be careful not to romanticize a place that can easily be romanticized. But then you also can't talk badly about it, so it's an interesting middle ground. And I think you can't know to not romanticize a place unless you really have been there, and you know the place deeply.
UCM: Can you talk about the mentorship you've received at AU?
Straw: I spoke about this in my conversation with President Burwell. I talked about the guidance and the relationships that I've built with the professors. I think that is really something that I am eternally grateful for during my time at AU. Garrett Graddy-Lovelace has been such a guiding light. I realize that what I thought I wanted to come to school for, I didn't even know if it was a discipline. And Garrett really opened my eyes to this whole field and whole discipline that is thriving and doing incredibly important work. So she's helped me realize that my dreams are a reality. And I've been privileged to take two classes with Scott Freeman. As an undergrad, I took his international development course, and it completely changed the way that I see the world. His class was kind of a turning point in the way that I view power, and the way that the world works. He has turned into more than just a professor. Kind of an all-around mentor. We can talk about life and all sorts of things. Anthony Fontes has also turned into a mentor. I could name others. That's just naming a few.
UCM: You worked at places like Capital Area Food Bank and No Kid Hungry. How did you balance an extremely busy schedule and still manage to maintain a high GPA?
Straw: Well, I have to be honest that when I drove here, I changed my clothes in the car because I was babysitting this morning. And now when I leave here I'm going to run to Capital Area Food Bank. So I keep very busy, but I remind myself that everything will get done. There are always some late nights, but even if you have to stay up late, the paper will get written. I think that's an area where I've personally grown during my time at AU, because I did struggle with some anxiety the first few semesters. But now—this semester, especially—I really feel in control. I think that you have to always just remember what's important, and then you can manage everything. I've found a way to do it, and it works for me. And I recognize that it wouldn't work for everyone. But if I didn't work my jobs, then I couldn't be at school. So you set your priorities.
UCM: Is there one memory you'll take with you when you leave AU?
Straw: I think all my best memories are going to be from the classroom, where I really felt like, "I'm so glad to be here." Or, "This is where I want to be." Maybe not necessarily in the classroom, but more metaphorically. I've had such a winding journey, and there have been many moments this year when I've felt so at peace with my decision to be in school. I think Scott Freeman has always said that the questions are the most important thing. The questions that you come up with along the way are what drive you. So, sometimes I walk around campus and I walk into SIS and I think, "Oh man, I really like this place." I'm sad with the prospect of having to leave AU in December, because this campus and this school have made DC home.