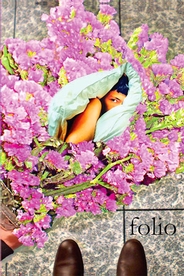 General Submission Guidelines

Folio is a nationally recognized literary journal sponsored by the College of Arts and Sciences at American University in Washington, DC. Since 1984, we have published original creative work by both new and established authors.
Past issues have included work by Roxane Gay, Michael Reid Busk, Billy Collins, Chloe Caldwell, William Stafford, Bruce Weigl, and Ross Gay, and interviews with Michael Cunningham, Charles Baxter, Amy Bloom, Ann Beattie, Walter Kirn, and Marie Howe, among many others. We look for well-crafted poetry and prose that is bold and memorable. We want art that challenges. We encourage you to look at a recent issue of Folio to determine the compatibility of your work with our magazine. To purchase copies, please visit http://foliolitjournal.submittable.com/submit
Our reading period is currently CLOSED, and will reopen in the fall of 2015.
ART SUBMISSIONS
Folio seeks gritty, exciting, compelling, inspiring art. We now feature comic, graphic novel, paint, photography, and digital art. Featured artists in our most recent issues have included Asaf Hanuka, Yumi Sakugawa, Frank Correa, Ivan Pinkava, Sai Abishek, and Chelsea Martin, to name only a few. When submitting, please include a description of your work and the themes or motivations you are exploring.
Submissions can be in any medium and may be printed in color or black and white in high-resolution jpeg or TIFF files at no less than 300 dpi. Please contact us with any questions at folio.editors@gmail.com.