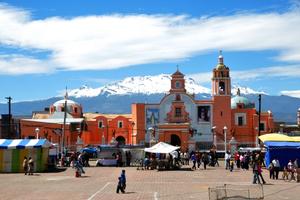 Puebla, Mexico | Photo Credit: Russ Bowling | Flickr Creative Commons
Since the 1960s religion has been a remarkably dynamic force in Latin America, paralleling the shift from dictatorship to elected government. Catholic leaders and activists opposed authoritarian regimes, influenced democratic "transitions," and within substantially altered ecclesial institutions, have remained a significant presence in more open societies today. During this same span, burgeoning Evangelical and Pentecostal churches have become a major social phenomenon across the region, with a growing prominence in public life.
This period of religious dynamism has also been a notably violent one in the region, initially characterized predominantly by state repression and struggles to defend human rights and, more recently, by criminal violence and efforts to enhance citizen security.
This initiative sought to illuminate how religion has related to violence in different contexts. Research had three key objectives: 1) to assess the impact of churches and religion on political change in Latin America through the last half century, in both dictatorships and democracy; 2) to examine specifically their role in the defense of human rights and ministry toward victims of violence; and 3) to interpret how religious ideas and practice have been shaped by political context and different forms of violence.
The project encompassed structured dialogues as well as research and brought together academic specialists, religious "practitioners," investigative journalists and policy makers. It undertook thematic and comparative case study research of Brazil, Chile, Colombia, El Salvador, Guatemala, Mexico and Peru and circulated findings in white papers as well as scholarly publications.
This project was directed by Alexander Wilde as a Research Fellow at CLALS, together with the Center's Director, Eric Hershberg, and Joseph Eldridge, American University Chaplain and Director of the Kay Spiritual Life Center. It was supported by a two-year grant of $375,000 from the Henry Luce Foundation.

An initial planning meeting was held in Washington, DC in March 2012. The project sponsored a panel at the 2012 annual conference of the Society for the Scientific Study of Religion (SSSR) held in Phoenix, AZ, which highlighted select pieces of cutting-edge research carried out by participants. At a workshop in January 2013, project participants commissioned to write papers presented and discussed findings. The 2013 LASA Congress in Washington, DC marked another occasion when scholars involved in the initiative delivered papers on a project-sponsored panel. Please click here for more information on project resources.