Alumni
Student-Alumni Connections Go Virtual During COVID-19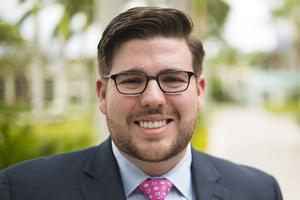 A typical day for Michael Worley, SPA/BA '12, is never really typical. As president of a political marketing company he founded while still at American University, he has a staff of eight people who have worked on more than 150 successful political campaigns. Earlier this year, he joined the American University Alumni Board (AUAB). And, he's a new dad; Worley and his wife welcomed their first child three months ago.
While the birth of his child nearly coincided with Worley's appointment to AUAB, he never questioned the opportunity to take on the role. A longtime alumni volunteer, Worley has always carved out time for AU, and in particular, for current students.
"AU students are very passionate, and I feed off that passion—I find it deeply rewarding to get to know them and share my experience," he explains.
Worley channeled that passion during a "Campaign Connections 2020" session offered by the Career Center in April. The Campaign Connection series pairs students with employers in their fields of interest for resume reviews, career planning, and networking. The series is meant to take place in person, but the Career Center pivoted in response to COVID-19 and offered Worley's daylong session online.
"It was an incredible experience," Worley says. "I'm really grateful to the Career Center for matching me with this group—it felt like they were hand-picked for me and we all clicked. I talked to so many impressive students."
Two of those then-students nabbed jobs as a result of the virtual meetings. Jake Andrejat, SPA/BA '20, joined Worley's company, MDW Communications, and Jose Leoncio, SIS/BA '20, took a spot with Javier Fernández's Florida state senate campaign. Worley was able to refer several other students to fellow alumni and says he is eager to participate in another session with the Career Center.
"I'm a big believer that AU changed my life and has enabled me to be successful," he says. "I'm proud to give back both with my time and financially—we all share a common bond of AU, and it's enriching to be a part of this."  
Worley is particularly passionate about talking with students because he remembers being in their shoes, navigating everything from finances to coursework to career paths. And while he knows current students and recent graduates face new challenges, he's a person who sees silver linings.
For example, he thinks remote work is the future (and all his employees were remote before COVID-19). "For a lot of students entering this market, this is an opportunity to be part of a massive shift in how we work. This is a great time to embrace it, find ways to innovate, and take ownership of this new environment."
He also wants students to understand that, now more than ever, the AU community goes beyond the confines of classrooms—virtual or otherwise.
"We're all going through this crisis together—and we're here to help," he emphasizes. "We are working hard to grow our alumni community and expand opportunities to connect in the months and years ahead. There are so many successful people graduating from AU and doing so well in so many careers—taking advantage of those networks is going to be critical."
Even though campus has looked a bit different the past few months, Worley recently found time to make a trip with a special visitor in tow—his newborn baby.  
"It was one of the most heartwarming things I've done in quite some time," he says. "It reminded me that the AU community is one that inspires, that gives back, and that I'm proud to be a part of and share with my son."