A Message from Amy Lampert Chair of the Alumni Admissions Volunteers Network
October 13, 2020
Dear Fellow Eagles,
What an extraordinary time we are living through! I don't think that any of us could have predicted that we'd all have spent the last eight months wearing masks, staying at home, taking part in insane amounts of Zoom meetings, and socially distancing from family, friends, co-workers, and fellow AU alumni with no end in sight. I do hope that you and your families have managed to stay safe and healthy.
AU has done a great job responding to COVID-19 and supporting our students, faculty, staff, and contract workers. Through the Student Emergency Relief Fund, we were able to help students get home as well as continue to support them as they need it during this unique time. The university implemented a 10% discount for all students. There has also been a hiring freeze as well as pay cuts at the highest levels of our university leadership among the many other measures that AU has taken to ensure the financial stability of the university and the safety of everyone in the community. Our alumni are helping out too by virtually interacting with students, taking part in courses, and by continuing to donate to the Student Emergency Relief Fund. If you haven't had a chance to get involved yet, please do. The very successful Dinner with Alumni program has gone virtual so please sign up to participate. It's such a fun and easy way to get to know a few AU students. Also consider donating to the Student Emergency Relief Fund as we don't anticipate those types of needs going away.
Due to COVID-19, all 2020 Summer Send-Off events were repositioned to be virtual. The new events, titled the Summer Welcome Series, were created to provide an alternate opportunity to engage alumni and welcome incoming students to AU. There were 19 virtual student events throughout the summer to allow students and alumni to connect based on shared experiences. As many as 90 alumni volunteered (55 alumni volunteered for an admissions event for the first time) and 303 students attended, with 105 of the students attending more than one event. Because of the flexibility of being online, we were able to engage more students and families than ever, as well as get more alumni involved with this great program.
Now that school is in session, it's time to concentrate on the next group of AU Eagles. In lieu of alumni interviews this year, there will be online alumni panels for prospective students. This will allow prospective students to ask alumni questions and hear about their AU experiences and how it prepared them for their careers. I encourage anyone able to participate to fill out the interest form.
There's also a new Alumni Admissions Volunteers Facebook group. Admissions volunteer opportunities, as well as other volunteer opportunities, news, and events from the Alumni Association, will be shared here so be sure to join the group so you can get all of the latest information quickly and easily.
I do hope that everyone is adjusting to the challenges of virtual school (or to the unique challenges of in-person school during a pandemic) and that you aren't all going too crazy if you're still working from home. Think of this as an opportunity, not a detriment. When will you ever get this much time at home again with your loved ones? And if you haven't killed each other yet, count that as a win!
Stay safe, stay healthy, wear your mask, and vote like the proud politically savvy AU alum that you are!
Sincerely,
Amy Lampert, SOC/BA '94
Chair, Alumni Admissions Volunteer Network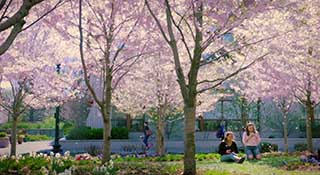 Emergency Relief Fund Helps Students in the Face of COVID-19
Over the past few months, Eagles far and wide came together to assist students in navigating this unique set of circumstances. Right away, many members of the alumni community reached out to ask how they could help.