Alumni Relations
4400 Massachusetts Avenue NW
Washington
,
DC
20016
United States
A Message from Amy Lampert, SOC/BA '94 Chair of the Alumni Admissions Volunteers Network
February 15, 2019

Dear Fellow Eagles, 

As most of the country seems to be in the grips of frigid temperatures, the admissions season is still heating up. I want to thank those of you that have signed up to do remote telephone interviews of prospective students. I just interviewed a girl in Atlanta this evening. She is well spoken, passionate about art and writing and seems like a perfect fit for AU's School of Communication. I always enjoy doing admissions interviews. It's great to hear what tomorrow's college students are doing today and what they envision doing in their futures. It's inspiring as well as fascinating to me.

This spring the AU admissions team will fan out across the country attending New Eagle Welcome Events, many hosted by AU alumni. I've hosted one for several years in St. Louis and will be doing so again this April. I love to to see how excited and eager everyone is at that stage of the admissions process. Many students who attend have already committed to attend American, but many have not made their final college choice yet. It's interesting to hear how the admissions representative presents the school to these students and their families at this stage of the game. I encourage you to see if there is one of these events in your area and sign up to attend. If you don't see one, contact us and let us know that you're interested in potentially hosting an event in your area. We'll see what we can do.

Another great event hosted by alumni are Summer Send-Offs for New Eagles. I have hosted at least two dozen of these events over the years in St. Louis and South Florida, and they are always really fun. Parents especially seem to love this event as it gives them an opportunity to talk to other incoming AU parents.

It's not as hard as you might think to host an event for AU students and their parents. The first thing you need to do is work with the alumni office to secure a date. Maybe you want to host this on your own, but maybe there's a fellow alumnus/a in your area that would co-host with you if you're a little nervous. If you're not comfortable having this in your home, consider hosting it at your place of business or even at a local restaurant or community center.

I always provide a simple yet varied selection of treats. I usually put out cheese and crackers, veggies and dip, cut up fruit, cookies, brownies and other small sweet treats. (If you want to put out something that will immediately be eaten, put out pigs in a blanket with a little dish of mustard and a little dish of ketchup. You will not believe how quickly those will disappear!) Over the years I've even served a cute yet inexpensive sheet cake decorated in AU colors (Costco, Sam's Club or even a local grocery store bakery are all reasonably priced). You don't need to be fancy with what you're serving. Sometimes the guests eat, and sometimes they don't. I find that keeping things simple and small are the best.

I usually put out a dispenser of ice water as well as one of lemonade or another punch of some sort. (My favorite punch recipe for a crowd is 64 oz. of red Hawaiian Punch, 64 oz. of orange juice and a 2 liter of ginger ale. Float a few orange slices in it to make it pretty.)

AU sends information as well as swag for students and parents to take with them. Put a table by the front door for everyone to sign in and grab their stuff on the way out. Your guests will mingle and have a great time. Don't forget to get a picture of all of the future AU eagles to send to the alumni office. At the end of the event send the sign in sheet back to AU, and you are done. It's really incredibly simple to host an event like this. Don't feel like you have to be fancy or make all of your own treats. Everyone appreciates just having somewhere to congregate and get to know each other before heading off for their big AU adventure. 

As always, everyone in the Alumni Office and the Admissions Office thanks you from the bottom of their hearts for all that you do to help recruit future Eagles. It is a lot of work, and we could not do it without every single one of you. Please don't hesitate to be in touch if you have any questions or want to know about admissions events that might be happening in your area this spring.
Sincerely,
Amy Lampert, SOC/BA '94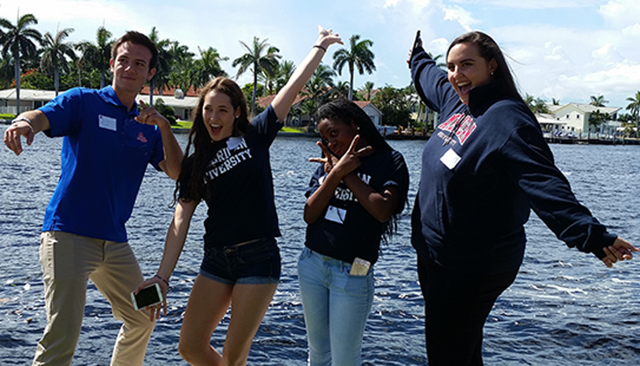 Current AU student Christina Bordeaux describes her experience participating in a Summer Send Off prior to attending AU.