Alumni Relations
4400 Massachusetts Avenue NW
Washington
,
DC
20016
United States
A Message from Amy Lampert, SOC/BA '94 Chair of the Alumni Admissions Volunteers Network
September 21, 2019

Dear Fellow Eagles, 
Welcome to a new school year! By now everyone should be recovered from the 19 New Eagle Send-Offs that took place and were attended by more than 450 alumni, students, parents, and friends of the university. With the help of admissions volunteers, 1,760 students were admitted in the Fall 2019 class. They are an academically strong group with a GPA range of 3.53-4.06 and SAT scores between 1260-1420. Our new Eagles are class officers, athletes, artists, and academics from all walks of life, all with the same dream - to attend American University.

Believe it or not, it's time for a new round of recruitment - information sessions and interviews. The future Class of 2024 is counting on us to help them reach their potential as AU Eagles! The Undergraduate Admissions Office has had some staff changes so you might be meeting new Admissions Officers in your area. They will be focusing more this year on information sessions versus attending every single college fair so if there is a smaller fair that you are aware of and are able to attend and staff as a volunteer admissions representative, I encourage you to get in touch with your area's Admissions representative or email admissionvolunteers@american.edu to set this up.

Prospective student interviews are going to be a major focus for admissions volunteer this year. In addition to on campus interviews, the Undergraduate Admissions Office is looking for volunteers to do telephone interviews of AU applicants. I've done several of these over the years and have enjoyed getting to talk to the next generation of bright, eager college students. Teenagers today are overall a quite impressive group, especially those that are applying to American. They are go getters that are involved with their schools and in their communities. They have lofty plans for their futures that include attending American University.  I strongly encourage you to register to interview prospective students. I think you'll really enjoy the conversations that you'll have.

October 4 - 6, 2019, is All American Weekend this year. If you haven't been back to campus in awhile, this is a great excuse! There are larger social events like the Alumni Awards Dinner, the Multicultural Alumni Reunion and the All Class Alumni party as well as lots of other opportunities on campus to spend time with fellow Eagles from all years. Invite your classmates and bring your families for a fun weekend on campus exploring your old stomping grounds. No matter when you graduated, I think you'll be quite surprised and pleased at how much the campus has grown and changed over the years. American University continues to grow, build and evolve to give our students what they deserve - a college experience like no other.
Thank you to all of you for everything that you did last year on behalf of AU and an early thank you for all that I know you'll do in the coming year. As I always say - and genuinely mean - we couldn't do all of this without our dedicated Eagle volunteers! Thank you!
Once an Eagle, Always an Eagle,
Amy Lampert, SOC/BA '94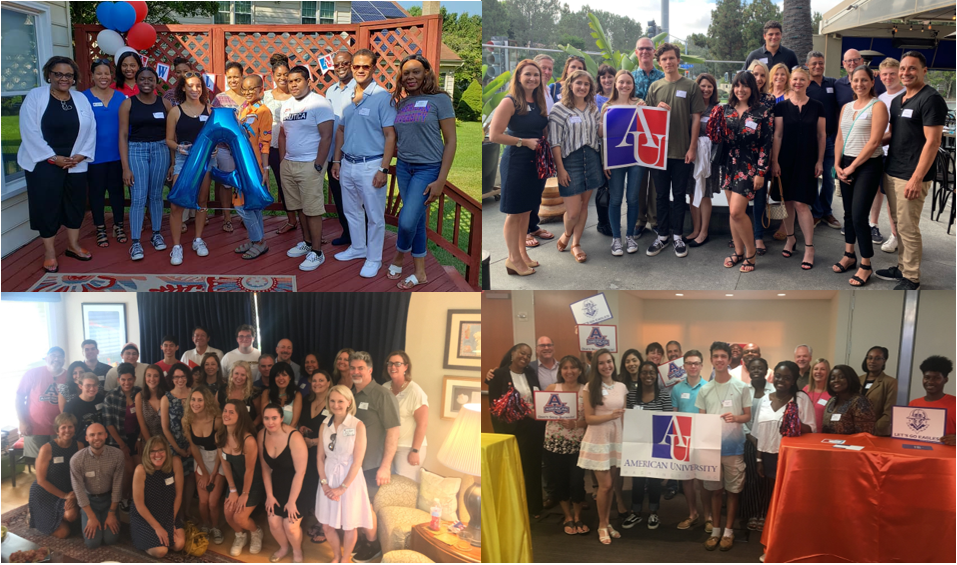 Get to know the Class of 2023!