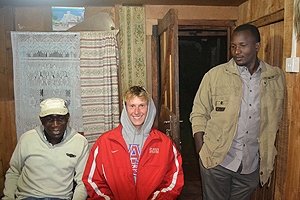 While most people who have never been to Kenya imagine might imagine you living among colorfully clad Maasai, or going to school by camel passing through a den of lions, living as study abroad student in Kenya provides you an introduction into Kenyan life most others are not able to discover for themselves. As a student on our Nairobi programs with our experienced staff, you will have the "on the ground" knowledge needed to navigate the city of Nairobi and be comfortable in a variety of socio-economic and integrated settings. You are also provided the necessary experience of knowing what living outside the capital city is like, going on a few excursions a term that will help you question what you thought you knew.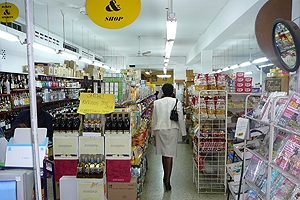 Shopping opportunities in Kenya are plentiful, as the country offers a wide range of products and services, depending on the needs of the customers.
Grocery stores can be just as large as Super Target, with a dizzying array of food staples and delicacies, for very affordable prices. Malls offer a sort of western style experience, although what they sell is often times much more expensive than what you would find in the States. These prices are set and are not negotiable.
In Kenya and especially Nairobi, open air markets are the fun way to practice your Kiswahili by bargaining your way through finding treasures you'll cherish. You must bargain in these kind of colorful and engaging environments, or you're not doing it right!
Here are some practical terms and descriptions for the two largest market choices in Nairobi:
Mitumba is another name for second-hand clothing or accessories, usually donated from countries such as the United States and sold for a profit by Kenyan sellers. You might find brand names such as Guess or Gucci in a pile of clothing that you need to rifle through, for a fraction of the price you would pay if you bought it new. You might find a particular mitumba seller who will find and hold items they think you will like and want to purchase if you are repeat customer. The mitumba industry in Kenyan can be a hot-button issue for those who study development, but it's not an industry that's going to go away quickly.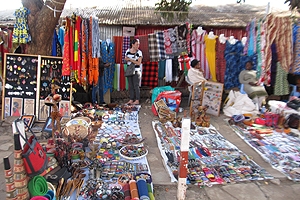 Maasai markets are located at specific locations on specific days all throughout Nairobi, and are hosted by a variety of sellers (not just the Maasai). They carry handicrafts and cloth from a variety of places throughout the continent, from rubber bangle bracelets from west Africa, to Congolese wood masks, to large artistic paintings and Maasai necklaces. These markets are curio paradise!
Travel within Kenya can be an eye-opening and rewarding experience! Students are required to attend all courses and internship responsibilities, but weekends can be used to get outside of Nairobi and see a different side to the country: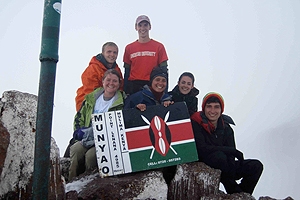 Past students have used a long weekend to climb Mount Kenya, the second highest mountain in Africa after Kilimanjoro in Tanzania. Mount Kenya is in Mount Kenya National Park, which is a UNESCO World Heritage Site. There are eight walking routes up to the peak and back down, covering a wide variety of flora and fauna.
If you put in the time and the effort, becoming friends with Kenyans has its own rewards outside of daily interaction. You might be lucky enough to be invited to a celebration that requires you to participate in local ways outside Nairobi or even in a Nairobi neighborhood you've never been to, doing what you could have never imagined prior to making local friends. Past students have found themselves at Somali-Kenyan weddings, celebrating Diwali with Kenyan-Indian population, and going to Maasai initiation ceremonies.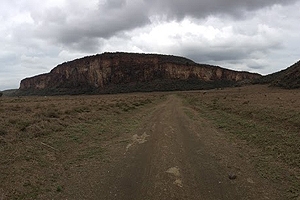 Visiting national parks are a great way to get some time in exploring the nature around you. Past students have used Hells Gate National Park as a regular "getaway", along with visits to Lake Naivasha to camp after viewing fish eagles swoop down for their dinner from a row boat. There are plenty of places to explore within just a few hours of the capital city!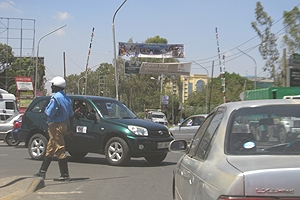 Traffic and Nairobi are now synonymous. Transportation in Kenya is extremely varied, depending on what one would like to do. Our program goes through rigorous evaluation when determining what is the safest way for our students to reach their destinations. Some modes of transport within Nairobi are strictly prohibited for AU Nairobi students, such as driving a car or taking motorcycle taxis (called Boda Bodas). Other options can be at times restricted to certain routes or excluded all together, depending on the situation. Students are required to let AU Nairobi staff how they are getting from point A to point B at all times. Please see some of the most common options for transport within Kenya described below: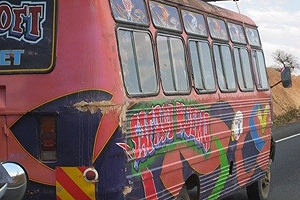 Matatus
Matatus are the most common and cheapest form of transport for a Nairobi city dweller. If you want to have some fun in finding a rhyme to the routes, visit the Digital Matatus online map. Matatus come in all shapes and sizes and carry anywhere from 12 to 36 passengers at a time. They are generally either brightly colored or white with a yellow strip running through the middle. Touts are people who take the money from a passenger and make sure the matatu stops when customers indicate where to get off. Over the past decade, the government has taken great care to better regulate the matatu industry, but you will see some "rebel" matatus make their way on certain routes. Students are not allowed to take matatus past 5pm and are not allowed to get on a matatu in large groups.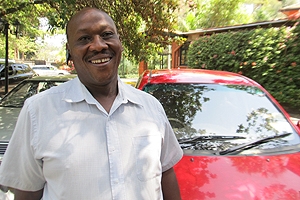 Taxis
AU Nairobi has had a long history with taxis, AU Nairobi staff have worked with certain taxi drivers for over a decade! Taxis are more expensive than matatus, but still less than what you would pay for an Uber or a taxi in D.C. The nice thing about taking taxis is that you can arrange your own schedule beforehand, and be picked up and dropped off at a specific point anywhere in the city (and sometimes even out of the city!). Taxi prices must be negotiated before the trip begins, and if you take taxis frequently enough you can build up a working relationship with a taxi driver who treats you well that you can depend on. Our program uses a network of taxi drivers that we know and trust for students in times when matatus cannot be taken or during some class visits. Taxis are the only mode of transport students are allowed to take after dark.
Buses
Buses are a great way to get around Nairobi. Two popular companies are the City Hopa and KBS. They are larger than matatus and have set routes and stops. Students are only allowed to use buses during the day.
Walking
AU Nairobi students find that they walk more in Nairobi than they do in D.C. Students often find it's easy to walk to where they need to go in a reasonable amount of time, and certainly with the infamous Nairobi traffic, much more quickly than a taxi could get you there. Students often don't leave the house without a small bag to hold their snacks, small shopping finds, and a water bottle. There aren't many sidewalks in Nairobi as a whole, and it is easy to feel a layer of dust after a good walk to the grocery store, but with nearly perfect weather all year round, students find it's one of the best ways they get exercise and enjoy their surroundings!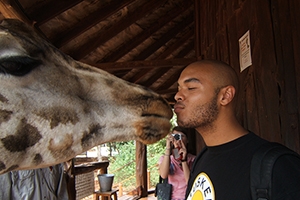 It is amazing how close you can get to nature and wild animals in such an urban area!
There's nothing like witnessing and participating in the pulse of the city vibe...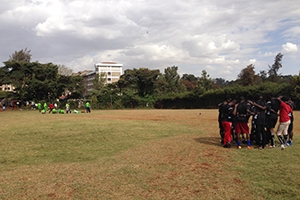 There are also plenty of sports clubs students can join or watch to make Kenyan and international friends!