Bridging the Past, Present, and Future: Recent Works by Sandra Ramos September 6 through October 19, 2014
Sandra Ramos, Horizontes II (Detail), 2012.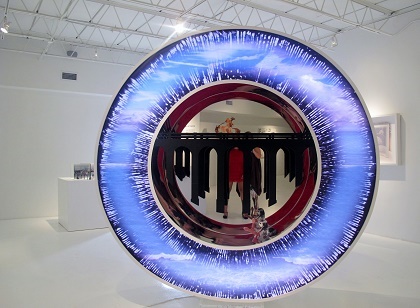 Sandra Ramos, Transitory Identities, 2013.
Lightbox installation 90 x 19 inches.

Sandra Ramos, Defying Electra, 2014.
Charcoal, acrylic painting on canvas print, 39 x 100.
Exhibition Overview
Curated by Diane Camber, this exhibition is comprised of prints, video, collage, and installations created by Cuban artist Sandra Ramos. This artist reflects on the conflicting experiences of living in her beloved homeland with all of its many challenges. Her work often takes a narrative form in which she depicts herself as a child-like explorer or modern day Alice in Wonderland. Ramos' prints and mixed media works feature exquisite craftsmanship and use of color and naiveté, tempered by wit and irony. This exhibition reflects the mordant wit for which Cubans are famous, as well as a kind of nostalgia and exuberance particular to the artist.
Podcast with Sandra Ramos
The National Gallery of Art interview with Sandra Ramos

The recording is on a June 2011 program at the National Gallery and includes Sandra Ramos in conversation with NGA's Michelle Bird.