Brink and Boundary April 1 through August 17, 2014
Curated by Danielle O'Steen
Halsey Burgund, Hotel Dreamy, 2014.
Smartphone app interface.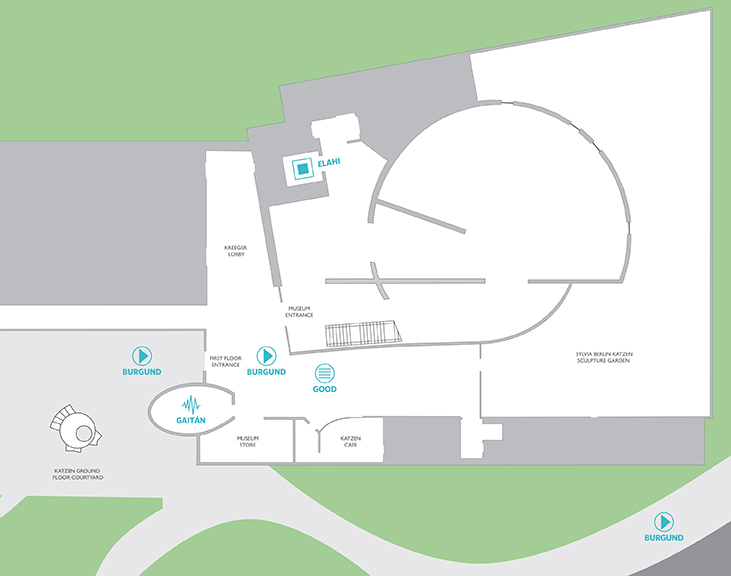 Map and guide to Brink and Boundary at the American University Museum. Designed by Lloyd Greenberg Designs.
Exhibition Overview
Brink and Boundary begins with this invitation: Pause, look, and listen. Embrace your adventurous side in discovering this exhibition, which lives in areas of the Katzen Arts Center that are often overlooked and forgotten-its emergency stairwell, entryway, elevator and exterior. Brink and Boundary is a call to reconsider and to find moments of heightened reflection in these most unlikely of places.
Consisting of four individual artist projects, Brink and Boundary takes residence in these unconventional spaces. It asks visitors to participate in multimedia and multisensory works by artists Halsey Burgund, Hasan Elahi, Alberto Gaitán, and Adam Good. In some instances, the work is invisible, relying on audio sensations to encourage a hyper-aware experience of existing locations; while in others, spaces are transformed through visual components. All four projects provide thoughtful rediscoveries of the museum's interior and exterior and encourages an exploration of our surroundings, our senses, our histories, and our everyday encounters.