Champion Divers: 1st Year MFA Exhibition April 5 – April 20, 2014
Robert Yi, Jenny, 2013.
Oil on canvas, 30" x 30"
Opening Tuesday, January 25, 2011 and closing Sunday, March 13, 2011, six women artists each take over a space in the museum and install new work.

Please join us for the Winter 2011 Artists' Reception on Saturday, January 29, from 6:00 to 9:00, preceded by a gallery talk by Dafna Kaffeman at 5:00.
 

Nicole Cohen: Driving in Circles
Nicole Cohen creates an evocative new installation using video and sculpture to engage audiences in her explorations of the crossroads of reality, fantasy, and cultural mores.
 

The Dark and Humorous Mind of Heather Wilcoxon
Heather Wilcoxon brings a Bay Area perspective to her seemingly whimsicle but politically-charged paintings, expressing the humor, fear, absurdity and brutality of the human race.
 

Dafna Kaffeman: What Could Be Sweeter Than Going to Paradise?
Dafna Kaffeman is head of Glass Studies at Bezalel Art Academy in Jerusalem. Her smaller, delicate pieces and dynamic, large-scale installations often deal with issues raised by the Israeli-Palestinian conflict.
 

Julie Linowes: STAIN
Julie Linowes creates emotionally wrought installations where beautiful, translucent images are layered disturbingly against spreading, seeping lacunae.
 

Marisa Baumgartner: Grande Avenues
Marisa Baumgartner builds installations to explore what she describes as "the overwhelming diminutive yet expansive sensation of self that is caused by the vastness of space, society and history."
 

Linn Meyers: A Very Particular Moment
Linn Meyers responds to the architecture of the museum by covering the walls with flowing repetitive, geometric lines, creating a hypnotic, meditative space.
Opening June 4:
E • CO
E • CO presents photographic projects by twenty Latin American and European photographic collectives, each tasked with crafting a visual essay about one of the most important topics of our day: the environment. Free of curatorial influence, the collectives define "environment" for themselves, and maintain their own production and editing processes. The resulting essays reflect the interests and concerns of each group and nation, as well as the working organization of each collective.

Registro 02, Mirar por segunda vez
Organized by the Museo de Arte Contemporáneo de Monterrey (MARCO), Registro 02. Mirar por segunda vez [Record 02: ASecond Glance], brings together over fifty works by six outstanding artists from Mexico: Adrián Proce; Mario García Torres; Oswaldo Ruiz; Ramiro Martínez Plasencia; Rubén Gutiérrez; and the collective, Tercerunquinto, whose three members include Julio Castro Carreón, Gabriel Cázares Salas, and Rolando Flores Tovar. Working in a diverse range of media these artists uniquely explore the language of art and the active role the spectator plays in creating its meaning.
Exhibition Overview
American University's Department of Art proudly presents their graduate level MFA students in a two-part exhibition this spring. Champion Divers, opening April 5th through April 20th, features the work of 1st year MFA students Ayad Almissouri, Mandy Cooper, Michael Holt, Tim Hoyt, Nathan Mullins, Angel Samudre, Jenny Wu and Bobby Yi. This exhibition showcases the exciting range of artwork AU's multidisciplinary Studio Art program, including works in painting, sculpture, collage and material studies, photography and new media.
See also Perambulators: MFA Thesis Exhibition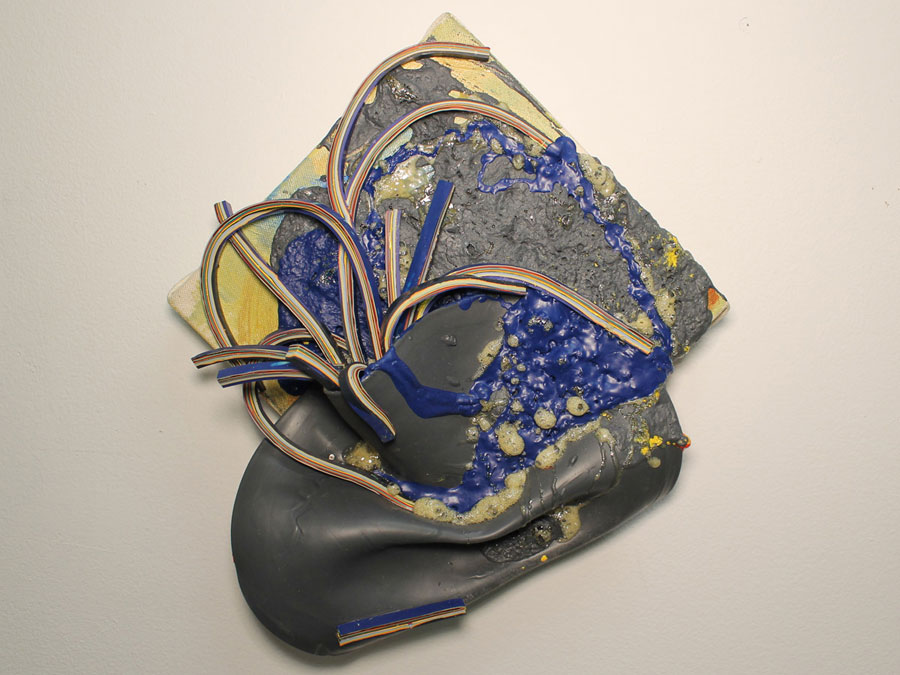 Jenny Wu, Octopus, 2013.
Latex paint and glue on canvas, 12" x 14"