My Oyster #7: Michelle Grabner & Brad Killam November 8 through December 14, 2014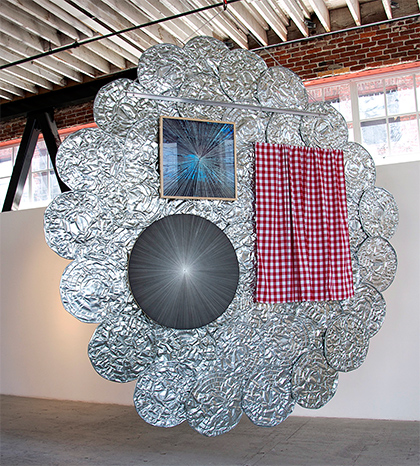 Michelle Grabner and Brad Killam, My Oyster #7, 2014.
Aluminum, gingham cotton, silverpoint and black gesso on wood, framed inkjet print, 131" x 128".
Photo courtesy of Gallery 16.
Exhibition Overview
The My Oyster projects are a collaboration between Michelle Grabner and Brad Killam, a husband and wife pair working together since 1992. For their My Oyster series, Grabner and Killam employ a large hanging support system to display a selection of their works. The project includes other artifacts that demonstrate their familial relationship to a life of art, including sculptures, working drawings, and related support material. The show was organized by AU art professor Tim Doud.