Francis Cape & Harmony Hammond: Angle of Repose November 7 through December 13, 2015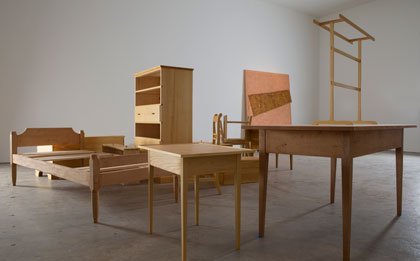 Francis Cape and Harmony Hammond, Angle of Repose, 2015.
Photography by Kate Russel
Exhibition Overview

The engineering term "angle of repose" refers to the steepest angle material can be piled without collapsing. The collaborative installation of the works of sculptor Francis Cape and painter Harmony Hammond reflect on the precariousness—financial, political, social and emotional—of our lives. Both present absent bodies and question the significance of objects and the vulnerability of our dreams. The exhibition features Cape's Foreclosure, a scatter of evicted hand-crafted furniture coalescing around a depleted bed and Hammond's large near-monochrome Flesh Fold paintings with their skin pulled back to reveal a rawness underneath and two smaller mixed-media works suggesting a rupture in the domestic environment.