Media Contact:
Rebecca Basu
202-885-5950
basu@american.edu
American University Museum
4400 Massachusetts Avenue NW
Washington
,
DC
20016
United States
Gerhardt Knodel: Let the Games Begin! September 12 through October 18, 2015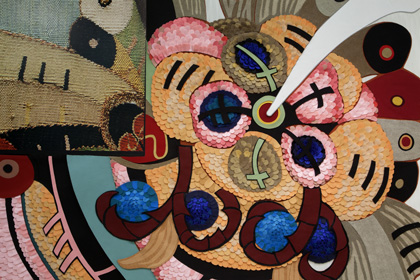 Gerhardt Knodel, Detail of It Had To Be You: Genomia, 2015.
Cotton, polyester, silk, and fiberglass fabrics mounted on photograph in a white shadow box, 66 x 84 x 5 in.
Courtesy of the Artist. Photography by PD Rearick.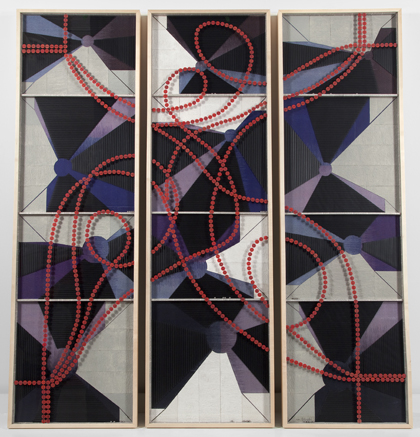 Gathering Four Corners of the Sky (A Dexterity Game), 2011.
EXHIBITION OVERVIEW 
In Gerhardt Knodel's latest work, gaming-based strategies provide both a visual and conceptual point of entry. Like game playing, involvement often yields unexpected consequences. Approached as pure entertainment, games can evolve into unexpected experiences with both a lighter and a darker side, subtle shifts in expectation relative to outcome. Likewise with art.
His work poses questions about art and life in the 21st century. Can the act and associations of playing a game be visually communicated? Can the rush of excitement that comes with winning be found in objects that are physically quiet and experienced at a distance? Can the frustration of playing games that cannot be won become a link in understanding the goals of art in which there are no right or wrong answers?
His work centers on four groups of work — conceptual games with historic textiles; visual games; dexterity games; and gaming with ideas about art. Each of the groups leads the viewer to art experiences inspired by thoughts about competition, accumulation and loss, human relationships, mind manipulation, the endless repetition of the patterns of life, and the tension between informed authority and self-discovered knowledge. Knodel intends the work to provoke consideration of links to the world of textiles in unexpected and provocative ways.