Media Contact:
Rebecca Basu
202-885-5950
basu@american.edu
American University Museum
4400 Massachusetts Avenue NW
Washington
,
DC
20016
United States
Contemporary North Korean Art: The Evolution of Socialist Realism June 18 - August 14, 2016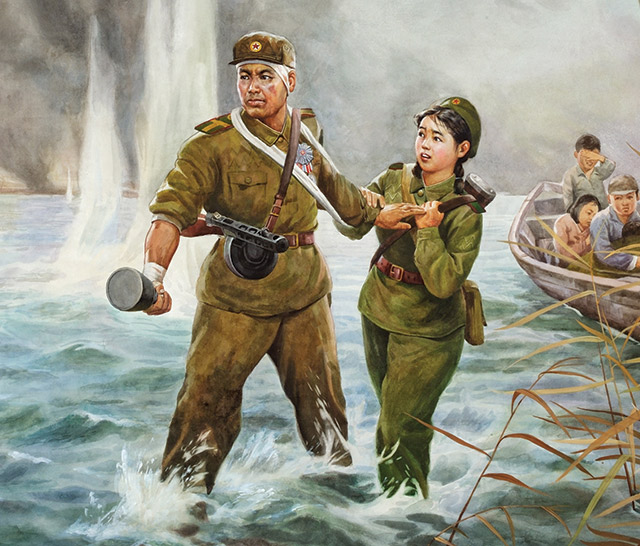 Park Ryong, Farewell, 1997.
Chosonhwa, 48.5 x 64 in. (North Korean)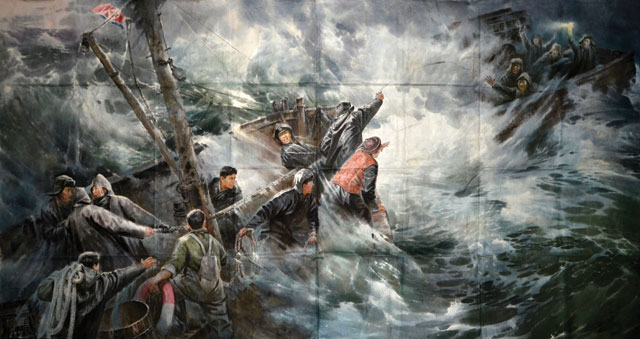 Kim Song-keun, Cha Yong-ho, Kim Chol, Ri Ki-song, Rescue in the Dark Sea, 1997.
Chosonhwa (ink on rice paper), 81 x 157 in.
Courtesy of Mr. Ji Zheng-tai, Beijing, China.
Exhibition Description
The forms and structure of contemporary North Korean art, a central and highly developed dimension of the national culture, are largely unknown to the outside world. Whether a true sense of art as understood in the West exists or not in North Korea has remained an open question for most people outside the DPRK.
This exhibition, the first of its kind in the US, seeks to broaden understanding of North Korean art beyond stereotypes of propaganda and kitsch to show sophisticated and nuanced expressive achievements. It investigates previously unrevealed evidence of North Korean artistic experimentation and that nation's particular evolution of Socialist Realism within its own culturally homogeneous context.
Special focus is given to the development of Chosonhwa, North Korea's predominant painting medium that is revered as the nations most refined. Chosonhwa is traditional Oriental ink-and-brush painting on rice paper that absorbed Socialist Realism influences in the 1950s and has since progressed to become its own distinct art form.
While working within prescribed thematic bounds, DPRK artists often succeed in conveying profound human emotion. On view will be important Chosonhwa works from the 1960s through the present, including monumental tableaus, that clearly reflect the DPRK's special blend of Socialism with Korean characteristics.
This project is the fruit of curator and Georgetown Professor BG Muhn's personal expertise on the subject.Over the past five years he has made numerous study trips to Pyongyang. His research has been on-site and first-hand, with unprecedented access to the original works and their artists. He says, "I visited many art studios including Mansudae Art Studio, the largest state-run art studio in the world, and interviewed numerous artists and art historians. It has been an awakening experience to explore the heart of North Korea's ever-evolving Chosonhwa, the only variety of Socialist Realism that remains in active production today."
Press:
Feature Story News: (VIDEO) North Korean Art Comes to Washington

CCTV America: (VIDEO) DPRK Art: The Evolution of Socialist Realism

Voice of America, Chinese Service: (VIDEO) Korean Painting US Debut
DCist: Beyond Propaganda: AU Museum Holds The First Exhibit of Socialist Realism Paintings from North Korea
US News and World Report: The Art of Propaganda: An exhibition in the U.S. shows creative expression in North Korea serves a political purpose
Washington City Paper: At the American University Museum, A Look At North and South Korean Art
The Creators Project (Vice News): Rare North Korean Paintings in the US
National Geographic: This North Korean Art is More Than Propaganda
The Washington Post:
Norman Rockwell would have recognized these socialist images