Updraft America September 6 through October 23, 2016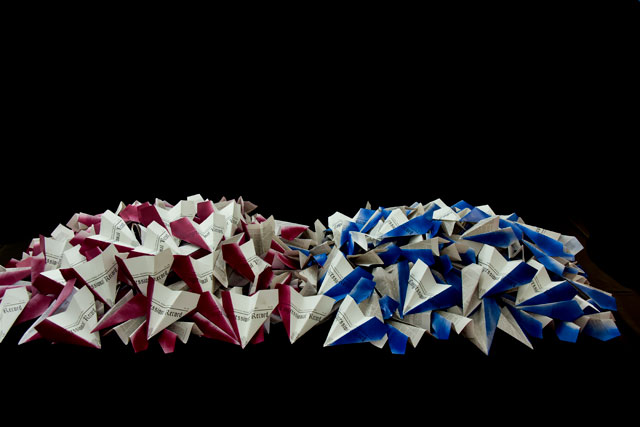 Suzanne Brennan Firstenberg, Updraft America, 2016.
Paper, 11 x 8 x 6 ft.
Courtesy of the artist.
Exhibition
Washington, DC, sculptor (and former Senate aide) Suzanne Brennan Firstenberg manifests Americans' frustration with our gridlocked partisan politics by taking an entire year of the official proceedings of the United States Congress, as documented in the Congressional Record, and folding each page into a paper airplane. From this mass of over 10,000 airplanes, striped red or blue to connote the political divide, the uppermost planes will rise into the air, as if taking flight, and as they do, their hues will combine to become purple - the color of hope that we may bridge the political divide.
For more information, please visit: www.UpdraftAmerica.org
Press and Publications:
The Huffington Post: 10,718 Paper Airplanes
The Washington Post: Looking for Art Free of Politics? Don't Look Here.