fair is foul & foul is fair
November 9-December 15, 2019
Curated by Dr. Tina Kinsella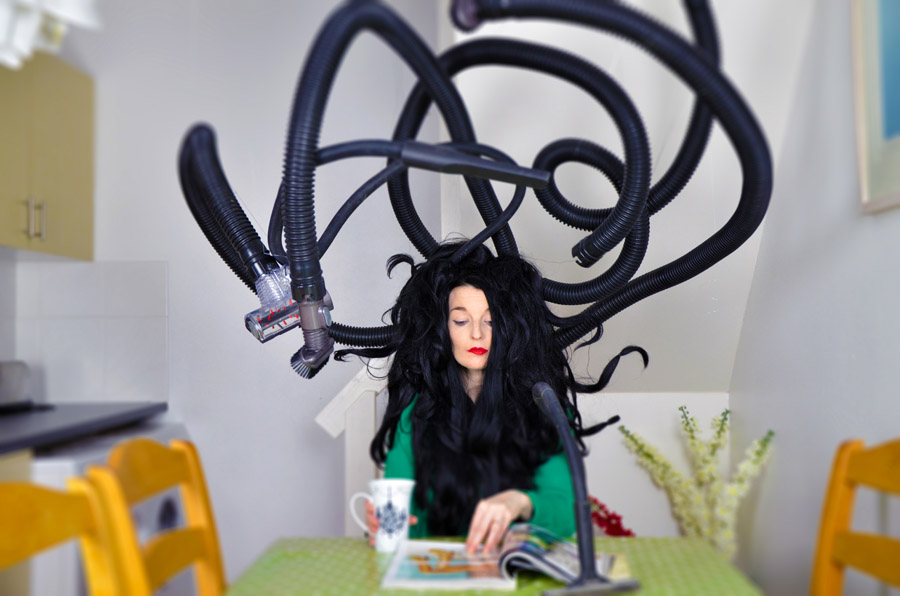 Aideen Barry, not to be known, gorgon, 2015. Performative film, 5 min. 30 sec. single channel with sound. Courtesy of the artist.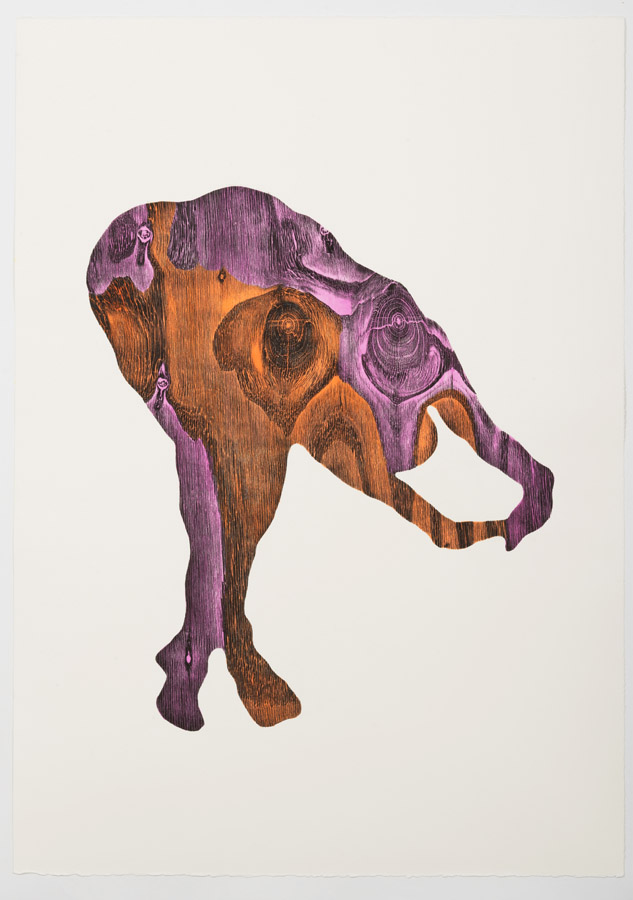 Alice Maher, Vox Hybrida 1, 2018. Wood relief, hand tinted, 48 x 32 in. Courtesy of the artist.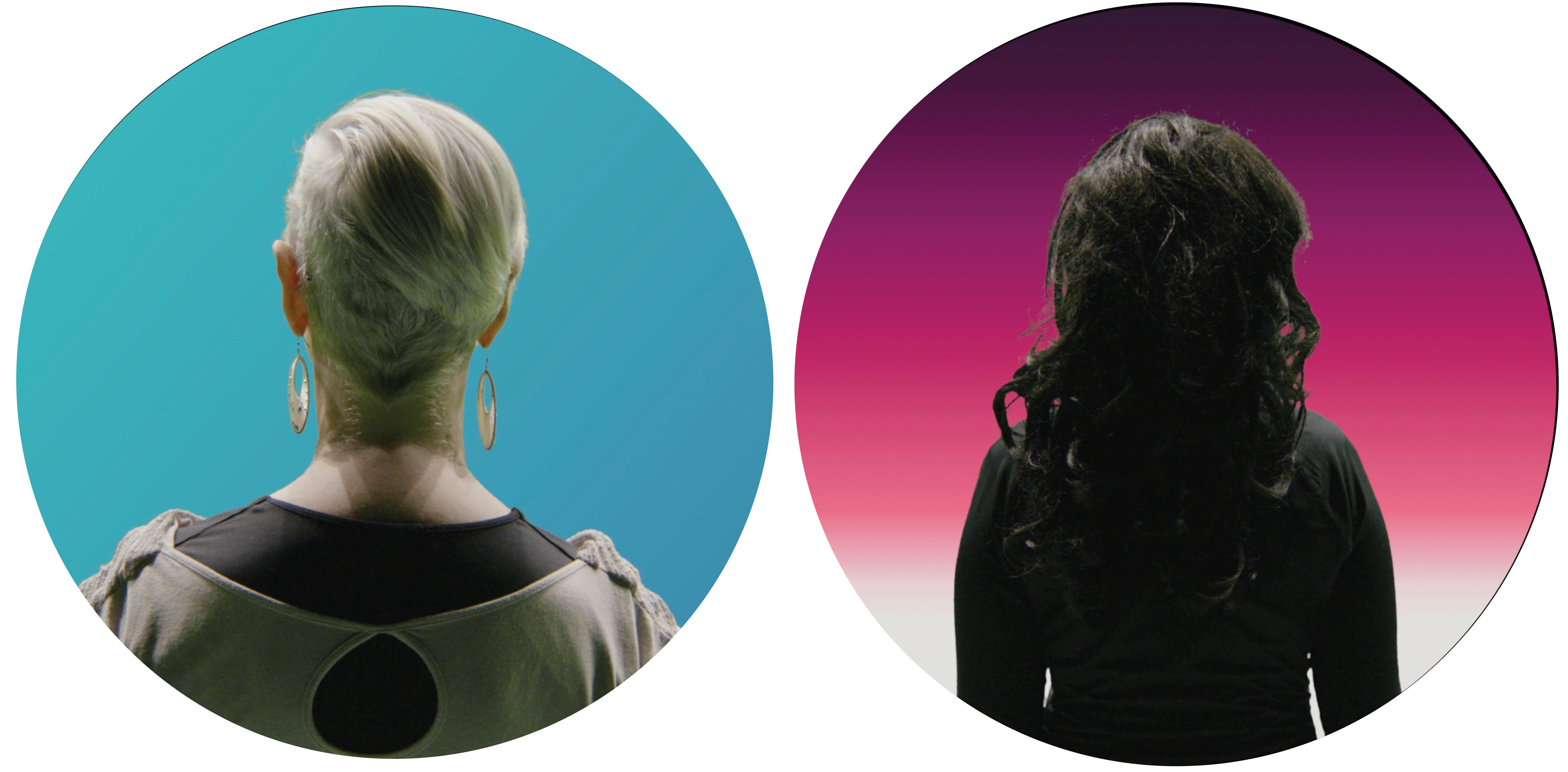 Publicity photo for the film 6SKIN, featuring Directors Alice Maher (L) and Aideen Barry (R), 2018. Digital image. Courtesy of the artists.
Gallery Talk: fair is foul & foul is fair
Themes of foulness and fairness abound in this gallery talk focused on works by collaborating Irish artists Aideen Barry and Alice Maher.
related events
Gallery Talk: fair is foul & foul is fair
November 9, 2019, 5-6PM
Free and open to all, please RSVP

Late Fall Opening Reception
November 9, 2019, 6-9PM
free and open to all, no RSVP required

Citizen Lane Film Screening
December 11, 2019, 6:30-8:30PM
Free and open to all, please RSVP
"Fair is foul and foul is fair" as claimed by the witches in Macbeth describes a world where nothing—no message, no deed—is ethically clear. In Shakespeare's fair/foul world, evil walks abroad in the guise of good, and all expectations are confounded and confused. 
In this double exhibition by Alice Maher and Aideen Barry, tropes of what could be considered fair and foul morph into unrecognizable, interchangeable and above all, challenging artworks. Both artists engage at the fault lines of artmaking where sociocultural movements, media, imagery, and language overlap and collapse in order to animate new, personal ways of communicating this semiotic conundrum. Both also bring an individual, stinging humour and critique to their investigations of hybridity, carnality, and social politics in historical time.  In her film works, Barry explores concepts of the Uncanny and the monstrous feminine where she finds foundational substrata reflective of her own lived experience. The human-animal-machine becomes, for her, a vehicle of an anxious interrogation of the boundaries of the psyche. Equally, Maher's hand finished woodblock prints and hand pressed sculptures advance her continued questioning of the phenomenon of the material present. Her hybridized images and objects expose phenomenological questions and excitations inherent in the body, and its psycho-dramatic task of being human. The focus of both artists on the interchangeabilities of fairness and foulness is played out in this exhibition with a fascinating and urgent energy.
about aideen barry
Aideen Barry is an Irish visual artist, known for her performance, film, sculpture, drawing, and installation work. Her work manifests in the field of contemporary visual arts, but it is punctuated by references to historical and often forgotten or erased figures from literature. Barry often references texts which explore the personal in a way that reflects her own lived experience. Her work has been shown at The Irish Museum of Modern Art, Louise T. Blouin Gallery London, Moderne Museet Sweden, The Loop Biennale Spain, The Wexner Centre Ohio, The Royal Hibernian Academy, Musée des Beaux Arts de Lyon, and The Banff Centre Canada. Her works can be viewed in the collections of Trinity College Dublin, The Arts Council of Ireland, The Banff Centre Canada, and CAC Malaga Spain. Read more here.
about alice maher
Alice Maher's work touches on a wide range of subjects often reprising, challenging and expanding mythic and vernacular narratives. Her artistic practice spans painting, sculpture, photography, drawing, animation, and video. In particular, she is recognised as undermining traditional expectations of female identity. Animated films expand on a lifelong devotion to the practice of drawing. She represented Ireland at the 22nd São Paulo biennial. In 2012 the Irish Museum of Modern Art presented a retrospective of the artist's 30-year practice. Her work can be seen in many international collections including The Neuberger Museum, The Hammond Museum, Museum of Fine Arts Boston, MoMA, the British Museum, and the Georges Pompidou Centre Paris. In 2013 Maher was granted an Honorary Doctorate in Fine Art by the National University of Ireland. Read more here.