Media Inquiries:
AU Communications
aumedia@american.edu
202-885-5950
American University Museum
4400 Massachusetts Ave NW
Washington
,
DC
20016-8031
United States
Who is She? Terry Braunstein
Originally scheduled June 13-August 9, 2020
Curated by Claudia Bohn-Spector and Sam Mellon
This exhibition was cancelled to contain the spread of COVID-19 in 2020. Visit our Museum@Home for digital resources and more information.
Video Read the exhibition essay by curator Claudia Bohn-Spector.
Who Is She? Terry Braunstein
Terry Braunstein speaks with AU Museum Director & Curator Jack Rasmussen for our Museum@Home series.
Terry Braunstein, Nuclear Summer I (Self Portrait), 1986. Photomontage, 20 x 24 in. Courtesy of the artist.
One of a series of three photomontages created in response to Carl Sagan's 1983 article in Parade Magazine titled "Nuclear Winter," about the devastating consequences of a nuclear war. This image was titled Self Portrait, as I imagined myself still creating art amidst this holocaust.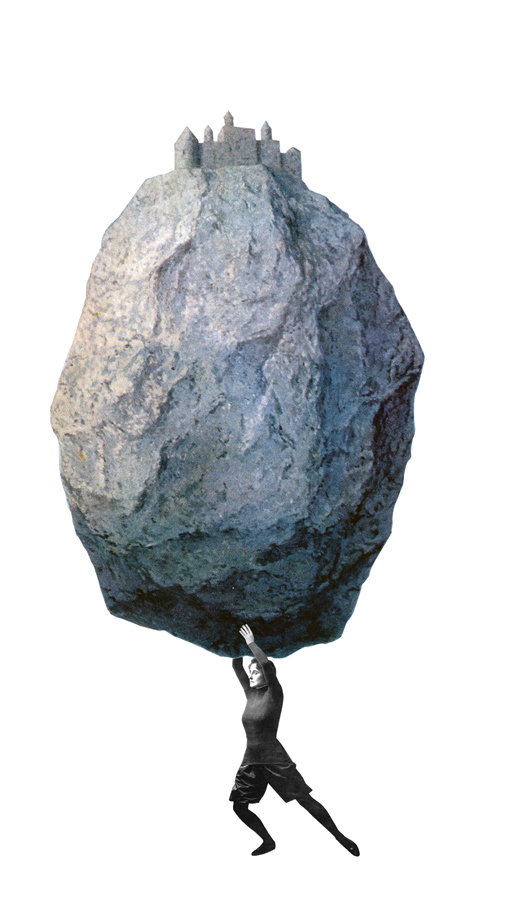 Terry Braunstein, Who is She?(Carrying Magritte Rock), 2012. Photograph, 40 x 30 in. Courtesy of the artist.
One of a series of digital prints featuring a woman exercising from the 1910s. To me, each of the original book photos showed her seriousness of purpose as she demonstrated each pose. I was fascinated by her, and decided to place her into different scenarios, such as this one where she effortlessly lifts a rock many times her size.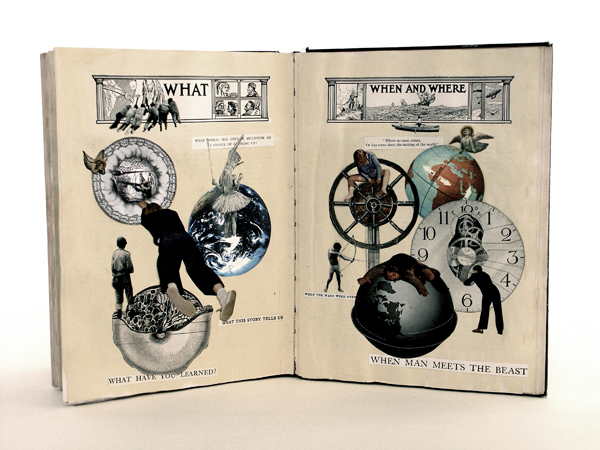 Terry Braunstein, Education by Play and Games, 2000. Altered artists book—mixed media, 10 ¼ x 8 x 1 ½ in. Courtesy of the artist.
This is a one-of-a-kind sculpted book. I started making books in 1972 and, along with my work in other media, have continued to this day. This work was inspired by the book's title (which was the actual title of the original book), and by watching my young granddaughters play. I was intrigued by the way that their learning was through games and toys. I thought about the "lessons," both large and small that we learn throughout life, and how much easier some would be if learned in this way.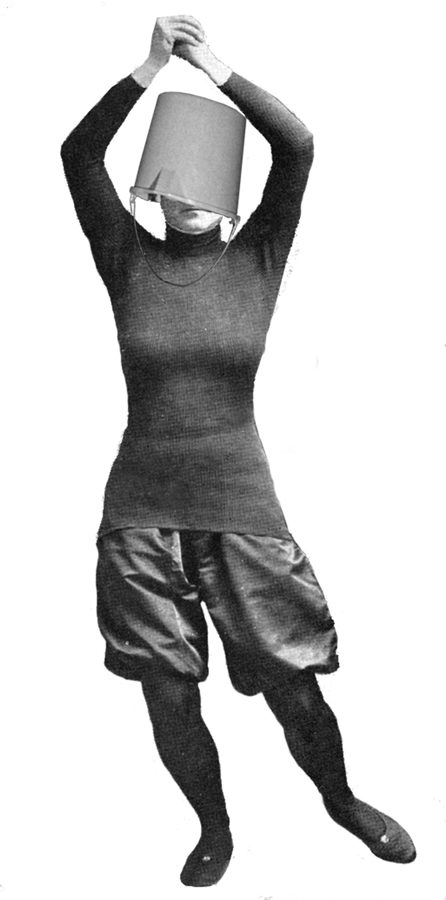 Terry Braunstein, Who is She?(With Bucket-head), 2013. Photograph, 80 x 44 ½ in. Courtesy of the artist.
This digital print is one of six works from another Who is She? series.  Here, the exerciser shows she is able to move around effortlessly, even as she does domestic chores as represented by the bucket on her head.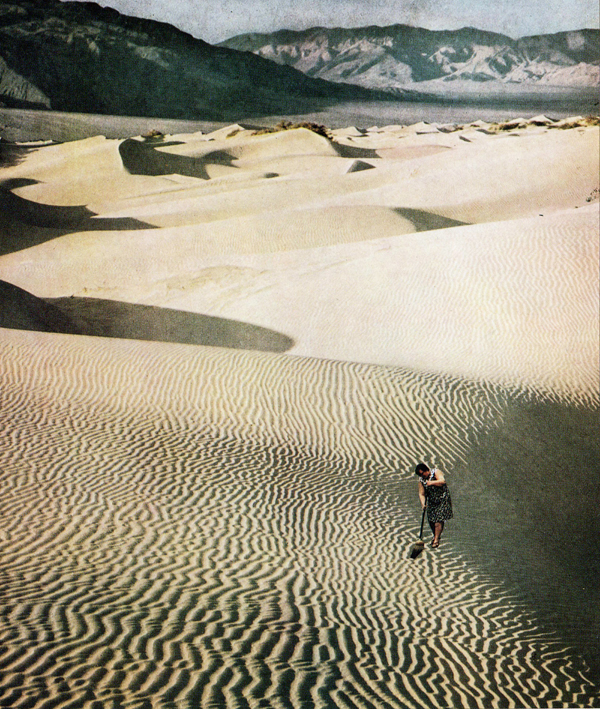 Terry Braunstein, Empty Nest, 1986. Photomontage, 20 x 16 in. Courtesy of the artist.
Created immediately after my daughter left for college. This photomontage shows a woman who continues to do her work (devoid, as it may seem, of meaning). Her existence as a mother now appears to be over, but she soldiers on, alone, doing her work.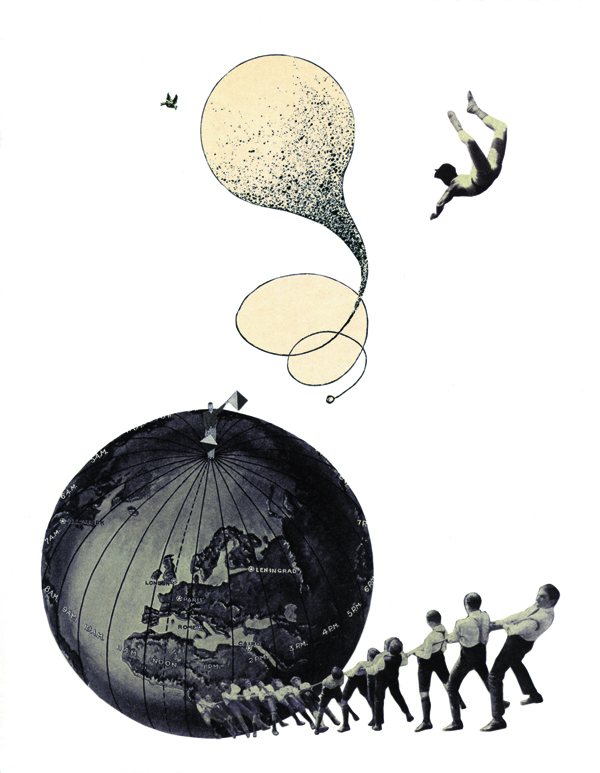 Terry Braunstein, Boundless I, 1996. Photomontage, 11 x 9 in. Courtesy of the artist.
One of a series of photomontages that was part of a solo exhibition in 1997 titled Flying Dreams. I was intrigued by the idea of what it would mean to "let go," in the largest sense of that expression—to leave all the things that tie one to ways of thinking, working, living. This image contrasts the men tethered to the earth in their game of Tug-of-War with the figure floating effortlessly in space.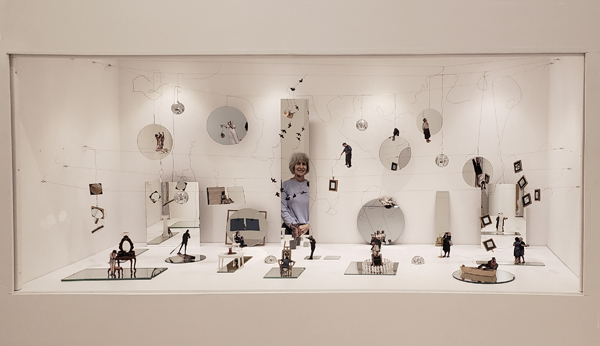 Terry Braunstein, Reflections, 2019. Installation—Mixed media, 39 x 86 x 34 in. Courtesy of Long Beach Museum of Art.

A multi-media installation about the many ways we view ourselves and others. The mirrors in this installation invites us to question who we really are beneath the surface, and what we really see, beyond that which is right in front of us.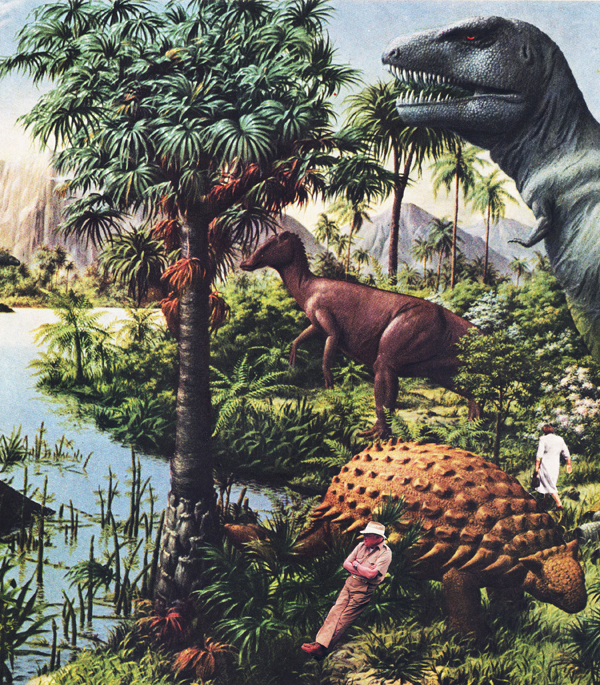 Terry Braunstein, Miami Beach VII, 1988. Photomontage, 20 x 16in. Courtesy of the artist.
One of a series of ten photomontages. When I saw these images of dinosaurs in 1986, I thought back 10 years to when our son Matthew, five years old at the time, asked my mom how old she was. When she responded "very, very old," he asked if she was born before or after the dinosaurs. I thought of my own grandparents, who had lived in Miami Beach, (where the vegetation was similar to those in these images), and went about their lives, purposefully, as they aged.
Terry Braunstein "SHE COLLAGE"
Video by Kate Lain. Digital short that accompanied the exhibition Who is She? Terry Braunstein at the Long Beach Museum of Art, 2015. This film used Braunstein's collage materials to demonstrate her process. (9:55)
Visit the artist's website.

This online exhibition features the works of contemporary artist Terry Braunstein curated by Claudia Bohn-Spector and Sam Mellon for the Long Beach Museum of Art in 2015.
There is hardly a moment in any day when we are not bombarded with pictures from websites and other media. Terry Braunstein collages these images into new, often startling, contexts, to create narratives that provoke us to find meaning in our lives. In her retrospective exhibition, Terry Braunstein will be showing the original collages from which her exquisite and popular photographs were made. Spanning over 30 years, the exhibition will feature collages, digital prints, assemblages, artists' books, installations, and sculptures.
Braunstein's art divulges the most uncanny and improbable of visions…never seen except in the imagination and dreams
—Howard Fox, former curator, Hirshhorn & LACMA
Deeply rooted in Dada and Surrealism, Braunstein's works examine identity, alienation, life's passages, and myth evoking an imagery that is dreamlike, poetic and refreshingly authentic.
Terry Braunstein is an internationally recognized artist who has shown in museums and galleries in Spain, Italy, Russia, Israel, France, Japan, China, Pakistan, Chile, and across the US. As a public artist she has created large-scale permanent works throughout Southern California.
Artist Statement
During my career as an artist, I have translated my ideas into a variety of media—photography, books, installation, video, sculpture and public artwork. Besides photomontage, the common thread through all of my work can be seen as a kind of visual archaeology: the work begins by exploring the world through research and scientific observation and continues challenging the viewer to find the meaning by delving into the work, as I do in finding my material.
I am, first and foremost, a collector, constantly acquiring images from books and magazines, and various kinds of ephemera, usually with no idea of where or when they might find their way into my artworks. Old magazines, encyclopedias, books, maps, dollhouse furniture and bric-a-brac found in boxes at flea markets, yard sales, and used book stores—have come to form the archive materials used in my photomontage-based work. The times in which they were printed or created become powerful elements as they are juxtaposed with one another. My resulting images address issues of daily life and personal memory about the larger forces of the universe and human history. - Terry Braunstein
Artist bio
Terry Braunstein is a multi-media photomontage artist, whose work has been shown in museums and galleries internationally. She was born in Washington, DC, and has lived in California for the past 30 years. Exhibitions include the Centre Pompidou in Paris, the Gallery Miyazaki, Japan, LA County Museum of Art, Sala Arcs gallery, Barcelona, and Museo Civico, Italy. Her one-person exhibitions include the Long Beach Museum of Art; Centro Andaluz de la Fotografia, Spain; Craig Krull Gallery in Santa Monica; Washington Project for the Arts in Washington, DC; Franklin Furnace in NY and many others around the world.
Her work is in numerous public and private collections, including the Getty Center, National Museum of American Art, Library of Congress, LA County Museum of Art, Bibliothèque Nationale, Paris, and Long Beach Museum of Art.
As a public artist, Braunstein has been awarded commissions by the Los Angeles MTA, Long Beach Transit, City of Cerritos, LA County Arts Commission and LA County Museum of Art, among many others.
Braunstein was the recipient of the National Book Award--National Museum of Women in the Arts, Durfee ARC Grant, Open Channels Video Grant--LB Museum of Art, two Artist's fellowships--City of Long Beach, and a Visual Artist Fellowship from the National Endowment for the Arts. In 2017 she was awarded a City of Los Angeles (COLA) Cultural Affairs Arts Fellowship.
The illustrated Who Is She? catalog is available for purchase. Please contact us for more information. (96 pages, $45 + shipping)