Without Borders The Paintings of Brian Maguire
Originally scheduled June 13-August 9, 2020
Curated by Lilly Wei
Presented in collaboration with Solas Nua
This exhibition was cancelled to contain the spread of COVID-19 in 2020. Visit our Museum@Home for digital resources and more information.
 
Read the exhibition catalog online, featuring essays by Lilly Wei, Valerie Lynn Werder, and Julián Cardona.
Artist Studio Series: Brian Maguire
Brian Maguire offers a behind-the-scenes look at his studio and works in progress.
Gallery Talk: Brian Maguire
On June 25, 2020, artist Brian Maguire and curator Lilly Wei discussed Maguire's online Summer exhibition "Without Borders." Featuring Jack Rasmussen, AU Museum Director & Curator, and Kate Meenan-Waugh of Solas Nua.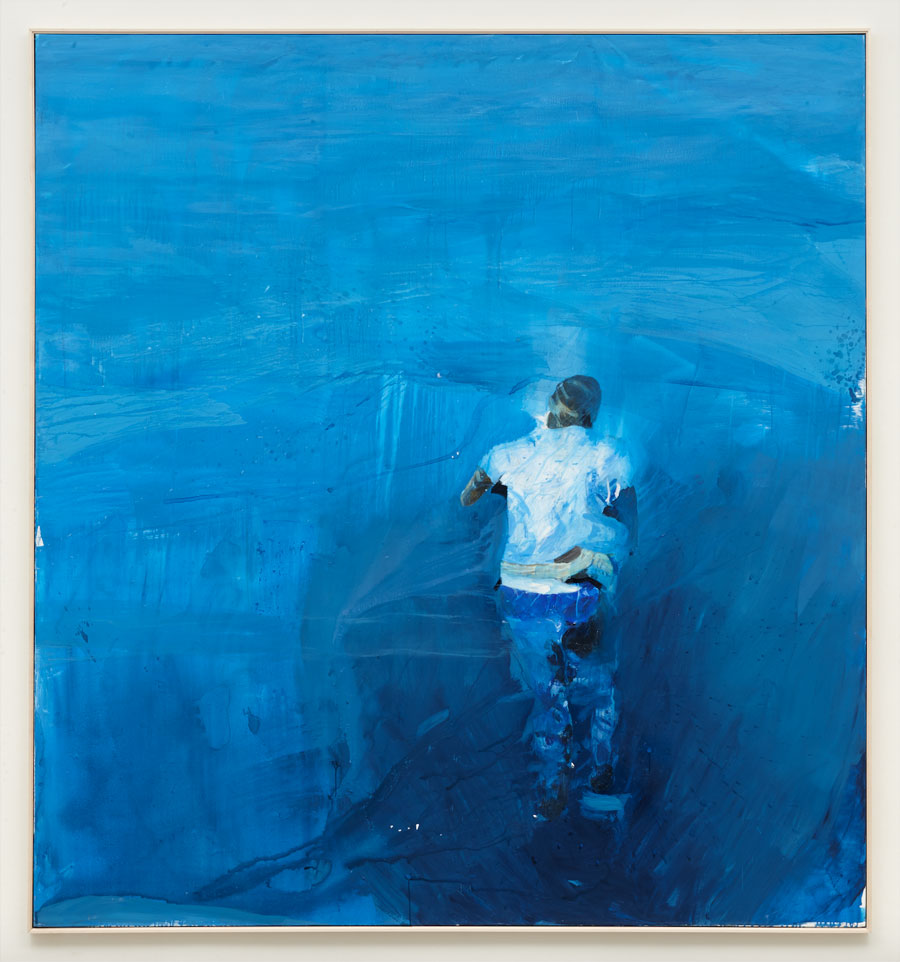 Brian Maguire, Over Our Heads the Hollow Seas Closed Up, 2016. Acrylic on linen, 114 1/8 x 106 inches (290 x 270 cm). © Brian Maguire; courtesy Brian Maguire and Kerlin Gallery, Dublin. Tia Collection, Santa Fe.

The image is of one young man seeking asylum, who drowned in the Mediterranean Sea. There are unknown countless thousands who shared his fate. It seemed appropriate to reach back to Dante's Inferno to find the title for this work. This text appears in Primo Levi's If This Be A Man (1947). The linkage seemed very appropriate to the artist.
Brian Maguire, Aleppo 3, 2017. Acrylic on linen, 82 5/8 x 66 7/8 inches (210 x 170 cm). © Brian Maguire; courtesy Brian Maguire and Fergus McCaffrey.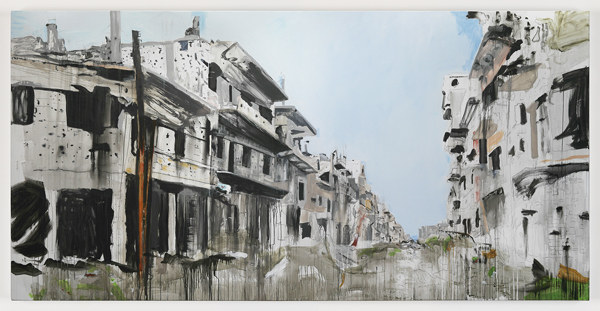 Brian Maguire, Aleppo 4, 2017. Acrylic on linen, 78 3/4 x 157 inches (200 x 400 cm). © Brian Maguire; courtesy Brian Maguire and Fergus McCaffrey.

The Aleppo series was started in Maguire's studio in 2016 and completed there in 2018 after an intensive March 2017 visit to Syria. Maguire traveled across the country to Aleppo to witness what a contemporary war does to an historic city and its people. The result is five large works, based on photographs and remembrances of walks through the ruins, and collaborations with the community. A subsequent exhibition of the architecturally scaled paintings was presented in 2018 in the Irish Museum of Modern Art, in Dublin: Brian Maguire, War Changes its Address. This exhibition traveled to New York's United Nations headquarters, February 2020.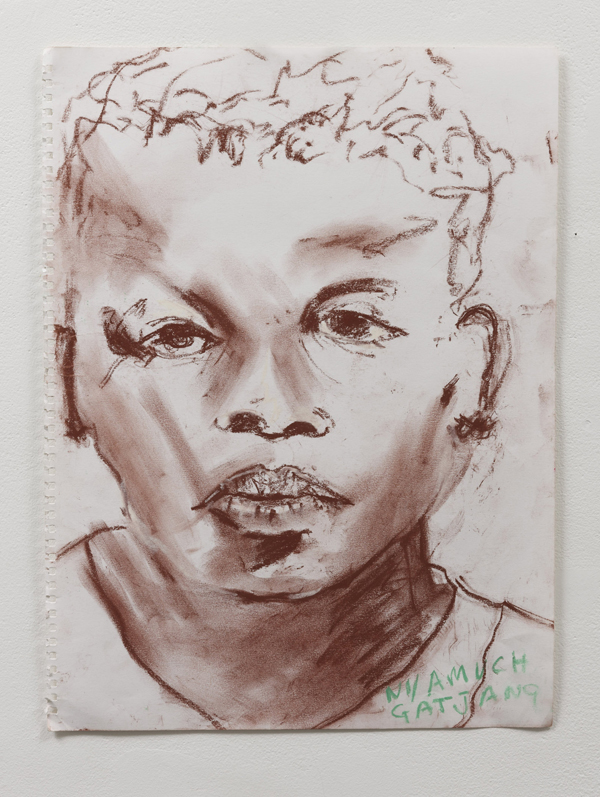 Brian Maguire, Nyamuch Gatjang, 2018. Chalk on paper, 40 x 30 inches (101.6 x 76.2 cm). © Brian Maguire; courtesy Brian Maguire and Fergus McCaffrey.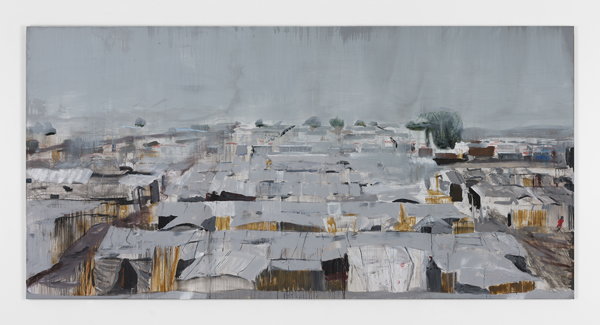 Brian Maguire, Bentiu Protection of Civilian Camps, 2018. Acrylic on linen, 78 3/4 x 157 in. (200 x 400 cm). © Brian Maguire; courtesy Brian Maguire and Fergus McCaffrey.

As a guest of Concern Worldwide, the artist visited South Sudan in 2018. Maguire sketched residents of Bentiu, a large encampment in the middle of the country where over 100,000 persons of the Nerhu tribe are sheltering from the mainly Dinka military. Providing painting workshops for children, while surreptitiously photographing the conditions on site, the result is two large acrylic on canvas paintings that were completed at the studio, and 12 chalk on paper portraits produced in situ. The project is accompanied by a short film produced by Concern Worldwide.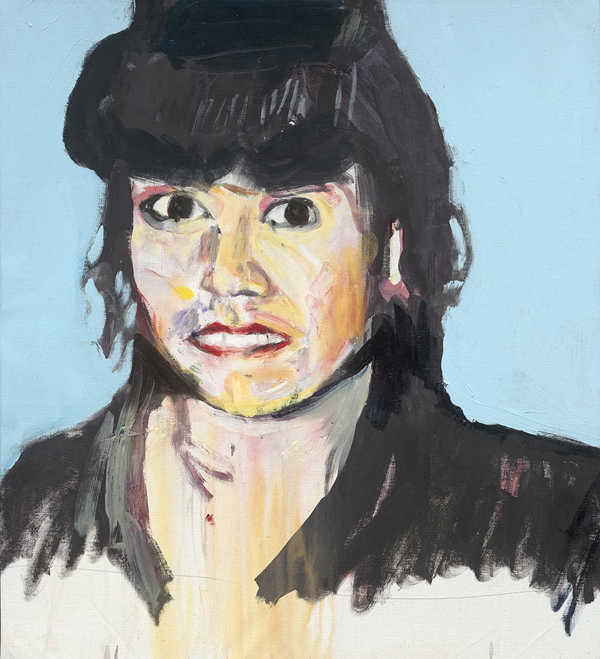 Brian Maguire, Erica Perez Escobedo, 2012. Acrylic on linen, 32 x 28 3/4 inches (81.3 x 73 cm). © Brian Maguire; courtesy Brian Maguire, Kerlin Gallery, Dublin, and Fergus McCaffrey.

Over a period of ten years visiting the north Mexican city of Juarez, Maguire created over a dozen paintings in assorted formats which he grouped under the title: Presence of Absence 2008/2020. The portraits are based on family photographs of young women and children who were abducted and murdered in Ciudad Juarez from 2003 to 2019. In researching this project, the artist collaborated with the families of the deceased, in addition producing a commemorative portrait for each family home. Presence of Absence has been exhibited in the European Parliament and in Mexico, at Museo Cuidad Juarez in 2019, where several family members of the victims attended.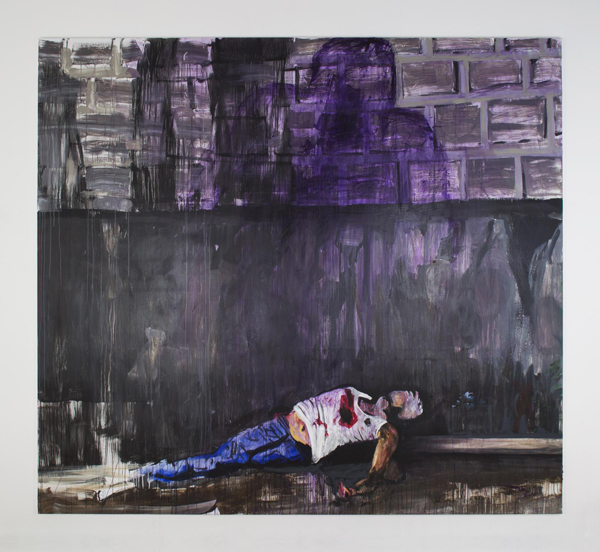 Brian Maguire, Thief: Today You Shall Be With Me In Paradise, 2019. Acrylic on canvas, 114 1/8 x 126 inches(290 x 320 cm). © Brian Maguire; courtesy Brian Maguire and Kerlin Gallery, Dublin.

The TIA Foundation, a private collection that exhibits publicly, commissioned Maguire to create five large paintings over three years interpreting themes taken from the Bible. In this ongoing chapter the artist has undertaken to find contemporary life events and people who share a link to the stories of the scriptures, making investigations into where thieves are executed now. As the Philippines infamously maintains a police unit which eradicates addicts and thieves in the poorer districts of major cities, Maguire sought the assistance of a local documentarian of record; his first painting Thief is based on the photographer Vincent Go's image.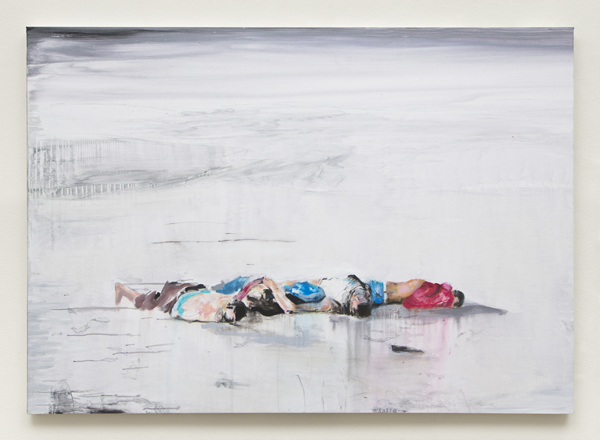 Brian Maguire, The Known Dead, 2015. Acrylic on linen, 55 1/8 x 78 3/4 inches (140 x 200 cm). © Brian Maguire; courtesy Brian Maguire and Fergus McCaffrey.
A painting based on a published image of five immigrants who died in the desert while trying to reach the USA, Maguire connects the frontier crossing of the American border with the mass movement of people through perilous terrain to his Migrant! series—the Mediterranean flight of refugees. "Some make it; others don't."
Brian Maguire, "Conflicts of Interest"
Brian Maguire is an artist of singular yet expansive vision: an activist, a correspondent, and a voice for dispossessed and marginalized individuals often considered dispensable by the rest of society. Since the onset of his professional career four decades ago, Maguire has been an instigator of numerous interactive projects with prisoners, refugees, and survivors; the artist's practice is inseparable from his commitment to the community with whom he feels in service, navigating an often precarious exchange subject to the scrutiny of the public opinion under which it must operate.
The recipient of a prestigious Culture Ireland grant, Brian Maguire's recent US tour included the Rubin Art Center at University of Texas at El Paso and an exhibition in tandem across the border at Museo Ciudad Juárez in December 2019; the United Nations headquarters at the invitation of Ambassador Geraldine Byrne Nason, Ireland's Permanent Representative to the UN in February 2020; and American University Museum which will now open as a virtual exhibition in June 2020, to be accompanied by a published catalogue with essays by the show's curator Lilly Wei, as well as Harvard PhD candidate and art writer Valerie Lynn Werder, and artist Julian Cardona.
The virtual exhibition at the AU Museum includes early paintings by Brian Maguire, beginning with a self-portrait from 1986 and concludes with a painting completed last year, a commission from the TIA collection. In between are architecturally sized works from the artist's decades long chapters, paintings of ravaged buildings in Aleppo, memorials to lost immigrants traversing in despair from their journeys either on foot from South America, or by sea in the Mediterranean, shown alongside portraits of Juarez Femicide victims, and charcoal from life sketches captured on site at a Sudanese refugee camp. The selections were made with the artist by curator Lilly Wei, in consultation with the AU Museum's Director & Curator Jack Rasmussen. The virtual exhibition will be accompanied by a documentary on Maguire's Cuidad Juarez project, a live conversation between the artist and Wei, and a studio visit with Brian who is currently observing stay at home orders in his hometown, Dublin.
Allyson Spellacy, Fergus McCaffrey Gallery, May 2020.