Alumni
Alumna Mackenzie Kelley Wins Fulbright to Study Type 2 Diabetes Working at the intersection of science, medicine, and social justice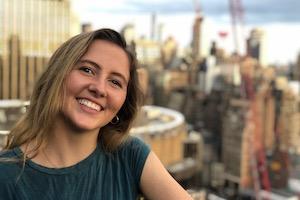 Alumna Mackenzie Kelley (Magna Cum Laude, BS biochemistry '18) has been awarded a Fulbright US Student Award for Research. In September, she will travel to Saint Michael, Barbados, to study gender and socioeconomic disparities in people with type 2 diabetes. For ten months, she will work with the Barbados Diabetes Foundation and public health researchers from the University of the West Indies.
Science, Medicine, and Social Justice
For Kelley, the project is the perfect intersection of science, medicine, and social justice — three things that came together for her during her time at American University. Kelley arrived at AU with a strong interest in biology and chemistry and the interface between the two. She knew she wanted to go to medical school to learn how to transfer scientific knowledge into the ability to care for people and their health.
But it wasn't until she took an AU Scholars trip to Cuba at the end of her freshman year and an introductory sociology course taught by Assistant Professor of Sociology Molly Dondero the following semester, that she knew she also wanted to focus on using social research to understand public health and health equity. "Biochemistry is a very large part of me — I love learning about the science of the human body," said Kelley. "But I became increasingly interested in finding the intersection between natural science and social science. I wanted to learn more about the human component of medicine."
Kelley said that being a science student can feel isolating because so much time is spent studying. But at AU, she could talk about her work with non-science students and learn from them. "I'm grateful that AU has such a focus on social justice and politics," she said.
The Path to Fulbright
Dondero recalls that Kelley immediately began making connections across disciplines about how the process of scientific inquiry works during her sociology course. "When we covered social disparities in health, it was clear that her passion was in medicine and promoting health equity," she said. "Because of these discussions, I hired Mackenzie to work with me as a research assistant on a National Institutes of Health-funded project examining social disparities in obesity and diet among children of immigrants in the United States. Her work exceeded my expectations at every turn and was a tremendous asset to the project."
It was no surprise to Dondero that Mackenzie developed a Fulbright project to investigate gender disparities in diabetes in Barbados, with an eye towards the intersection of gender and socioeconomic status in shaping diabetes risk.
"Diabetes prevalence in Barbados is high, and contrary to the gender pattern in most other countries, disproportionately affects women, and particularly women with low socioeconomic status," Dondero explains. "Much quantitative research has documented this social patterning of diabetes in Barbados, but there is little work that explains why these patterns might exist. Mackenzie's project is significant because it will begin to address this gap through focus group interviews with Barbadian women and men with diabetes." 
The Path to Fulbright: Involved and Focused
Kelley first came to American University because of its small, tight-knit science community, and during her time here, she took advantage of every opportunity to excel and get involved. She worked as a research assistant in Associate Professor Monika Konaklieva's organic chemistry lab, doing drug discovery work. She was a supplemental instructor and a tutor for science classes, working through AU's Academic Support and Access Center. She was also the student editor of the science magazine Catalyst and a member of the women's club ultimate frisbee team "Dirty Ladies."
Professor of Chemistry Stefano Costanzi, who worked with Kelley on Catalyst for four years, says that Kelley's Fulbright is thoroughly deserved. "Mackenzie is incredibly thorough, reliable, and creative. I am very pleased by her accomplishment, which will be surely followed by many more."
During her time at AU, Kelley also volunteered in the emergency room at Medstar Georgetown University Hospital and shadowed doctors in Cleveland Clinic Abu Dhabi on her breaks at home in the United Arab Emirates (UAE). Right after her graduation from AU, she began working as a research assistant at the College of William and Mary in the Department of Chemistry and authored her first scientific paper. She has also volunteered as an ESL tutor and shadowed pediatricians.
Looking Forward
As Kelley begins the medical school application process and prepares for her ten months in Barbados, she has some upbeat advice for her peers. "I learned that anyone can be eligible for a Fulbright," she said. "It's all about having a good idea — so I encourage my friends and other AU students to apply!"
Dondero says she is looking forward to learning the outcomes of Kelley's Fulbright research. "With coursework and research experience in the natural and social sciences, as well as many hours spent shadowing physicians in hospitals to prepare for medical school, Mackenzie brings a holistic, interdisciplinary perspective to this project. These characteristics, coupled with her open-mindedness and intellectual curiosity, make me certain that Mackenzie will be an exemplary Fulbright scholar, and an excellent doctor in the future."