Literature
Welcome to the House of Machado Award-winning author Carmen Maria Machado returns to campus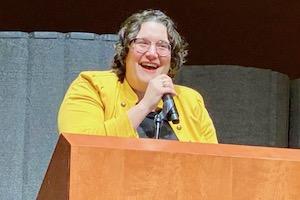 Carmen Maria Machado, bestselling author, National Book Award finalist, and American University alumna came back to campus this week to read from her new memoir In the Dream House in front of a packed crowd in Katzen's Recital Hall. The event was sponsored by the College of Arts and Sciences' Bishop C.C. McCabe Lecture Series, the Visiting Writers Series, and the School of Communication.
After the reading, Machado sat down with AU librarian and creative writing MFA candidate Derrick Jefferson to discuss her time at AU, her "non-linear" path to becoming a writer, the importance of sex and humor in good writing, the pressure to be "everything for everyone" who shares her identity as a queer writer, and the danger of a single story. An audience Q&A followed.
Howlingly Funny, Breathtakingly Inventive
Machado was introduced by Stephanie Grant, director of AU's MFA Program in Creative Writing, who has read (and taught) both of Machado's books. "I'm struck by the extent to which I've been engaged emotionally and intellectually and politically, a trifecta that almost every writer I know aims for," Grant said. "In addition, Machado is howlingly funny, by which I mean when you laugh, the laugh is not easily distinguished from a howl of grief. But still you laugh."
In the Dream House (Graywolf Press 2019) has received rave critical reviews. It has been described as "a gorgeously kaleidoscopic feat" by Entertainment Weekly, "breathtakingly inventive" in the New Yorker, "a dizzying, dazzling amalgamation of memoir and criticism" in Vanity Fair, and "the kind of book that burrows under the reader's skin while simultaneously forcing her to inhabit the body of the writer" on NPR. It is a memoir of an abusive relationship with an ex-girlfriend. Each chapter is told through a different dramatic trope — the haunted house, erotica, the bildungsroman — through which Machado examines and dissects the relationship from different angles.
After reading In the Dream House, fellow writer Roxanne Gay tweeted, "It's so good I have to put the book down after each chapter to contemplate never writing again because why bother."
Her Body and Other Parties
In the Dream House follows Machado's first book, Her Body and Other Parties (Graywolf 2017), a finalist for the National Book Award and the winner of the Bard Fiction Prize, the Lambda Literary Award for Lesbian Fiction, the Brooklyn Public Library Literature Prize, the Shirley Jackson Award, and the National Book Critics Circle's John Leonard Prize. In 2018, the New York Times listed Her Body and Other Parties as a member of "The New Vanguard," one of "15 remarkable books by women that are shaping the way we read and write fiction in the 21st century."
Machado has received fellowships from the Guggenheim Foundation, Michener-Copernicus Foundation, Elizabeth George Foundation, and the CINTAS Foundation. She is currently the Writer-in-Residence at the University of Pennsylvania.
The Bishop C.C. McCabe Series
The Bishop C.C. McCabe Lecture Series, which sponsored Machado's reading, was established to honor Bishop Charles Cardwell McCabe, who was Vice Chancellor and Chancellor of American University from 1899 to 1902. He began the first successful fundraising campaign at AU. A fund was established in 1906, through a generous bequest in the Bishop's will, to create a lecture series in the College of Arts and Sciences.
In recent years, Bishop C.C. McCabe Lectures have been given by Teju Cole, Jelani Cobb, Eduardo Bonilla-Silva, Amy Stolls, Ta-Nehisi Coates, Nina Tandon, current AU faculty members Kyle Dargan and Rachel Louise Snyder, and many more faculty members, alumni and scholars from all disciplines within the College of Arts and Sciences.