Arts
Director Aaron Posner Talks about "Must See" Play, February 10-12
Students rehearse The Sins of Sor Juana in the Greenberg Theatre (photo by Bret O'Brien)
In the first live performance of the new year, AU's Department of Performing Arts presents the acclaimed The Sins of Sor Juana, written by playwright Karen Zacarías and directed by AU's Aaron Posner. 
Performances run from February 10-12 at AU's Harold and Sylvia Greenberg Theatre. Tickets are $15 ($10 for AU community members and seniors), available by calling 202-885-ARTS or by visiting the AU box office. 
We asked Posner — award-winning director, playwright, teacher, and former Artistic Director of Philadelphia's Arden Theatre and New Jersey's Two River Theatre — to share the story of Sor Juana, what makes her story timeless, and how this live production came together in time to launch the new semester.
 
Why you chose to bring The Sins of Sor Juana to AU?
The Sins of Sor Juana tells a compelling story about a remarkable woman who is a cultural icon in Mexico, but largely unknown, and certainly under-appreciated, in the United States. Sor Juana Ines de la Cruz was a poet, composer, prodigy and full-on feminist in the late 1600's. She advocated for education and opportunities for women. She is a truly remarkable woman and character, well worth knowing and exploring. Plus, Karen Zacarias, a DC resident, is one of the most produced and well-respected playwrights in America. It is an honor to do her play, which is full of poetry, passion, love, integrity, and all the things that are worth fighting for in our lives.
Why do you think Sor Juana resonates with AU student actors and audiences?
Sor Juana's true story is inspiring, and so is this fantasia Karen has woven about what she images led Sor Juana through some of the difficult choices she made in her early life. She's a very young woman who knows who she is, what she wants, and what she is willing to do to live her life with integrity. She is incredibly open and honest in ways I think are really extraordinary. I also hope it will resonate because of the excellent work the cast is doing. Most of them have not been able to perform at all for the past few years, and yet they are throwing themselves fully into the production, taking real risks, exploring the extreme energy, physicality, psychology, sexuality, and poetry of the play. They are being bold and very generous in the excellent work they are doing.
You came aboard right AU right before the pandemic — what has that been like?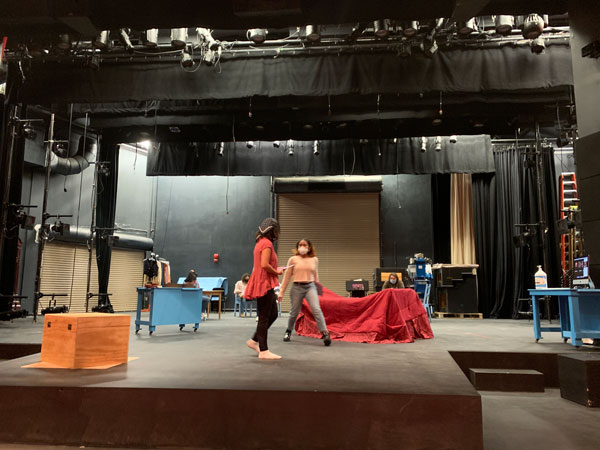 I was at AU as a guest artist in the Theatre/Musical Theatre program for a few years, and had directed a few productions, but I was hired full time just before the pandemic. I'm thrilled to be a part of the Theatre/Musical Theatre Program, the Department of Performing Arts, and this entire university. I find both my colleagues and the students really inspiring. There is so much great work being done despite really adverse conditions. It is certainly a strange time to have begun, but I am so happy on honored to be part of this community.
Can you describe the challenges of pulling together the first live performance of the year, just as Omicron arrived?
We rehearsed for the first week online, and we are continuing to work masked. But live theatre is remarkably resilient! We always face all kinds of challenges and obstacles and find way to meet them or overcome them. Our young actors have been fierce, courageous, and determined and are doing great work.
The students just seem so happy to be doing a play together! Real people, in a real space for a real live audience! Zoom has been very helpful, but there is no substitute for real, live performance and these students have had WAY too few opportunities over the last two years. So, I think we are all just thrilled and energized by having the opportunity to do this great play in the old-fashioned ways — live in front of an audience!
The Sins of Sor Juana is produced by special arrangement with THE DRAMATIC PUBLISHING COMPANY of Woodstock, Illinois.