Explore the Great Questions
The MA in Philosophy offers rigorous academic training focused on engagement with primary texts while providing opportunities to put that training to work, both in and out of the classroom. In our program, you will apply philosophy to important issues concerning biomedicine, environmental protection, human rights, media, business, and race relations. You will leave the program prepared for doctoral study, law school, or the pursuit of other career goals.
Our program emphasizes flexibility and faculty mentorship with the goal of helping you develop a program tailored to your goals. We offer two tracks of study:
Philosophy and Social Policy
The Philosophy and Social Policy track applies ethics and political philosophy to today's complex social issues, combining philosophy with social science to provide a foundation for designing and evaluating social policy.
History of Philosophy
The History of Philosophy track emphasizes the diverse traditions and methodologies of the discipline, providing the opportunity to develop skills in analytic and continental philosophy, feminism and critical race theory, and Asian and Latin American philosophies as well as the Western canon.
Please see also our Sample Course Sequences for MA degree tracks, selected Graduate Student Profiles, and our Graduate Handbook.
Flexible, Outward-Directed Study
Our MA program uses a combination of coursework, research, and practical experience to prepare you for further graduate study or to apply what you've learned outside of the academy. To ensure that you complete the MA best suited to your goals, this 33-credit program is divided into two tracks.
The Philosophy and Social Policy track challenges you to extend your thinking beyond the university. In addition to your philosophy courses, you will study ethics, applied philosophy, and social science or social policy. You will produce one MA qualifying paper on ethics and one on contemporary philosophy.one on 19th or 20th century philosophy.  This outward-directed track includes an internship, in which you can explore your career options and examine how the study of philosophy contributes to engagement outside of the academy.
The History of Philosophy track provides rigorous academic training in philosophy. Following this track provides a solid foundation of philosophical knowledge with challenging coursework. You will refine your writing and research skills, expand your knowledge, and develop expertise while writing two MA qualifying papers of publishable quality. 
Please see complete Admissions & Course Requirements.
Opportunities for Funding
In addition to traditional financial aid, various scholarships, fellowships, and grants are available to AU students.
For more information, please visit Scholarships and Grants.
Explore Opportunities in the Capital City
Consistently ranked as one of the best cities for job seekers, DC offers access to an extraordinary array of professional and intellectual opportunities. Our MAs get a head start on their careers with internships with important area institutions, including Amnesty International, the Brookings Institution, the Central Intelligence Agency, Congress, the Department of Education, the Department of State, Human Rights Watch, the Institute for Policy Studies, the National Institutes of Health, the Smithsonian Institution, the Urban Institute, and local school districts. You can apply your critical reading, analytical problem solving, and writing skills in the federal government or in the area's many research institutes, NGOs, think tanks, and business organizations.
While many of our students move on to PhD programs and take academic positions, the philosophy MA's emphasis on research, writing, and philosophical interpretation will also prepare you for a number of careers in the DC area. Our graduates work at the World Bank, the American Academy of Arts and Sciences, the Institute for Policy Studies, the Ethics Resource Center, the Ethics and Policy Integration Centre, the Department of Justice, the US Agency for International Development, the US Institute of Peace, and in education.
Knowledgeable Faculty Dedicated to Your Success
At AU, you will benefit from individualized mentorship and one-on-one intellectual interactions with your professors. Our world-class faculty has a broad range of expertise and research interests, including ancient philosophy, Asian philosophy, continental philosophy, ethics, feminist and critical race theory, Latin American philosophy, literature and literary criticism, political philosophy, and religion. Whether your interests are academic or applied, you can be assured of finding a faculty mentor who specializes in your field of study.  
See all Philosophy and Religion faculty.
A WORLD OF OPPORTUNITY
Your MA will prepare you for further graduate study or for a variety of careers in world-changing institutions. Some of our students pursue further education in law schools or doctoral programs. We have alumni in PhD programs at George Washington University, the New School, SUNY Binghamton, and Virginia Tech.
Many of our graduates work for the federal government in positions with the Department of State, Department of Justice, USAID, and the Peace Corps. Alumni interested in international development have found careers with the World Bank Group, Inter-American Development Bank, and Chemonics International. Other alumni work for humanitarian organizations such as the American Red Cross and Doctors without Borders or nonprofits like Planned Parenthood and the Internews Network. Across DC and around the world, MAs can be found in positions where they can make a difference.
For more information on alumni and internships, see our Career Prospects and Internships pages.
Julie Williams-Reyes
MA, Philosophy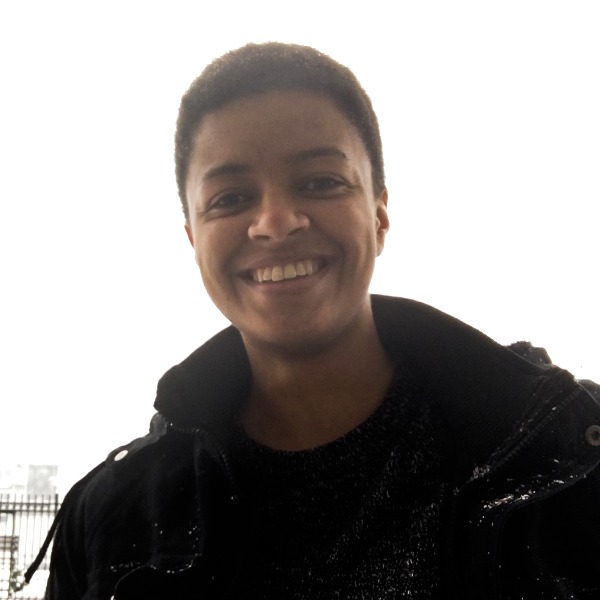 Julie Williams-Reyes (they/them) has spent their time at American University studying, writing, grassroot organizing, and advocating for populations who need help most.
Last fall, while working towards an MA in Philosophy and Social Policy, Julie interned for DC's Public Defender Service Mental Health Division. They are also a member of the abolitionist organization Critical Resistance, where they lead political education workshops, campaigns, and mutual aid projects, including Write Them All, letters to every person currently incarcerated in Oregon. Julie's latest writing project is titled: "Abolition Feminism: Practical Sketches for Disrupting the Spacetime of Domination."
After earning their MA, Julie is planning on pursuing a PhD in Philosophy. "Meanwhile, and for the many lifetimes to pass, I will work toward the liberation of all peoples, spending my time grassroots organizing. Study, love, struggle," Julie says.
The Philosophy Department has been indispensable to my growth at AU. The professors and staff care a great deal about their students and the world they come from and the world as it is constantly being made and remade. I am grateful to Ellen Feder, Andrea Tschemplik, Amy Oliver, Jin Y. Park, Anika Simpson, Ian Rhoad, Asia Ferrin, Perry Zurn, and Rebecca Carr. And of course, my love for philosophy, the dimensions it challenges and dreams, would not have been possible without Martina Ferrari.
Discover CAS: The Humanities
00:01:59
Explore our community.
Video Take a Video Tour.
Please send me information about Master of Arts in Philosophy