Premedical Programs
4400 Massachusetts Avenue NW
Washington
,
DC
20016
United States
Tailor your classes to your goal
Medicine is practiced by a team of professionals, each with different training. The specific courses you are required to take before studying medicine will depend on your desired field. The Post-Baccalaureate Premedical Program at American University is designed to provide you with the opportunity to take both the required and recommended courses to prepare you for the specific advanced degree you wish to apply for, while avoiding taking unnecessary classes.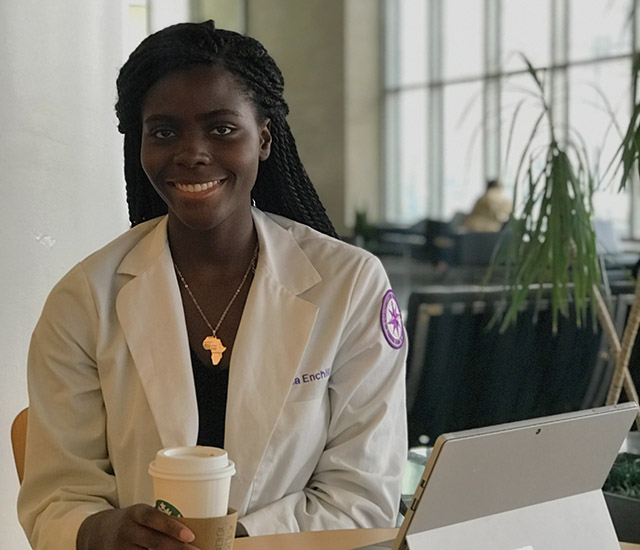 Zenaida Enchill, Medical Student at Northwestern University
AU's post-bacc program was perfect for me.
I chose the program for its strategic location in Washington, DC. During my post-bacc year, I was able to intern at the Office of Minority Health at the EPA, as well as begin an internship at a local physician's office, which led to a full-time medical assistant position. A huge pull of the program was its strong advising. Dr. Arneson was readily available to assist me with questions I had during the application program and assuage any concerns I had along the way.
Frequently Asked Questions
For financial aid purposes, the Post-Baccalaureate Premedical program is considered to be a fifth-year undergraduate program. Therefore, undergraduate aid in the form of federal loans is available. Unfortunately, no scholarships are available to post-baccalaureate students. However, post-baccalaureate students are eligible to compete for the Robyn Rafferty Matthias Summer Research Fellowship, which provides a stipend and funds for research supplies
Yes, you can. We carefully assess your entire application before making an admissions decision. In addition to your overall GPA we will look for trends in grades and your grades in science and math classes. We encourage you to help us understand your academic record by explaining in your personal statement any extenuating circumstances that might have adversely affected your grades.