TESOL
4400 Massachusetts Avenue NW
Washington
,
DC
20016-8169
United States
Annie Bai is a current MA TESOL student graduating in December. 
Could you please introduce yourself?
Hi I am Annie, from Beijing China. Currently, I am a full-time student in the MA TESOL program and this is my last semester before graduation. I also work part-time as a language counselor in IAP to help international students better adjust to academic life in the US. During my free time, I like sports, painting, and volunteering around the world.
Did you have any teaching experience before you enrolled in the TESOL program?
I used to tutor in an after-school program in China for elementary and middle school students before enrolling in the TESOL program. Memorizing English vocabulary was the students' main task. I inspired them to use some imagination to associate the word with the meaning for better memorization.
In your opinion, what are some qualities which make a good teacher?
I think that patience and being detail-oriented are significant qualities a good teacher should have. The individual difference should be considered during teaching. A good teacher can spot students' different learning stages and utilize a variety of ways to find the best approach to them. Having the patience to accept individual differences, and seeing it as an opportunity to provide instructional activities that can cover learners' weaknesses and needs are beneficial for the learning outcome. A good teacher can always extract teaching points from students' performances and never get tired of exploring and trying innovative approaches to meet the ideal results.
Are you currently teaching English? If yes, where and what is your learner population?
Yes. I have experience in teaching a wide age group of learners (from preschool to senior). This summer, I interned at Disney English in Beijing and worked with a co-teacher to teach at a Summer camp for K-6 learners. Not only did we teach the phonics of each letter, but also the blending and sight words were the emphasis in the classroom. I conducted a lot of games and activities for learners to reinforce the content in a positive and harmonious environment. Besides, the learners were encouraged to use English to all the situations in the classroom.
In your opinion, what makes a successful language learner and teacher?
Willingness to collaborate and strong faith to reach the ideal learning outcome make both the learner and teacher successful. After I researched the ideal L2 self, I realized that one's belief and goals play important roles in motivation and learning outcome. If the teachers have faith in their students' learning and conduct various interactive activities in a comfortable classroom environment, the students will establish confidence and be more engaged in class. Thus, a rapport is developed between teacher and students where they will be more compatible and keep a positive mindset in teaching and studying.
What do you plan to do after you complete the TESOL program?
After I graduate, I plan to teach in a K-12 setting. I enjoy the vitality from the kids which is one of my motivators to design various activities for a fun learning experience.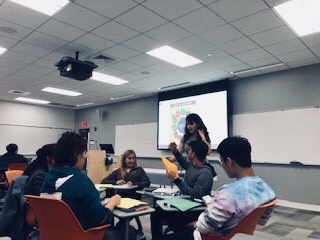 Willingness to collaborate and strong faith to reach the ideal learning outcome make both the learner and teacher successful.