April 2019

Community Relations
4400 Massachusetts Avenue NW
Washington
,
DC
20016-8033
United States
Community Liaison Committee Meets April 18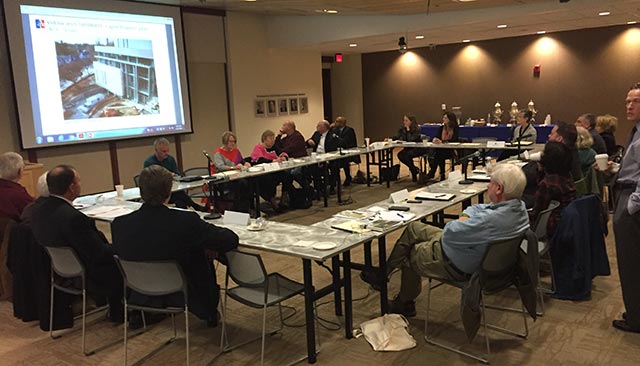 American University's Community Liaison Committee (CLC) will hold a quarterly meeting on Thursday, April 18.
The meeting will begin at 6:30 p.m. in Constitution Hall, Rooms 1 – 3 on the university's East Campus. Neighbors are invited to join AU staff at 6 p.m. for pre-meeting coffee and conversation. Parking for the meeting is available in the open-surface lot on Nebraska Ave.
The CLC was established to foster positive relations and to maintain regular communication between the university and its neighbors. As specified in the D.C. Zoning Commission Order for AU's 10-year Campus Plan, the CLC comprises individuals from neighboring community organizations and representatives from the university.
Additional information on the CLC, including meeting agendas and minutes can be found at the CLC website.
Campus Beautification Day April 9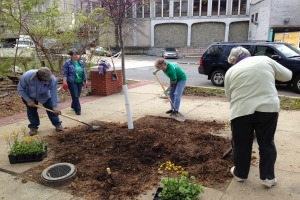 April is Earth Month at American University, and we invite our neighbors to join us for our annual Campus Beautification Day (CBD).
This year, AU will celebrate its 26th Campus Beautification Day on April 9 (rain date: April 10). You can register for CBD at the flagpole area opposite the Mary Graydon Center entrance on the AU Quad starting at 8 a.m. the day of the event. CBD is a university tradition that incorporates campus beautification and sustainability goals. The most important aspect of the day is building and strengthening the AU community by bringing together staff, faculty, students, and neighbors.
CBD features a sustainability theme and this year's activities will highlight AU's commitment to greening the campus. Wear comfortable clothing, closed-toe shoes, and we will supply the rest (gloves, water, T-shirt, and team leaders to guide you in participating in the various activities). Beautification activities wrap up at 11:45 a.m. with a barbeque in the AU Amphitheater. Campus beautifiers all will be qualified to enter to win a raffle prize at the barbeque. Simply fill out a raffle ticket at the registration desk and be present to win at the giveaway during the barbeque.
Also be sure to bring your personal and office e-waste to be recycled. The Office of Facilities Management American University Zero Waste will collect e-waste next to the registration desks. E-waste will be recycled, and data will be wiped according to Department of Defense standards. Please note that AU owned surplus e-waste will not be collected at this drive but must be collected by the Office of Information Technology, by filling out an online form.
For more information, contact Mark Feist or Stephanie Destefano. Also, follow CBD happenings on Instagram @americanu_arboretum and check out #BeautifyAU. 
AU Invites Neighbors To "AU Planning 101" on April 25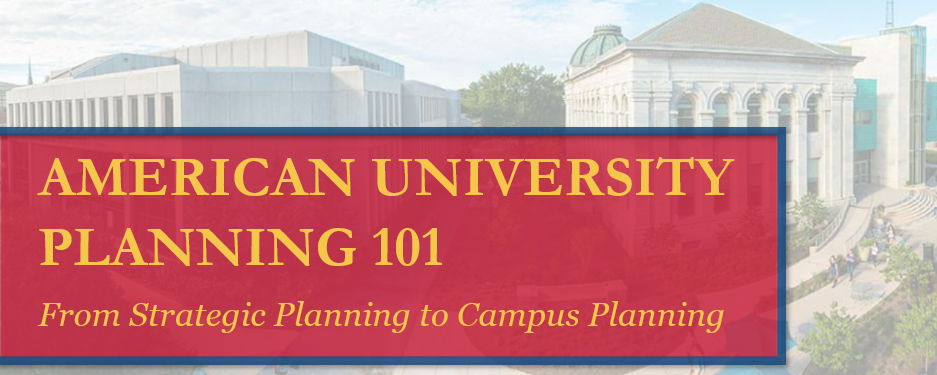 As American University embarks on our new five-year strategic plan Changemakers for a Changing World, we will host an American University Planning 101 workshop on Thursday, April 25, 6 - 8 p.m.
Neighbors are invited to join us as we share highlights from the plan and explore the role of the community in the planning process. We will demonstrate how the plan connects to other key planning activities such as academic and campus planning with the goal of engaging our campus community and our neighboring residents in an inclusive and productive manner.
American University's five-year plan addresses the issues facing our community and higher education, while building on our legacy of leadership, scholarship, and service, and boldly embracing opportunities for greater impact. 
The plan is rooted in AU's existing strengths while embracing the future, with all the opportunities and challenges that the future presents. It draws on an extensive analysis of AU's current strengths, opportunities, and positioning relative to our peers; an examination of best practices and trends in higher education; and, most importantly, robust input and feedback from a wide range of AU community members at all stages of development. We look forward to seeing you and hearing your voice.
American University Planning 101 will take place in the Butler Boardroom (6th floor of Bender Arena). If you plan to attend, please be sure to RSVP to communityrelations@american.edu by Friday, April 19. 
More information on the strategic plan can be found at the Strategic Plan website.
Community Audit Program Summer Sessions Enrollment Begins April 1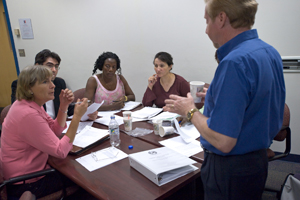 American University's neighbors may enroll for summer session classes, offered through its Community Audit Program beginning Monday, April 1. 
The audit program offers adults ages 60 and older, and who live in the 20007, 20008, 20015, and 20016 Zip Codes the opportunity to attend university courses on a noncredit basis.
Visit the Community Audit webpage to find out more information about the requirements to participate in the program as well as the list of classes offered. You also may enroll for classes directly from the webpage by following the quick and easy steps listed.
Modeled after the Alumni Audit Program, auditors may listen to the same lectures and work from the same texts as enrolled students. For a modest fee of $100, $75 of which serves as a donation to the Alumni Association Scholarship Fund, neighbors are provided with a rewarding way to enhance professional skills, take classes with popular professors, or delve into a new hobby and pursue a commitment to lifelong learning.
The Community Audit Program is coordinated by the Office of Alumni Relations, in conjunction with the Office of Community Relations.
"The Community Audit Program is a mutually beneficial educational opportunity for the university's neighbors and students, as it brings them together and allows for the interchange of experiences and ideas," said Ed Fisher, AU's Director of Community Relations.
For additional information, contact Chaney Doyle at 202-885-5960.
LEED Students Study Real-World Energy Challenges Presented by Katzen Arts Center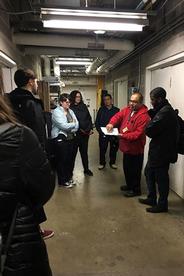 American University's Facilities Management department takes the university's core mission of education seriously by engaging in collaborative efforts with students. For the third year, Facilities' Energy Management staff has collaborated with AU Professor Victoria Kiechel of the Global Environmental Politics program to lead graduate students studying LEED (Leadership in Energy and Environmental Design) on a tour of the Katzen Arts Center's mechanical room. The tour exposes students to the mechanical systems and the types of energy efficiency practices that they study about in their coursework in Professor Kiechel's classes.
Kiechel's course dives deep into the nine categories of LEED (Leadership in Energy and Environmental Design) for which a building can attain points, including water conservation, innovation, and materials and resources used within a facility. Discussion of these categories takes place during the tour of the Katzen Arts Center's mechanical systems. 
"In the world of sustainable design, a 'building' is more than just architecture - it is a combination of social, spatial, and technical elements. You need to understand how all three combine to affect one another," says Keichel. "Visiting mechanical rooms is a great way to begin this understanding."
Katzen Arts Center is an ideal venue for a LEED class, as it presents a number of real-world challenges. Constructed in 2005, the building is not LEED certified and is one of the largest energy consumers, per square foot, on the AU campus. The building was designed as a multi-purpose space for classrooms, art galleries, studios, and performing arts spaces and, as such, creates unique challenges for energy efficiency and benchmarking. The building's envelope, atriums, lighting, ventilation, temperature, and humidity are all factors involved in modelling and managing its energy efficiency. An added concern unique to the building is that it also must align with the exacting requirements of an arts facility. 
As a result, the facility offers significant opportunities for Facilities Management and students to collaborate and explore energy-efficient solutions. Katzen's construction, purposes, and occupancies all underscore the fact that every building brings its own unique challenges, and "blanket solutions" to improve energy rarely exist. 
Expanding on the concepts that Professor Kiechel teaches, the tour provides specific examples of energy conservation measures. In a pre-tour presentation, students learn about the practices that AU takes to optimize energy efficiency, including the campus temperature policy, the monitoring of building energy usages, and tracking building heating and cooling schedules. The Energy Team details how every building has its own unique needs. Students also are introduced to Lucid, one of the online energy-tracking database tools that Facilities Management uses. 
Facilities Management understands the value of aligning itself with AU's education mission and supporting faculty and students' efforts to maximize the AU academic experience. The Energy Team continues to seek out opportunities to engage students in dialogue on AU's behind-the-scenes operations through in-class presentations, field trips to mechanical rooms, and working to develop potential internships as a way for everyone to continue to become more educated and energy efficient. 
AU Farmers' Market
April 3, 10, 17, 24, 10 a.m.
Quad Space in front of Mary Graydon Center
Every Wednesday, the quad space around the Mary Graydon building buzzes with activity as students, faculty, staff, and neighbors browse goods ranging from farm-fresh vegetables to homemade breads and desserts at the AU Farmers' Market. The market is a coordinated effort between AU and Pennsylvania-based Agora Farms. Girardot's Crumbs Bakery also offers a variety of fresh breads as well as chocolate chip cookies, mini pies, and cobblers.
Yoga in the Galleries
April 3, 10, 17, 24, 10 a.m. 
American University Museum at the Katzen Arts Center
Led by certified Kripalu Yoga teacher Eva Blutinger, this yoga class provides mental clarity and relaxation in the peaceful surroundings of our art galleries. Please bring a mat. Cost is $10 for non-members, $5 for museum members, and free for members at the Associates level and above. www.tinyurl.com/aumtickets.
Art Talk: New Growth: The Art and Texture of Black Hair After Emancipation
April 3, 3 – 5 p.m.
Abramson Family Recital Hall, Room 160
Jasmine Cobb (Duke University) explores liberation and autonomy in the artistic display of black hair texture. She will consider questions of nature and tactility as rendered through representation and related to larger histories of race. Free and open to the public.
Holocaust Remembrance Week Name Reading
April 4, 12 p.m.
Quad
Students and staff from all backgrounds participate in a 24-hour commemorative name reading for those who lost their lives in the Holocaust
Forward Press: 21st Century Printmaking
April 6 – August 11, 11 a.m. – 4 p.m.
Katzen Museum 1st Floor Exhibition
Printmaking Legacy Project's first national print exhibition, the exhibit features ten innovative print artists from across the country who employ the finest examples of hand-printed and digital techniques. They explore themes of culture, identity, religion, environment, memory, and art history. Some work in traditional forms such as lithography, intaglio, relief, and screen printing, while others explore these methods as the basis for large-scale sculpture, collage, and integrating technology into printmaking. Featured artists include April Flanders, Tom Hück, Carrie Lingscheit, Beauvais Lyons, Dennis McNett, Michael Menchaca, Richard Peterson, Nicole Pietrantoni, Steve Prince, and Sangmi Yoo.
Kenneth Victor Young: Continuum
April 6 – August 11, 11 a.m. – 4 p.m.
Katzen Museum 1st Floor Exhibition
Born in Louisville, KY, Kenneth Victor Young (1933-2017) moved to Washington, DC in 1964 where he began to paint abstract forms with washed acrylics on unprimed canvas. Young's artistic philosophy was to bring order out of chaos. His studies in physics and the natural sciences at Indiana University informed a different imagery – a fusion of brilliant colors. Young's knowledge of form and matter gave his paintings a spatial intensity, and he infused this space with multiple orbs of color held together in molecular suspension. Young had an illustrious 35-year career as an exhibition designer for the Smithsonian Institution, and his extensive travels during this time helped inform his cosmic abstract style of painting. His love for jazz influenced the movement and vitality of his work.
Peripheral Visions
April 6 – August 11, 11 a.m. – 4 p.m.
Katzen Museum 2nd Floor Exhibition
This exhibit focuses on the community as well as individuality formed in the first year of the Studio Art MFA Program, showing a group of very different artists working and learning how to grow together. The word peripheral becomes the crux in understanding the show as a collective vision, while also highlighting the distance and boundaries that exist between each individual's studio practice. Featured artists include Lizzi Alarcon, Basmah Alhumaid, Chelsey Anderson, Amber Cruz, Jennifer Frank, Nieko McDaniel, Matthew Russo, and Cindy Warshaw.
Squire Broel
April 6 – August 11, 11 a.m. – 4 p.m.
Katzen Sculpture Garden
This unique sculptural installation exposes viewers to aspects of the American rural West's untamed spirit, vast rugged landscapes, and traditions of mysticism. Broel's intentional decision to live and work in a small agrarian community in the Pacific Northwest provides viewers with a raw vision of inward examinations that relate more to the health of the psyche than to the pop-culture echo chamber. The work is a complex fusion of expressions: longing, melancholy, hope, and contentment.
Testament of the Spirit: Paintings by Eduardo Carrillo
April 6 – August 11, 11 a.m. – 4 p.m.
Katzen Museum 3rd Floor Exhibition
This exhibit highlights the creative efforts and social importance of Carrillo as artist, teacher, scholar, and social activist. It showcases work created for three distinct realms: the public, the private, and the museum. The artist's murals are featured in the full-color, bilingual exhibition catalogue. Intimate watercolors and paintings describe the artist's everyday life in self-portraits, still lifes, and images of people and places he held dear. Large-scale visionary paintings – Carrillo's masterpieces – reveal his complex and creative mind. The exhibition also includes the bilingual video, Eduardo Carrillo: A Life of Engagement, by Pedro Pablo Celedón.
Works from the Jane and Arthur Mason Collection
April 6 – August 11, 11 a.m. – 4 p.m.
Katzen, James Renwick Alliance Display Case
An exhibition of wood-turned objects from the Collection of Jane and Arthur Mason. The James Renwick Alliance display case features rotating exhibitions of craft works and is located in the lobby outside the museum.
Gallery Talk: Forward Press
April 6, 5 – 6 p.m.
Katzen AU Museum
Join curator Susan J. Goldman and the artists of Forward Press: 21st Century Printmaking to learn how their works reinterpret centuries-old printmaking techniques in the digital age. Free and open to all, please RSVP at tinyurl.com/aumuseumkatzen.
Spring Opening Reception
April 6, 6 – 9 p.m.
Katzen AU Museum
Mix and mingle with artists, curators, and fellow patrons at our spring opening reception and enjoy the five new exhibitions on view. Free and open to all.  
Drawing Portraits: Learning to See Like an Artist with Beverly Ress
April 7, 14, 21, 28; May 5, 12, 2 – 4 p.m.
Katzen Arts Center
In this course, you will improve your ability to capture a likeness from life. Weekly topics cover visually shifting from the right to left brain, working with the picture plane, cementing the basics of portraiture, working with light and shadow, and finally, creating a skillful self-portrait. Read more about DC artist and longtime teacher Beverly Ress here. Register at: tinyurl.com/aumtix.
Empathy in Filmmaking with Filmmakers-in-Residence
April 10, 7 p.m.
Malsi Doyle and Michael Forman Theater (McKinley Building)
Documentary filmmakers are seekers of truth. But sometimes their objectives and perspectives can differ from those of their characters. How do they operate as responsible storytellers, entrusted with often painful and complex stories from characters' lives, while also remaining true to the vision of the greater story they aim to tell? Join SOC Filmmakers-in-Residence Laura Waters Hinson and Byron Hurt for an evening conversation on the power and challenges of "filmmaking with empathy." Seating is first come, first seated. A reception will follow the event. Reservations are recommended: https://EmpathyInFilmmaking.eventbrite.com
Some Spring Swing: AU Jazz Orchestra
April 12, 7:30 – 9:30 p.m.
Abramson Family Recital Hall, Room 160
From big band to funk/rock to Latin sounds, AU's own jazz ensemble brings the swing. Conductor Joshua Bayer is a jazz guitarist, composer, and director who has performed at the Kennedy Center, the Detroit Opera House, the Harlem Renaissance Festival, National Public Radio, and more. 
Danceworks 2019: Fulcrum
April 12 – 13, 8 – 11 p.m.
Greenberg Theatre
American University Dance Program's DANCEWORKS is an annual concert featuring fresh and seasoned perspectives on concert dance. This year's performance features the AU Dance Company with choreography by AU students, faculty members Britta Joy Peterson and Erin Foreman-Murray, and guest artist Meredith Rainey, along with Colette Krogol and Matt Reeves from the Orange Grove Dance Company.  There will be a post-show event for a conversation after each performance.
Dragception Workshop
April 13, 11 a.m. – 4 p.m.
Katzen AU Museum
Bring your iPads or sketchbooks to draw from a live drag show. Featuring performances by drag kings and queens from the greater Washington, DC area and New York City. Artist Richard Peterson, whose work is included in the exhibition Forward Press, will lead participants in an iPad drawing workshop. Since 1975, Peterson has explored the subject of gender, identity, and transformation in drag culture. Participants will learn new techniques for drawing with their iPads, digitally printing from iPads onto paper, and have an opportunity for a Q&A session following the show. Refreshments will be available, but please pack a lunch. For free (required) tickets:  tinyurl.com/aumuseumkatzen.
Women's Lacrosse vs. Colgate
April 13, 1 – 3 p.m.
Jacobs Field
Katzen Docent-led Tour
April 14, 20, 21, 28, 2 – 3 p.m.
Katzen AU Museum
A docent-led tour of one or more of our current exhibitions. No RSVP required. Please meet at the front desk.
AU Symphonic Band
April 14, 3 – 5 p.m.
Abramson Family Recital Hall, Room 160
Join the AU Symphonic Band for a memorable performance of a diverse selection of repertoire including Bernstein's Candide Overture, as well as works by Shostakovich, Persichetti, Morten Lauridsen, Eric Whitacre, and more.
Free Parking: Kenneth Victor Young
April 18, 5:30 – 7 p.m.
Katzen AU Museum
As part of the continuing series of salon-style conversations at the Alper Initiative for Washington Art, curator Dexter Wimberly will discuss the life and abstract work of Washington Color School painter Kenneth Victor Young. Free and open to all. RSVP: tinyurl.com/AlperTickets.
Carrie
April 18 – 19, 25 – 27, 8 – 11 p.m.
Katzen Studio Theatre, Room 154
Carrie White is a misfit. At school, she's an outcast who's bullied by the popular crowd and virtually invisible to everyone else. At home, she's at the mercy of her loving but cruelly over-protective mother. But Carrie's just discovered she has a special power, and if pushed too far, she's not afraid to use it...Based on the novel by Stephen King.
Women's Lacrosse vs. Holy Cross
April 20, 12 – 2 p.m.
Jacobs Field
School of Education Dean's Speaker Series with Joshua Childs
April 22, 4 – 5:30 p.m.
Kerwin Hall (School of Public Affairs), Auditorium 2
Dr. Joshua Childs, assistant professor in the School of Education at University of Texas, will be the spring speaker in the Dean's Speaker Series for the School of Education. Dr. Childs will deliver his Team Work Makes Dream Work: The Potential of Parnterships for Impact and Improvement in Education talk. The purpose of the Dean's Speaker Series is to share fresh insights with the American University community and local stakeholders on topics of education research and practice, especially around issues of equity, diversity, and inclusion. Now in its second year, the Speaker Series in the School of Education invites educators to present key insights from new research (tailored to a broad audience of policymakers, practitioners, and researchers), or participate in a Q&A-style discussion with the Dean around pressing issues of educational policy and practice.  Talks usually last 60-90 minutes, including time for Q&A, and are followed by a reception. Please  RSVP online.
Mozart Requiem
April 26 – 27, 7:30 – 9:30 p.m.
Katzen Arts Center, Room 160  
The combined choruses and symphony orchestra present Wolfgang Amadeus Mozart's extraordinary Requiem, one of the most sublime works in the western canon. The unfinished Requiem has long been shrouded in mystery from the secrecy surrounding its anonymous commission by a mysterious Austrian nobleman, the circumstances of Mozart's death, and the completion of the unfinished work under the direction of Constanze Mozart. The program also will include a collection of wonderfully evocative French works, including Debussy's Rhapsody for Alto Saxophone and Orchestra.
Family Day at American University Museum
April 27, 11 a.m. – 3 p.m.
Katzen AU Museum
Bring the family to participate in all the planned activities that are inspired by our current exhibitions. Create hands-on art projects, explore art with a scavenger hunt, take a tour with one of our guides, listen and participate in storytelling and music-making, and more.  Children must be accompanied by an adult.  To register for free tickets: tinyurl.com/aumuseumkatzen.