February 2019
Community Relations
4400 Massachusetts Avenue NW
Washington
,
DC
20016-8033
United States
Inside AU's Transformational New Five-Year Strategic Plan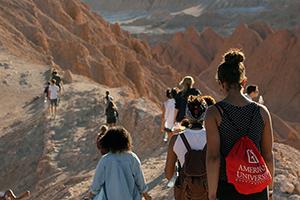 American University unveiled a bold new strategic plan recently that will shape the future of the university over the next five years. Titled Changemakers for a Changing World, the plan represents AU's commitment to its mission "to advance knowledge, foster intellectual curiosity, build community, and empower lives of purpose, service, and leadership." 
The plan marks a transformational moment for the university as it prepares for the future and remains true to the values that make it a leading student-centered research university.
"In American University's DNA is the importance of making a positive impact in the world," AU President Sylvia Burwell said. "We are taking that core of who we are and applying it to a world of change, opportunity, and challenge."
The strategic plan is the culmination of an effort spanning a year-and-a-half that involved teams of faculty, students, staff, alumni, parents, neighbors, and Board of Trustees members creating a path to guide the university's future. The process began with President Burwell meeting with more than 1,000 faculty, students, staff, alumni, neighbors, and other community members about what distinguishes AU, what AU should consider changing, and what needs to stay the same. As the plan was developed, an appointed Strategic Planning Committee consulted extensively with stakeholders on and off campus throughout the entire process. President Burwell also met with neighborhood leaders to brief them on the strategic plan prior to its rollout.
"Everyone has their own lens through which they see the university. They see opportunities, they see challenges, they see our identity," said Cheryl Holcomb-McCoy, dean of AU's School of Education and a member of the Strategic Planning Committee. "It was important to have diverse perspectives, for our total community to have a voice, and for the strategic plan to touch every corner of the university in a meaningful way."
The resulting document lays out three central themes:
Scholarship: Over the next five years, the university will develop areas of strategic focus that draw on fields where AU already excels, fields where AU's expertise crosses schools and disciplinary boundaries, and fields that hold promise for the future. The university will invest in areas of strategic focus, such as health, data science, security, and social equity, that enhance understanding and have the power to make an extraordinary impact. The university also will focus on growing sponsored research while expanding faculty-student research collaborations.
Learning: AU will continue to embrace the highest-quality teaching while exploring new frontiers of learning and scholarship. Imperatives include providing a first-rate student experience that promotes access, the ability to thrive, and higher retention and graduation rates. It also will focus on learning that prepares undergraduate, graduate, and professional students to engage in the world.  The university also will continue to provide traditional and emerging forms of education to promote lifelong learning experiences that are flexible, personalized, and accessible.
Community: AU is an institution deeply rooted in community. AU plans to build and strengthen ties with internal and external communities. Imperatives include leading and modeling inclusive excellence. The work in this area also will focus on growing the university's relationships with the Washington, DC, region to make an impact on education, arts and culture, economics, and forming and expanding partnerships to advance our strategic priorities. Additionally, the university will improve how AU works by evaluating existing technology, processes, structures, and making them simpler and more effective.
The plan also includes four outcomes for monitoring success: improving retention and graduation rates, achieving operational excellence, enhancing AU's reputation, and diversifying and growing revenue. 
While the themes and imperatives encompass the most important goals, values, and issues facing the university, committee members noted that the plan is intended to be a guide open to discussion, interpretation, and evolution.
"Through this strategic planning process, as an institution we have been asking ourselves, 'Who are we? What distinguishes us as a university?' Essentially, we are creating a common language, a common vision for the future," said Holcomb-McCoy. "In many ways, this is a process of becoming. And I believe we're on the right path."
Read more about the plan.
AU Men's Basketball Hosts Annual Sustainability Game Night, Feb. 13
American University invites neighbors to attend the annual Sustainability Basketball Game Night.
AU's men's basketball game against Loyola, MD on Wednesday, February 13 at 7 p.m. in Bender Arena will be a night of excitement for Eagle fans and sustainability stars. In addition to the game, the campus community will join together to learn about sustainable lifestyles as we celebrate our achievement of reaching and working to maintain carbon neutrality. 
Special attractions at the game will include an off-court sustainability fair prior to the game arranged by the Office of Sustainability, various on-campus student organizations, and the DC Sustainable Energy Utility. There also will be a display of trivia questions and facts about sustainability at AU on the Jumbotron, as well as sustainability-themed games on court with prizes.
The game will be co-sponsored by AU Athletics, Office of Facilities Management, and Office of Sustainability, along with the support of corporate partners Duke Energy, The Whiting-Turner Contracting Company, All State Construction, Inc., Aramark Higher Education, Big Stuff Inc. & RSI, Mallick Mechanical, The Fulcrum Group, DC Sustainable Energy Utility, and MeteoViva, Inc.
"The Office of Sustainability is thrilled to continue to partner with AU Athletics, Department of Athletics, and Facilities Management for this annual sustainability game," said Megan Litke, Director of Sustainability Programs. "Every member of the AU community has a role in carbon neutrality, and it's a great opportunity to highlight leadership in sustainability across campus."
Admission to the game is free for AU undergraduate, graduate, and WCL students with valid AU ID. Discounted tickets for faculty, staff, alumni, and fans are available here. Save 20 percent off all tickets by entering the coupon code GREEN20 at checkout after selecting your seats. This special offer is not available at the box office on game day. 
Learn more about sustainability, energy efficiency, and zero waste at www.american.edu/sustainability
Save The Date for Community Audit Program's Summer Semester Registration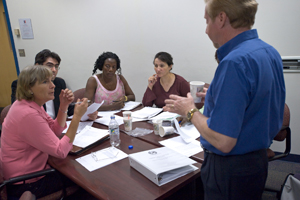 Although the spring semester is just getting underway, neighbors interested in enrolling in classes for the summer semester are encouraged to mark their calendars for Monday, April 1. Registration will begin then for AU's Community Audit program.
The program offers adults ages 55 and older, who live in the 20016, 20007, 20008, and 20015 zip codes, the opportunity to attend university courses on a noncredit basis for a modest charge. Auditors may listen to the same lectures and work from the same texts as enrolled students.
For just $100, $75 of which serves as a donation to the Alumni Association Scholarship Fund, neighbors are provided with a rewarding way to enhance professional skills, take class with popular professors, delve into a new hobby, and pursue a commitment to lifelong learning. The Alumni Association Scholarship is awarded every other year to an AU freshman legacy student.
Modeled after the Alumni Audit Program, the Community Audit program is coordinated by the Office of Alumni Relations in conjunction with the Office of Community Relations.
For additional information, please visit https://www.american.edu/alumni/benefits/education/CommunityAudit.cfm or contact Emily Walrath at 202-885-5962.
Welcome to Campus: Education Center Helps DC Kids See a Collegiate Future
When DC middle school kids from Ward 7 and Ward 8 visited American University last year, there was a telling moment.
"They asked, 'Is this still DC? Is it still in the district?' Because they had never been over here," recalled Laura Owen, inaugural director of the Center for Postsecondary Readiness and Success, part of AU's School of Education. "It's a really different experience for them."
AU wants to bridge gaps between the university and the local community with a special focus on helping underserved areas of the city. The poverty rate in mostly minority communities east of the Anacostia River – which includes Wards 7 and 8 – is about three times higher than the rest of the district, according to the DC Fiscal Policy Institute. Now, the Center for Postsecondary Readiness and Success (CPRS) is helping disadvantaged DC students believe in themselves and envision a collegiate future.
"The program is designed to get them onto a university campus so that they can see themselves there," said Owen.
Last year, CPRS received a $29,000 grant to support this ongoing project. Students from Charles Hart and Stephen E. Kramer Middle Schools came to AU's campus twice in the spring semester of 2018. Working in collaboration with the College Success Foundation and a private funder, they wanted students to be immersed fully in interactive classroom activities as opposed to just a campus tour.
First, students attended the Optics Olympiad, a previously established event where students engage with science. They returned later in the semester, seeing sports facilities and meeting with student-athletes, eating in the cafeteria, participating in a college prep classroom experience, and asking a panel of AU students questions about college.
"We talked about how students can stay academically qualified, and how to make decisions about post-secondary education," Owen said. "It was really fun because the students ended up asking more personal questions to our speakers like, 'What is it like to be a professor? Do you still have time with your family and your kids?'"
Subsequently, Owen brainstormed with more AU professors and conferred with the College Success Foundation about new ideas. Once the activities were selected, AU faculty visited the DC schools to explain their plans for upcoming workshops. When the middle schoolers arrived for their fall 2018 visit, they participated in STEM activities and took a trip to the AU Design and Build Lab, colloquially known as the Makerspace.
Owen was impressed by the enthusiasm of the visiting children. "It was so inspiring because some of them came back again this semester and said, 'I'm coming to American. This is where I'm going to school.' They just were so excited," she said. "We also gave them AU swag. They got a shirt, a water bottle, and an AU notebook so they could take notes as they participated in the different activities." 
There's been substantial support from faculty for these community efforts, including from the School of Education's Carolyn Parker and Kathryn Walters-Conte, the science outreach coordinator for the College of Arts and Sciences.
Physics associate professor Gregg Harry wrote the Optics Olympiad proposal to the National Science Foundation, which provided the initial funding. He's been heavily involved in planning the popular event for the past two years, and he's gearing up for the third Optics Olympiad on February 15. It will be a larger event – with more students and more DC schools – and it's moving from the Mary Graydon Center to the Don Myers Technology and Innovation Building.
"For the students, our goals are twofold. One is to have fun, and the other is to inform. But to the extent that there is some tension between them, we aim more for the fun," Harry said. "The learning can come later. The key is to get them interested in science."
Harry added, "It's valuable for us to have good relations with the rest of the city. And just to appreciate the fact that we're more than just an institution that's teaching college students, that just happens to be located in Washington. We're an integrated part of the community."
Harry originally considered a program for high schoolers, but many teachers told him middle school was the age at which to get kids' attention. Research shows that middle school is a pivotal time for planning success, and kids need certain fundamentals to be on track for subjects like Algebra I in 9th grade.
"Many intervention programs start really late. They're coming in 10th, 11th, and 12th grade to talk about college. And for many students, decisions have already been made that limit what their opportunities are going to be," Owen said.
This grant for helping middle school students is just one part of CPRS's mission and research agenda. They're working on counseling issues, combating "summer melt" to ensure university-bound students do, in fact, enroll, and they've got an upcoming project with AU's Community-Based Research Scholars. SOE dean Cheryl Holcomb-McCoy and Owen have worked with former First Lady Michelle Obama's Reach Higher Initiative to help steer more kids to college, and that work will continue.
"I'm a first-gen college student. And I love the opportunity to work with students, to look at what the opportunity gaps are, to look for strategies that help students," Owen said. "And our goal is to be more and more involved in the district."
Spring Brings AU's Farmers' Market Back To Campus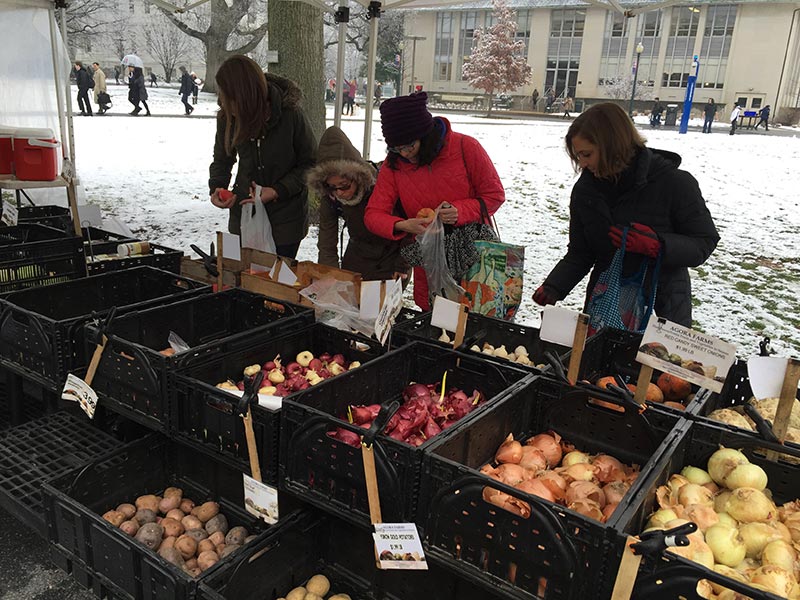 Every Wednesday from 11 a.m. – 4 p.m., AU's farmers' market is a fixture in the quad space around the Mary Graydon Center. Students, faculty, staff, and neighbors can browse goods ranging from farm-fresh vegetables to homemade breads and desserts.
The market is a coordinated effort between AU and Pennsylvania-based Agora Farms, an intermediary for bringing Amish and Mennonite and "English" farm goods to AU's campus as well as to D.C.'s historic Eastern Market on Saturdays and Sundays.
Girardot's Crumbs Bakery also offers a variety of fresh breads including raisin pecan, harvest grain, pain de campagne, jalapeno cheddar, sourdough, challah, whole wheat, focaccia, black Russian, NY rye, artisan baguettes, and tea breads, as well as chocolate chip cookies, mini pies, and cobblers.
In addition to supporting locally-grown food, the convenience of having fresh food right on campus makes it a great benefit not only to the campus community but to the surrounding neighborhood as well.
Jiri Kolar (1912 – 2002): Forms of Visual Poetry
February 1, 11 a.m. – 4 p.m.
Katzen Museum Third Floor Exhibition
This exhibition is dedicated to one of the most remarkable Czech poets and visual artists associated with Modernism, Jirí Kolár. During the Communist regime in Czechoslovakia, Kolár encountered considerable challenges, including a prison sentence for the critical stance towards the system expressed in his poetry. Whether because "images" were less easily censurable than "words" or for other personal reasons, from about 1959, he focused exclusively on visual arts – especially various experimental forms of collage. Yet most of his mixed-media works remained profoundly concerned with the word/image relationship, and can best be described as "visual" poetry. The selection presented is representative of the main aspects of his oeuvre as it evolved over several decades.
Michael B. Platt + Carol A. Beane: Influences and Connections
February 1, 11 a.m. – 4 p.m.
Katzen Museum First Floor Exhibition
Standing at the foot of Australia's sacred sandstone monolith known as Uluru, Michael B. Platt and Carol A. Beane envisioned a world invisible to many others. The world is at once primordial and imminent, spiritual and mortal. This exhibition is a collaborative offering from one of Washington's most prolific pairs; an offering of visibility from one world into another. Inspired by the ancestral stories told by the indigenous keepers of Australia's most sacred grounds, Platt and Beane fuse poetic image with word. The union culminates in an aesthetic experience of the human spirit that that transcends time, place, and identity. Presented by the Alper Initiative for Washington Art. 
Nancy at Ninety: A Retrospective of Form and Color
February 1, 11 a.m. – 4 p.m.
Katzen Museum Exhibition – All Floors
This retrospective of seven decades of the work of Washington, DC sculptor Nancy Frankel celebrates her ninetieth birthday in 2019. Working in various media since the 1950s – including wood, Plexiglas, plaster, design cast, and steel – Frankel has explored a fundamentally geometric vocabulary, often with a sense of playfulness. In addition to her freestanding works in three dimensions, a few of her many graphite drawings and tempera paintings will be represented, as well as one of her large wall reliefs.
The Gifts of Tony Podesta
February 1, 11 a.m. – 4 p.m.
Katzen Museum Second and Third Floor Exhibitions
This first major exhibition drawn from our Corcoran Legacy Collection features strong and provocative photography and sculpture donated by Tony Podesta over the past decade to the Corcoran Gallery of Art, now part of the American University Museum's holdings. Podesta has earned the reputation of being a fearless supporter of challenging contemporary art by women. He is an important patron of the arts nationally and internationally, with an outsized impact throughout the Washington art world.
Katzen Docent-led Tour
February 2, 9, 16, 17, 23, 2 – 3 p.m.
Katzen AU Museum
A docent-led tour of one or more of our current exhibitions. No RSVP required. Please meet at the front desk.
Men's Basketball vs. Holy Cross
February 2, 2 – 4 p.m.
Bender Arena
Yoga in the Galleries
February 6, 13, 20, 27, 10 a.m.
American University Museum at the Katzen Arts Center
Led by certified Kripalu Yoga teacher Eva Blutinger, this yoga class provides mental clarity and relaxation in the peaceful surroundings of our art galleries. Please bring a mat. Cost is $10 for non-members, $5 for museum members, and free for members at the Associates level and above. www.tinyurl.com/aumtickets.
AU Farmers' Market
February 6, 13, 20, 27, 10 a.m.
Quad Space in front of Mary Graydon Center
Every Wednesday, the quad space around the Mary Graydon building buzzes with activity as students, faculty, staff, and neighbors browse goods ranging from farm-fresh vegetables to homemade breads and desserts at the AU Farmers' Market. The market is a coordinated effort between AU and Pennsylvania-based Agora Farms. Girardot's Crumbs Bakery also offers a variety of fresh breads as well as chocolate chip cookies, mini pies, and cobblers.
William Meredith Foundation Poetry Award Reception
February 6, 6 – 7 p.m.
Katzen AU Museum
Join the William Meredith Foundation in celebrating its 2019 awardees in conjunction with for an exhibition of work by DC-based sculptor Nancy Frankel. Bulgarian Ambassador Tihomir Stoytchev will present two award-winning publications by the Meredith Foundation with readings by the awardees. Tom Kirlin will receive the 2019 Meredith Award for Poetry, and the Valentin Krustev Award for Translation to renowned DC poet and translator, Barbara Goldberg, for her translations of Israeli poetry. Refreshments will be served. Free and open to all, please RSVP to MarathonFilm@gmail.com.
Cultivating the Virtue of Disloyalty
February 7, 7 – 8 p.m.
Abramson Family Recital Hall
We often think of loyalty as a virtue – but is it? Loyalty often blossoms without thought, out of mere proximity. And it can get in the way of ethical behavior by seeding cronyism and by causing one to hesitate to call out misdeeds committed by compatriots. What kinds of people are capable of ethically productive disloyalty, and how can we get more people to follow their unpopular paths? Alice Dreger will draw from real-life histories in medical research, government, and journalism to explore this issue. For more information, visit: goo.gl/DM2tg2.
Men's Basketball vs. Army West Point
February 9, 2 – 4 p.m.
Bender Arena
Concerto and Aria Competition
February 9 – 10, 7:30 – 10 p.m.
Abramson Family Recital Hall (Room 160)
The AU Symphony Orchestra hosts this annual competition, open to all AU undergraduate students. After two rounds of competition, the winner will perform as soloist with the AU Symphony Orchestra in a public concert. Free and open to the public.
Women's Lacrosse vs. UMBC
February 13, 3 – 5 p.m.
Jacobs Field
Men's Basketball vs. Loyola
February 13, 7 – 9 p.m.
Bender Arena
Wrestling vs. George Mason University
February 15, 7 – 9 p.m.
Bender Arena
Women's Basketball vs. Lehigh
February 16, 12 – 2 p.m.
Bender Arena
Men's Basketball vs. Colgate
February 16, 4 – 6 p.m.
Bender Arena
Women's Basketball vs. Boston
February 20, 11:30 a.m. – 1:30 p.m.
Bender Arena
Reporter – A Conversation with Seymour Hersh
February 20, 6:30 p.m.
Malsi Doyle and Michael Forman Theater (McKinley – 201)
Pulitzer Prize-winning investigative journalist and best-selling author Seymour Hersh joins Investigative Reporting Workshop Executive Editor Charles Lewis to talk about his 50-year career uncovering some of the U.S. government's biggest secrets – from the Vietnam War My Lai massacre to Watergate abuses of power to the Abu Ghraib torture and prisoner abuse scandal. The free program includes a reception and book-signing for the author's Reporter: A Memoir. For more information, visit: https://www.american.edu/soc/calendar/events.cfm?id=7974955.
Free Parking: Michael B. Platt + Carol A. Beane
February 21, 5:30 – 6:30 p.m.
Katzen AU Museum
Carol Beane will discuss her collaboration with Michael Platt (1948-2019), and their exploration of non-Western aesthetics, imagery, and verse. Carol will read from some of her poems and discuss Platt's multi-layered digital images derived from explorations of aboriginal Australian culture. Free and open to all, please RSVP: https://www.tinyurl.com/AlperTickets.
Wrestling vs. Old Dominion University
February 22, 7 – 9 p.m.
Bender Arena
Movement Speaks: Conversations About Dance
February 22, 8 – 10 p.m.
Abramson Family Recital Hall (Room 160)
In the Movement Speaks series, professional dance artists discuss their work as choreographers, researchers, scholars, and performers. This season's talk features contemporary ballet choreographer Meredith Rainey, along with Colette Krogol and Matt Reeves from the multimedia Orange Grove Dance Company. They will discuss the choreographic process and give a sneak peek of new works they choreographed for the American University Dance Company during their weeklong residencies at AU. Free and open to the public.
North American Premiere: Saltzman – A Choral Symphony: Halevi
February 24, 4:30 – 6 p.m.
National Presbyterian Church
The combined forces of the AU Symphony Orchestra, Chorus, and Chamber Singers are joined by the Strathmore Children's Chorus and guest soloists Janice Meyerson and Rob McGinness to perform the North American premiere of Arnold Saltzman's A Choral Symphony: Halevi. Completed in 2017, this large-scale composition is a lush and evocative symphonic setting of English translations of texts by the twelfth century Hebrew poet Judah Halevi. goo.gl/rwAMX2.
FREELANCERS: Between Headlines and Hope
February 27, 6:30 p.m.
Malsi Doyle and Michael Forman Theater (McKinley – 201)
This event is designed to be a 90-minute encounter between media creators, disseminators, and consumers exploring ways to support and protect freelance journalists working overseas. The event features the partnership between the Pulitzer Center on Crisis Reporting and American University's School of Communication. In recent years, this partnership has supported international reporting fellowships by AU students traveling to Thailand, Mexico, Borneo, Laos, Colombia, Peru, and Guatemala. The event is moderated by SOC Professor Bill Gentile.
More Information: https://www.american.edu/soc/calendar/events.cfm?id=8100685
Men's Basketball vs. Lehigh
February 27, 7 – 9 p.m.
Bender Arena