American University Announces 2021 Campus Plan Framework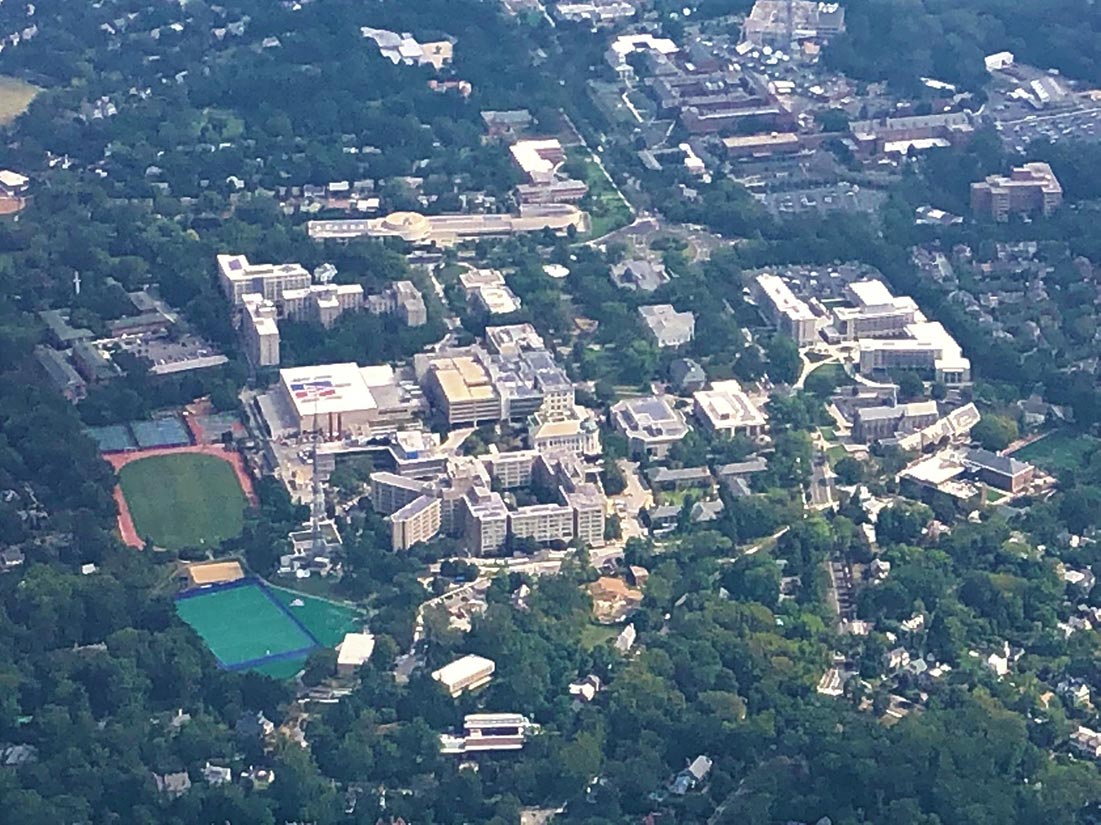 American University is in the process of creating its 2021 Campus Plan. The new Campus Plan will outline a thoughtful and measured approach to managing campus growth and development over the next 10 years. This will be achieved on a scale intended to be significantly less than the 2011 Campus Plan proposal and in a manner that reflects the university's commitment to its communities and local neighborhoods. 
The development of the new Campus Plan aligns with two other key university planning efforts – the implementation of AU's new five year-strategic plan, Changemakers for a Changing World, and the launch of an ambitious fundraising campaign that will capitalize on AU's momentum as an emerging  global university. The campaign will support the study and scholarship of American University students and faculty for generations to come. 
Over the past several months, AU has worked closely with the AU Neighborhood Partnership and a wide range of university and community stakeholders to gather input and feedback on key priorities for the 2021 Campus Plan. The AU Neighborhood Partnership is a collaboration between neighborhood residents and AU staff who work together through a consensus-based approach to address issues of shared interest. Informed by that input, the university has developed a preliminary 2021 Campus Plan framework, which outlines AU's objectives for the new Campus Plan. The plan is designed to ensure that the campus will adapt to and meet the changing needs of AU students, faculty, and staff while at the same time respecting and enhancing the quality of life of those who live within the surrounding neighborhoods.
The university is actively engaging with our community and seeking feedback on the preliminary framework from students, faculty, staff, neighbors, and other stakeholders. This input will inform future drafts of the framework and ultimately the proposed Campus Plan itself, which will be released later this year. The culmination of the process is the submission of the Campus Plan to the DC Zoning Commission for review, public hearing, and approval. Information about the Campus Plan can be found at www.american.edu/campusplan.
"American University Planning 101" Session - POSTPONED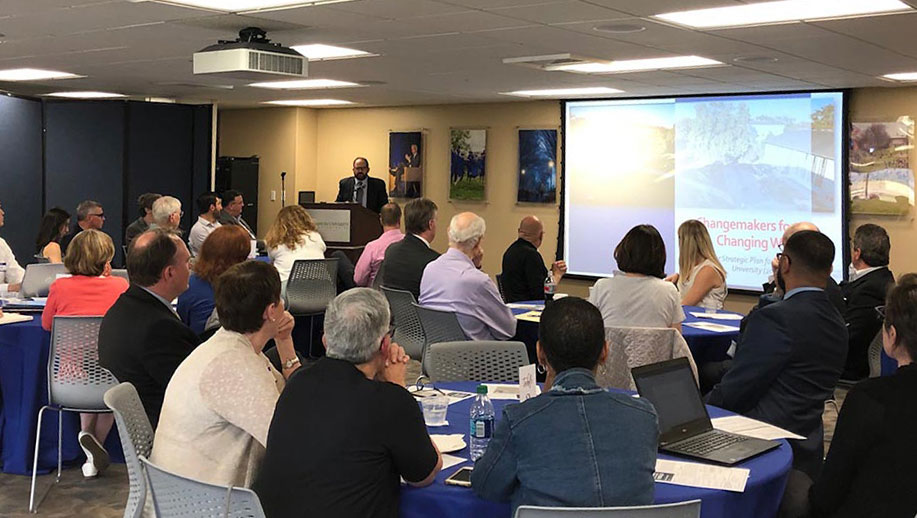 The "American University Planning 101" Session scheduled for March 19 has been postponed. A new date for the session will be announced when available.
For more information, contact Maria Barry at mariab@american.edu.
Sine Institute of Policy & Politics' Seminar Series Continues in March

American University's Sine Institute of Policy & Politics continues its seminar series during March. Led by its 2020 Fellows – Alfonso Jackon, Cody Keenan, Katherine Miller, Susan Molinari, Janet Rodriguez, and John Tass-Parker – the series features discussions and study sessions.
Seminars for the month include:
Going Global: Campaigns Abroad
March 5 – 6:30 p.m.
Kerwin Hall 301
This seminar will compare the digital politics of democracies outside the U.S., and attempt to identify the political, policy, and structural forces that shape their democratic deliberative processes in ways that, with a commitment to the "integrity" of the political process, many may either want to endorse or work against. Guest Lecturer: TBA
The Fight for Fair Wage
March 5, 5 – 6:30 p.m.
Kerwin Hall 301
Cities and states around the country are considering raising the minimum wage "the right way" for tipped wage workers, which includes restaurant servers and bartenders. The issue is polarizing. While chefs and restaurant owners say they can't afford to eliminate what they call the "tip credit," advocates argue that tipped workers are subject to sexual harassment and racial discrimination to earn their income. The discussion will focus on the national organizing efforts to raise the federal wage. Guest Lecturer: TBA
Where are we now? Life after Super Tuesday
March 17, 7:15 – 8:30 p.m.
Kerwin Hall 301
Guest lecturers and both AU graduates, Ed O'Keefe (CBS News political correspondent based in Washington, D.C., covering the 2020 presidential campaign for all CBS News broadcasts and platforms) and Susan Davis (congressional correspondent for NPR and a co-host of the NPR Politics Podcast) will recap Super Tuesday and the current election cycle as it stands at the time.
What role does the media and other outside forces play in shaping policy and regulation?
March 18, 5:30 – 7 p.m.
Kerwin 301
The media and the role it should play in shaping policy and impacting government regulation has long been debated. A free press historically and currently is considered an important gatekeeper of our democracy. This discussion will debate the role of the media, not only as an informer of news and events, but the huge impact it plays in advocating and sparking public opinion to create change.  Guest Lecturer: TBA
Where Are We Now?: The State of the Race After Super Tuesday
March 19, 5 – 7:10 p.m.
Webinar
Join Sine Fellow Jan Rodriguez for a live webinar with her guest Ed O'Keefe, political correspondent for CBS News. Register and learn how to join here:  bit.ly/2IU325R
The Power to Persuade
March 23, 5 – 6:30 p.m.
Kerwin Hall 311
When polarization has shrunk the universe of persuadable voters and social media allows voters to choose their own news, how can people be convinced to follow a course of action, particularly when it's an unpopular one? This seminar will examine strategies and tactics to combat misinformation and make the case. Guest Lecturer (via video): Ben Rhodes, Deputy National Security Advisor for President Obama.
Subjects that Matter: How to reach communities and engage people in 2020?
March 24, 7:15 – 8:30 p.m.
erwin Hall 301
This lecture overviews how politics are covered for minority and international audiences, and how policies affect the audience's engagement and participation in an election cycle.
Guest Lecturer: Phillip Crowther (AP International multi-lingual TV and radio journalist).
The Power of Chefs & Community to Change the World
March 26, 5 – 6:30 p.m.
Mary Graydon Center 200
Join James Beard Award winner Kwame Onwuachi, chef at Kith/Kin and author of the best-selling memoir Notes From a Young Black Chef, and DC's Best Chef and chef-owner of Centrolina Amy Brandwein for a discussion about how they and other chefs are pushing restaurant industry to change their operations dramatically to support healthier communities, people, and the planet.
Crisis!
March 30, 5 – 6:30 p.m.
Kerwin Hall 301
What's a politician's role during a crisis? What responsibilities and opportunities does he or she have? This seminar will examine how elected officials are expected to respond to different kinds of crises, and the special role that speeches play in both the national healing process and in reputation management. Guest Lecturer: Jay Carney, Former Press Secretary for President Obama.
It Really Can Happen: When Right, Left, and Center comes Together for Good Policy
March 31, 5 – 6:30 p.m.
Kerwin Hall 301
This seminar will describe how the right and the left came together to help push for prison reform. This unlikely coalition, ranging from the ACLU to the Heritage Foundation, passed one of the significant pieces of legislation passed in 2019.
Guest Lecturer: Malika Saada Saar (Human Rights Lawyer and Google's Senior Counsel on Civil and Human Rights) and Mark Holden (Senior Executive at Koch).
American University's Sine Institute of Policy & Politics is a laboratory for university-wide collaboration and an incubator for policy innovation. It convenes the best and brightest in the public, private, academic, and nonprofit sectors, as well as journalism. 
March Madness Comes to Bender Arena

American University's Men's Basketball team has earned a Top-Three seed and a first-round bye in the 2020 Patriot League Championship Tournament. So put on your Blue and make plans to cheer on AU.
Schedule of games:
Quarterfinals: 
March 5, 7 p.m.
Bender Arena
Semifinals: 
March 8, 12 or 2 p.m.
Location TBD
Finals: 
March 11, 7 p.m.
Location TBD
Be sure to check out the Patriot League Women's Basketball Championship Tournament as well.
First Round: 
March 7, 2 p.m.
Location TBD
Quarterfinals: 
March 9, 7 p.m.
Location TBD
Semifinals: 
March 12, 7 p.m.
Location TBD
Finals: 
March 15, 12 p.m.
Location TBD
Purchase tickets today at AUeagles.com/Tickets, or call (202) 885-TIXX for advance group orders of 10 or more. Ticket prices: Adults - $14; Youth (13 & below) and Seniors (65+) - $7; AU students (undergrad, grad, WCL) – free with valid AU ID.
Environmental Film Festival - CANCELLED
DC Environmental Film Festival has been cancelled. For more information, visit https://dceff.org/.
East Campus Receives LEED Gold Certification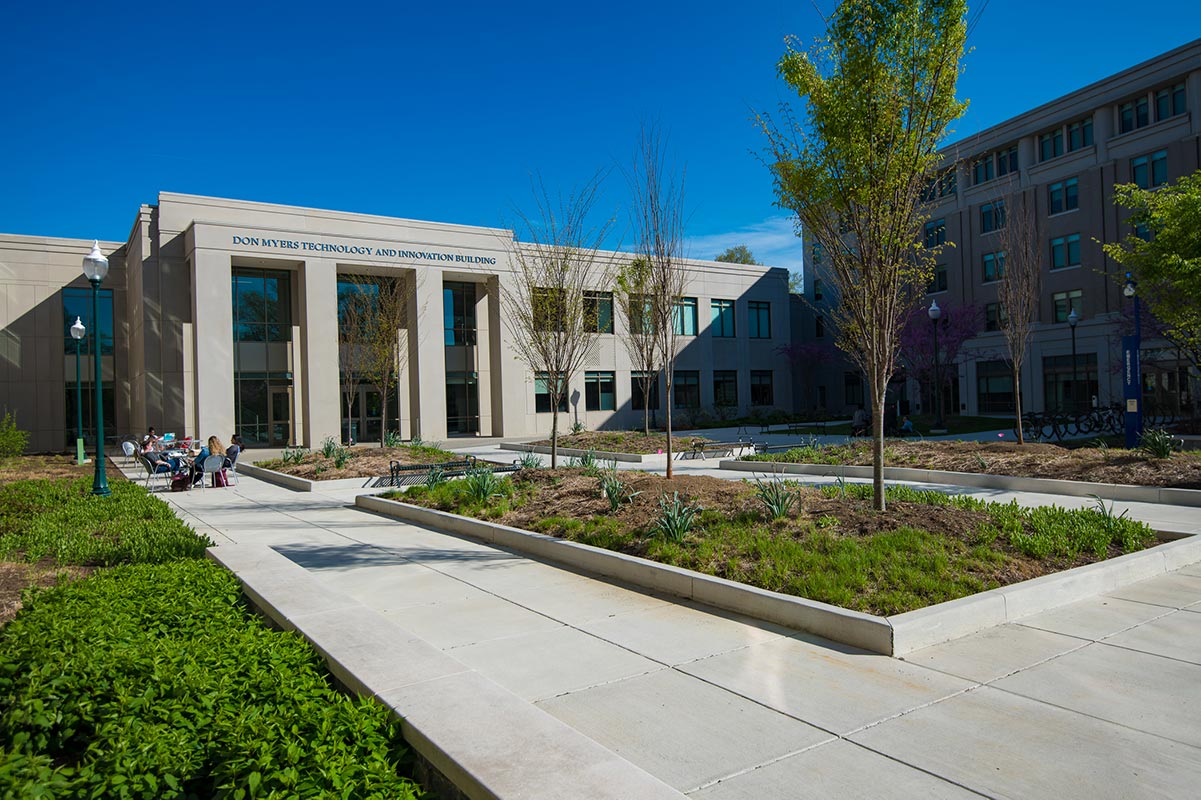 The four buildings on East Campus are the latest facilities at American University to receive LEED (Leadership in Energy and Environmental Design) Gold certification. Administered by the U.S. Green Building Council, the LEED Gold certification recognizes Duber, Constitution, and Federal residence halls and the Don Myers Technology and Innovation Building for meeting the green building rating system's requirements for design, construction, operations, and maintenance.
To receive its LEED Gold status, East Campus achieved the following:
100 percent of the buildings receive their power from green electricity
97 percent of on-site construction waste was diverted from landfill
27 percent more energy efficient than standard buildings
21 percent of materials used in its construction was sourced locally within a 500-mile radius
13,000 square feet of green roofs
East Campus utilizes a computerized thermostat to regulate the temperature, providing optimum air quality and thermal comfort. Additionally, the buildings use sealants, paints, and furniture with low volatile organic compounds (VOCs). By using materials with low VOCs, East Campus provides a healthier environment for its occupants. State-of-the-art ventilation and air filtration also further ensure air safety and quality.
Sustainability Analyst Courtney Stoner said, "Even though some of the sustainable features on East Campus aren't visible to everyday occupants and visitors, behind the scenes, they are integral to keeping the building energy-efficient and comfortable." 
The buildings' ultra-low-flow faucets, toilets, and urinals use 43 percent less water than standard buildings, saving about five million gallons of water annually. This helps to decrease the amount of wastewater that goes to energy-intensive wastewater treatment facilities. The native and adaptive plants in the landscape of East Campus also help to conserve water by reducing the need for irrigation. 
Considered a "sustainable site," East Campus also supports transportation methods and amenities that help to reduce the impacts of greenhouse gas emissions and air pollution. It is readily accessible to public transportation (shuttle and Metro bus, Metro rail, and bike share locations) and features a market, fitness center, and myriad green-friendly conveniences.
Leadership in Energy and Environmental Design (LEED) is a green building certification program used worldwide. Developed by the non-profit U.S. Green Building Council (USGBC), it includes a set of rating systems for the design, construction, operation, and maintenance of green buildings, homes, and neighborhoods.      
Volunteers Needed for Book Sale Benefitting Children's Education in DC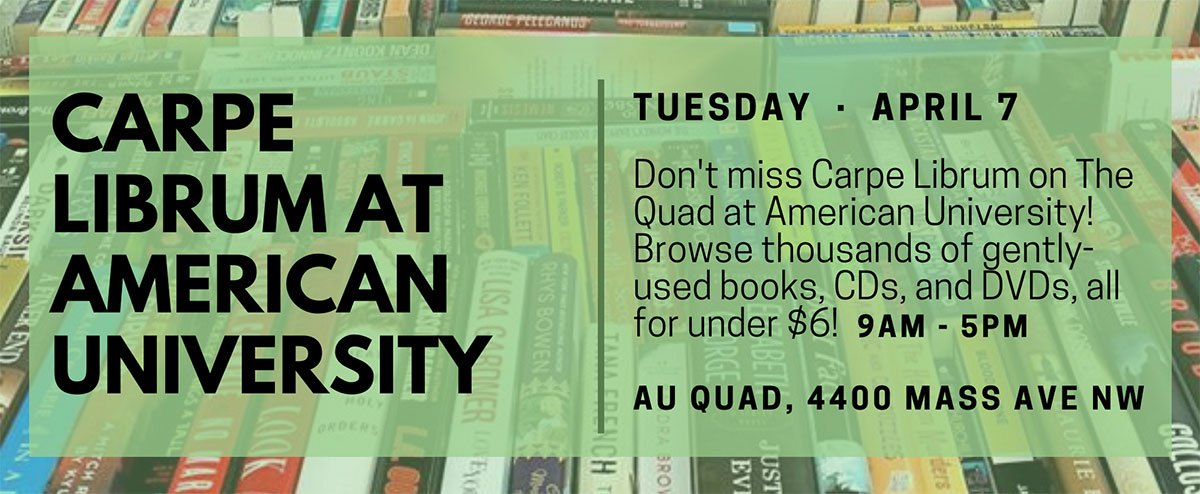 Looking for a volunteer opportunity to benefit children's education? Turning the Page, a local education nonprofit organization, currently is looking for volunteers to oversee their upcoming Carpe Librum donation-based book sale. 
The book sale will take place from 9 a.m. to 5 p.m. on April 7 on The Quad at American University. Visitors will be able to browse thousands of gently-used books, CDs, DVDs, and vinyl records – all for under $6. One-hundred percent of the proceeds from the sale will to towards Turning the Page's efforts to engage parents of DC public school students to become stronger educators of their children at home, advocates for their children in school, and leaders in their school communities. 
By connecting DC public school families, teachers, and community members, Turning the Page aims to create and sustain strong and supportive learning environments within schools, homes, and neighborhoods. 
To volunteer, contact Phebe at pminer@turningthepage.org.
Cultural Events & Performances
Heroes & Losers: The Edification of Luis Lorenzana
Now through March 15
AU Katzen Museum
Luis Lorenzana is a self-taught Filipino artist whose background in politics has infused his work with a cynicism that belies his longing for a kinder, more equitable world. The exhibition touches on the themes of a desperate kind of selfless heroism – and the all-too familiar failure of a democratic political system. These works will have relevance to the current American landscape and, indeed, to anywhere in the world.
Communicating Vessels: Ed Bisese, Elyse Harrison, Wayne Paige
Now through March 15
AU Katzen Museum
The title of this exhibition is borrowed from a book written in 1932 by Surrealist poet André Breton, who in turn borrowed it from a scientific experiment of the same name. The experiment shows that in two vessels joined by a tube, a gas or liquid passing from one to the other rises to the same level, whatever the shape of the vessel. For Breton, the phrase refers to the artist, whether literary or visual, whose work results from communication between the inner life of the mind, emotions, and dreams, and the waking perception of the exterior world. The three artists in this exhibition all work from this premise, although with individual styles and imagery. While their work shows continuity with Surrealist ideas of the 1930s and '40s, it also relates to the Chicago Imagists of the 1960s and '70s, reflecting the prevalence of surrealist imagery in contemporary visual art. 
Landscape in an Eroded Field
Now through March 15
AU Katzen Museum
This exhibit brings together three women artists whose work reflects the evolution of the pictorial landscape tradition in the Anthropocene Era. Carol Barsha's closely-observed nature studies and flowery landscapes are paired with Artemis Herber's mythically-themed architectonic reliefs. These immersive paintings surround a site-specific installation and soundscape designed by Heather Theresa Clark, utilizing her environmental planning background. Depicting nature and the environment is one of the most ancient and elemental expressions of art. From cave painting to Dutch still lifes to social practice incorporating life forms, artists always have been attentive and responsive to the world around them. This exhibition spans landscape painting that takes no social or political stance to multi-media painting and sculpture that puts climate change at the center of its meaning.
Vokmar Wentz
Now through March 15
AU Katzen Museum
This exhibit shows the works of Volkmar Kurt Wentzel who arrived in Washington, DC, in the early 1930s. When the Great Depression led to prohibitive housing costs in DC, he moved to Aurora, West Virginia to join a community with Robert Gates and several other artists who had become close friends. In 1937, back in Washington, architect Erik Menke introduced Volkmar to a book titled Paris De Nuit (1933) by Brassaï, a French photographer. Volkmar was enchanted. He purchased a new camera and began photographing the series Washington by Night.  First Lady Eleanor Roosevelt, out for a stroll one evening, encountered Volkmar and purchased several of his Washington pictures. Volkmar completed his Washington photographs and brought them to National Geographic. He was hired immediately. The event led to his 48-year photographic career as a National Geographic photographer.
Robert Franklin Gates: Paint What You See
Now through March 15
AU Katzen Museum
This exhibit showcases an adventurous artist who influenced greatly the course of Washington art from his arrival from Detroit in 1930, at the age of 24, until his death in 1982 as an AU Professor Emeritus. He was a muralist, painter, printmaker, draftsman, and professor at the Phillips Gallery School and then American University for more than forty years. His watercolors earned him early acclaim, signaled by their inclusion in the first very exhibition held at the National Gallery of Art when it opened in 1941. Gates' paintings can be found in The Phillips Collection, the Baltimore Museum of Art, Dumbarton Oaks, the Smithsonian American Art Museum, the Corcoran Legacy Collection, and the Watkins Memorial Collection at the American University Museum.
Good Form, Decorum, and in the Manner
Now through March 15
AU Katzen Museum
Portraits are usually understood in one of two ways: as the depiction of the face of a person, or a representation of someone's impression of a person. This exhibition comprises many works that could be thought of as conventional portraits of individuals in a wide range of media, including woodblock and wood engravings, intaglio prints, mezzotints, monoprints, photography, collage, and an assemblage made with found objects. The show also pushes the boundaries of portraiture by including works that capture the likenesses of animals, places, memories, and events. 
Good Form, Decorum, and in the Manner can also be considered a snapshot of the Washington Print Club today by celebrating the prized pieces its members have chosen to highlight. My curatorial interest also lies in the resulting overlaps, intersections, gaps, and dialogues between collectors' collections.
Katzen Docent-led Tour
March 7, 15, 22, 29, 2 – 3 p.m.
Katzen AU Museum
A docent-led tour of one or more of our current exhibitions. No RSVP required. Please meet at the front desk.
Yoga in the Galleries
March 11, 18, 25, 10 a.m.
AU Katzen Museum
Led by certified Kripalu Yoga teacher Eva Blutinger, this yoga class provides mental clarity and relaxation in the peaceful surroundings of our art galleries. Please bring a mat. Cost is $10 for non-members, $5 for museum members, and free for members at the Associates level and above. www.tinyurl.com/aumtickets.
AU Farmers' Market
March 11, 18, 25, 10 a.m.
Quad Space in front of Mary Graydon Center
Every Wednesday, the quad space around the Mary Graydon building buzzes with activity as students, faculty, staff, and neighbors browse goods ranging from farm-fresh vegetables to homemade breads and desserts at the AU Farmers' Market. The market is a coordinated effort between AU and Pennsylvania-based Agora Farms. Girardot's Crumbs Bakery also offers a variety of fresh breads as well as chocolate chip cookies, mini pies, and cobblers.
Free Parking: Communicating Vessels
March 5, 5:30 – 7 p.m.
AU Katzen Museum
Curator Claudia Rousseau will join the three DC-based, Surrealist-inspired artists who created the Communicating Vessels exhibit.
The 2020 Nancy Weiser Ignatius Lecture on the Environment: Rhea Suh
March 17, 6 – 8 p.m.
AU School of International Service
As part of this lecture series, former president of the Natural Resources Defense Council (NRDC) will deliver keynote remarks. She will discuss the effectiveness and trajectory of the US environmental movement, particularly as it relates to the emerging youth climate movement. During her tenure with the NRDC, Suh helped steer high-level discussions that led to the historic global climate agreement in Paris; championed a precedent-setting settlement for the residents of Flint, Michigan to ensure an end to the city's toxic drinking water crisis; and was a featured speaker at the 2017 Women's March on Washington, DC. A light reception will follow this event. Free to attend. RSVP: https://www.eventbrite.com/e/2020-ignatius-lecture-rhea-suh-tickets-94013720569
Films at Founders: What Lies Upstream
March 19, 7 – 8:30 p.m.
AU School of International Service
As the final screening in the "Films at Founders" series for the 2019-2020 school year, What Lies Upstream is a classic detective story, as investigative filmmaker Cullen Hoback travels to West Virginia to uncover the truth behind a massive chemical spill that left 300,000 people without drinking water for months. When Hoback discovers an obscene collusion between chemical corporations and the highest levels of government, the investigation spirals in a terrifying direction, as the frightening truth about "what lies upstream" for us all. Free to attend. RSVP: https://www.eventbrite.com/e/films-at-founders-what-lies-upstream-tickets-94900330443
Patriot League Men's Basketball Championship Tournament Quarterfinals
March 5, 7 p.m.
Bender Arena
Patriot League Women's Basketball Championship Tournament First Round
March 7, 2 p.m.
Location TBD
Patriot League Men's Basketball Championship Tournament Semifinals
March 8, 12 or 2 p.m.
Location TBD
Patriot League Women's Basketball Championship Tournament Quarterfinals
March 9, 7 p.m.
Location TBD
Patriot League Men's Basketball Championship Tournament Finals
March 11, 7 p.m.
Location TBD
Patriot League Women's Basketball Championship Tournament Semifinals
March 12, 7 p.m.
Location TBD
Patriot League Women's Basketball Championship Tournament Finals
March 15, 12 p.m.
Location TBD
Women's Lacrosse vs. Lafayette College
March 14, 1 – 3 p.m.
Jacobs Field
Women's Lacrosse vs. Army West Point
March 28, 1 – 3 p.m.
Jacobs Field