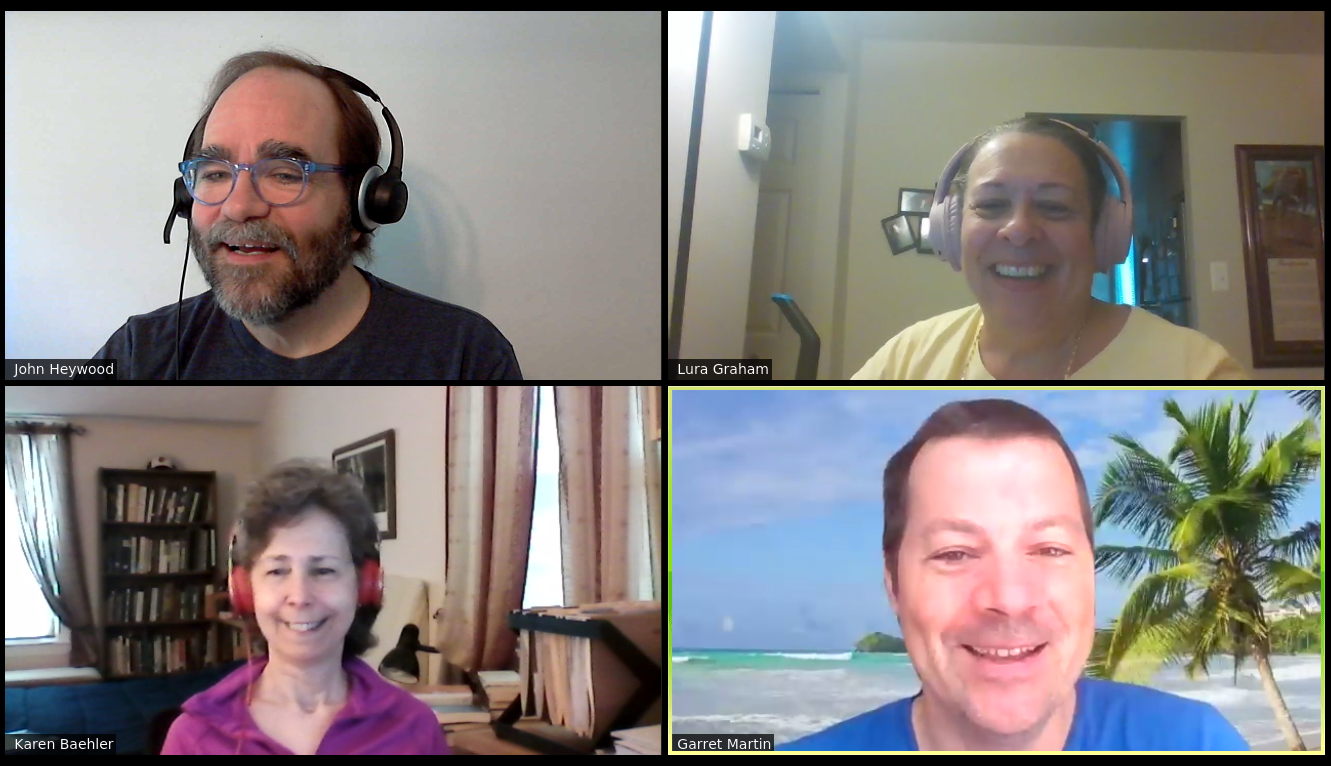 Summary of Faculty Senate Meeting, April 1, 2020
The COVID-19 pandemic and resulting stay-at-home orders have caused the Senate to adopt new methods of meeting and decision-making in order to respond to these challenging times. The University decided to move to online instruction on March 10, and the Senate leadership decided shortly after that to move our meetings online using Microsoft Teams. The Senate Executive Committee met online on March 25, and the full Senate did the same on April 1. Before either of those meetings could take place, the Provost approached the Senate leadership asking the Senate to consider three interventions designed to ease difficulties for students and faculty associated with the COVID-19 pandemic and AU's transition to online instruction this semester. These proposals were a pass/fail option for undergraduate students, a pass/fail option for non-WCL graduate students, and an extension of the tenure clock for eligible faculty. The Senate Executive Committee expressed unanimous support for the three proposals and approved emergency electronic voting for the full Senate in this instance. The vote was held from March 23-24 and reported March 25. The final vote was unanimous (26-0-0) for all three proposals. The text of the resolutions as passed by the Senate are included at the end of this report.
The first online meeting of the Senate was called to order by the Chair, Professor Karen Baehler (SPA) at 2:30 pm on April 1.
President Sylvia Burwell joined the meeting at the start for her planned Spring visit to the Senate. She spoke about the University's response to the pandemic, without repeating what they have already sent out, about the viral disease itself and pandemic response, and about the future. She thanked the faculty for the tremendous amount of work we are doing and the nimbleness with which we are doing it. She mentioned the petition from faculty about support for the University's furloughed contract workers and stated that AU would pay all of their medical premiums and retirement shares, both the employer and employee parts, and continue unemployment insurance benefits as well. Drawing on her experience as Secretary of HHS, she emphasized the importance of testing and science/evidence-based communications. She recommended the Institute for Health Metrics and Evaluation (IMHE) website, healthdata.org, for keeping track of the pandemic. As to the future, she said they were planning on in-person teaching in the fall, but that will depend on progress in controlling the virus. She also noted that our costs, mostly lost revenue, are not as high as some schools. The endowment is taking a hit and we are focusing on enrollment and retention. She then opened the floor to questions.
One question was about the student petition for making the dorms available to the government for use in the pandemic. President Burwell replied that we have made ourselves available for that, either as quarantine sites, temporary hospitals, or housing for health care workers. Our parking lots may be used as drive-through testing sites. We stand open and ready to help. She noted that this was not intended to be a revenue source. Asked about summer and fall teaching plans, she replied that fall decisions will be made in the summer, after we know about the local peaking of the pandemic. DC should peak in mid-May, but Virginia will probably be later. CTRL will be refocusing their efforts on online teaching. They are looking at summer online courses as a way to drive retention. A faculty member noted that prospective college students in his acquaintance had said that they were closely watching how schools were treating their students, staff, contract workers, and faculty, and that this would be a big factor in their choice of school. Asked about the impact of successive pandemic waves on teaching in the fall, she replied that we are contingency modeling it now, and we should have a better handle on containing future viral waves. Other questions involved the budgetary impact and the upcoming capital campaign. We don't know yet how big our "hole" is going to be, but we do know that enrollment and retention are going to be our keys to filling it. The capital campaign will launch in an adapted form sensitive to the new circumstances. Concern was expressed about the fate of our international students, which President Burwell echoed; she said that we are doing what we can to take care of those who are in the U.S. and to trying to retain them as students. Regarding the special challenges faced by natural science researchers and when those colleagues will be permitted to return to their labs, Pres. Burwell noted that we are doing what we can within the existing limits and cannot accurately predict what will happen yet.
In her Chair's Report, Professor Baehler announced that the Faculty Awards Committee would be delaying their deliberations until after the semester was over in order to lessen the demands on the faculty members involved during the transition to online teaching. The Awards Dinner itself has been postponed until Sunday, September 13, 2020.
In his report, Provost Dan Myers also thanked the faculty for their hard work. He reported on the ongoing searches, noting that our new Chief Online Officer, Joseph Riquelme, started work right as the transition to online teaching began. He has hit the ground running. The search for the Dean of the School of Communication is in its final stages, and the other two searches are still in process. He then opened the floor to questions.
Professor Max Friedman asked whether AU would consider, as some other schools have done, allowing students to opt for a pass/fail grade after seeing their final grade. The Provost replied that many such proposals have been examined, each with difficult trade-offs. As circumstances change, our responses and choices among the trade-offs might have to change as well, guided by the will of the faculty. Several senators asked about the ongoing conversion to a new learning management system: could it be made sooner rather than later to minimize the duplication of effort involved in building online courses now in Blackboard? Also, could current materials be ported from Blackboard, the old platform, to Canvas, the new platform? Provost Myers replied that the new Chief Online Officer has done this very transition before coming to AU, and that we are in the process of speeding it up. He did not have an immediate answer about porting capabilities but followed up after the April 1 meeting in an email that there was indeed an ability to port course components across platforms, but it was not perfect. OIT will have support in place to ease the transition. Also, those currently developing courses in Blackboard do not need to worry about support, as Blackboard will continue running through AY2020-2021 at least.
The Senate then moved on to the proposed bylaws changes for the Faculty Committee on Diversity and Inclusion. Professors Lillian Baeza-Mendoza and Amitav Acharya presented their committee's third round of revisions suggested by the Senate at previous meetings and noted that the main rationale for the proposed revisions is the committee's considered view that their current charges are too broad and too many for the committee to address them properly. By reducing the number of charges and modifying some of the language
in the current charges, the guidelines will help the committee be more effective in their efforts to implement change. The updated charges are better aligned with the mission of the University in relation to diversity, inclusion, and equity. They have also added "equity" to "diversity and inclusion" as part of the committee's name and mission. Asked if the specific mention of "anti-racism" as a committee charge could be interpreted as focusing on only one kind of diversity to the exclusion of others, Profs. Baeza-Mendoza and Acharya responded that anti-racism was fundamental to their work and that calling it out specifically does not exclude other kinds of diversity. That is why they included "inclusive pedagogy" prominently in that charge. The bylaws changes were approved.
Professor Brian Yates, Chair of the Committee on Information Services, brought changes to his committee's bylaws to the Senate next. Those changes regularize the terms of service on the committee to three years, like most other Senate committees. They also change the qualifications for vice-chair/chair elect, allowing them to be in either the first or second year of their term. The bylaws changes were approved.
The Senate Chair then proposed a bylaws change for the Committee on Scholarship to add the Executive Director of the Center for Teaching, Research & Learning as a non-voting ex officio member. The bylaws change was approved.
Vice Provost for Undergraduate Enrollment Sharon Alston proposed a change to the Undergraduate Academic Rules and Regulations, section 12.5, on the student withdrawal process. Under the current regulation, a student must meet with an advisor before they are allowed to withdraw from all of their classes, which the US Department of Education considers an administrative delay and a violation of Title IV federal aid regulations. The changes remove the requirement for the withdrawing student to meet with their advisor and bases the date of their withdrawal on the date they submit the appropriate form. Following Q&A, including helpful caveats noted by Vice Provost for Undergraduate Education Jessica Waters, the regulation changes were approved.
Interim Dean of Graduate Studies Wendy Boland and Associate Dean of Graduate Studies Michael Keynes next proposed several changes to the Academic Rules and Regulations for Graduate Students designed to clarify content and correct inconsistencies, incorporate the four-term calendar, and provide flexibility to advisors and program directors. The changes were divided into seven sections for voting: terminology update, evaluation of academic performance, degree requirements, shared credits/requirements for a master's degree, requirements for a doctoral degree, registration policies and four-term calendar, and dismissal policy. The regulations changes were approved.
Because of time, consideration of the Senate Budget Request for AY 2020-2022 was postponed to the May Senate meeting.
In the Good of the Order, Professor Friedman brought up the idea he had broached during the question and answer portion of the Provost's report about letting students to choose the pass/fail grading option after knowing their grades. Noting that the Provost had said he would be guided by the faculty, Prof. Friedman proposed a new resolution regarding the pass/fail opt-in date. Those in support said they believed it would be the more compassionate thing to do. Others questioned whether it might be more confusing and anxiety producing. Vice Provost Waters mentioned that it might impact graduation for seniors if faculty have to get all their grades turned in before students made their decisions. It would also make calculating Latin honors difficult. Given the lack of an immediate consensus and that the meeting was already over-time and some senators had left, it was decided to take the discussion and any resolution to email after the meeting.
After the meeting, taking into consideration the discussion, Professor Friedman withdrew his proposed resolution and asked the Senate to consider instead a resolution to strongly encourage faculty to make grades available to students so that they might be able to make an informed decision about whether to opt for pass/fail. On April 3, a proposed resolution was emailed to senators for their approval by electronic vote. On April 6, the resolution was approved. The text of the resolution as passed by the Senate is included at the end of this report.
Resolutions in response to the COVID-19 pandemic and the transfer to online instruction passed March 25, 2020
Resolution (1): UNDERGRADUATE PASS/FAIL OPTION
Suspend Section 3.4.2, Section 3.4.3, Section 3.4.4, and Section 12.4 of the Undergraduate Academic Rules and Regulations to allow any undergraduate student the option to choose a Pass/Fail grading option for the Spring Semester of 2020 for any course. This option would be available to student through the final day of classes, April 27, 2020 (requiring the suspension of 12.4). Suspending 3.4.2 would mean that any course taken Pass/Fail in the Spring of 2020 would not count against the four-course maximum. Suspending 3.4.3, would allow more than one course to be taken pass/fail in the Spring of 2020. Suspending 3.4.4 would allow course taken pass/fail in the Spring of 2020 to count toward majors, minors, certificates, and university requirements, not just elective credits. Suspending Section 3.4.4. also means that the requirements for C or better in Sections 8 and 9 related to University-Wide Requirements and Major, Minor, and Dual Degree Requirements are replaced by requiring a grade of "Pass" for such classes graded Pass/Fail in the Spring Semester of 2020 only.
Resolution (2): GRADUATE PASS/FAIL OPTION
(2)(a) Suspend the first half of Section 3.5 of the Academic Rules and Regulations for Graduate Students to allow any non-WCL graduate student the option to choose a Pass/Fail grading option for the Spring Semester of 2020 for any course and allowing that course to count toward the student's program of study. The Pass/Fail option would be available to student through the final day of classes, April 27, 2020.
(2)(b) Permanently amend the second half of Section 3.5 of the Academic Rules and Regulations for Graduate Students to make the grade requirement for passing a Pass/Fail graduate course the same as the grade requirement for passing other graduate courses: performance of C or better. (Note: this change was planned prior to the pandemic. It is needed to fix an inconsistency. Current regs define C as a passing grade in all courses except those taken P/F, where a B is needed to pass. The change makes the two definitions consistent.)
Resolution (3): TENURE-CLOCK EXTENSION FOR ELIGIBLE FACULTY
Suspend Section 9.b.i. of the Faculty Manual to allow current tenure-track (pre-tenure) faculty whose promotion and tenure reviews are scheduled for Fall 2020 or later an additional year on the tenure clock that would not count against the maximum of 2 one-year extensions. This tenure clock extension does not apply to faculty who are currently being reviewed for promotion and tenure during AY19-20. The tenure clock extension will automatically apply so that eligible faculty do not have to submit a request for the extension. Faculty members who wish to be considered for tenure and promotion on their original schedule will not be penalized for that decision in any way. Faculty members who use this tenure clock extension will not be penalized for that decision in any way. For faculty members who are in their first or second year of the tenure track will have the additional year added before their pre-tenure review.
Resolution of April 6, 2020
Whereas the Covid-19 pandemic has disrupted students' lives and required a transition to online teaching of all courses in Spring term 2020;
Whereas AU graduate and undergraduate academic regulations have been suspended to allow non-WCL students to choose to take any or all classes pass/fail in Spring term 2020;
Whereas students must elect the pass/fail option on or before the last day of the semester (April 27, 2020);
Whereas the effectiveness of this temporary policy depends on students' ability to make informed choices about whether to opt for pass/fail;
Whereas good teaching practice under normal circumstances calls for students to receive timely feedback on their performance;
Whereas grades can be communicated easily through Blackboard's gradebook function or other means; therefore, be it
Resolved, that the American University Faculty Senate urges all faculty to provide students with maximum possible information about progress---including grades on all previous assignments, a sense of emerging grades for class participation and related functions, and how various grades are weighted toward the final grade---as soon as practically possible and before April 27, 2020.