Building Community, One Meal at a Time




Breaking Bread
4400 Massachusetts Avenue NW
Washington
,
DC
20016
United States
The Breaking Bread program, launched in spring 2017, is the result of a faculty-staff collaboration between Assistant Vice President of University Budget, Nana An, and SOC Associate Professor, Larry Engel. To date, the Office of Finance and Treasurer has sponsored nearly 900 University Club lunches bringing together students, faculty, staff, alumni, and emeriti. 
Since its inception, the program has expanded to include a Faculty Staff Collaboration Award as well as a portfolio of sophomore student experience engagements.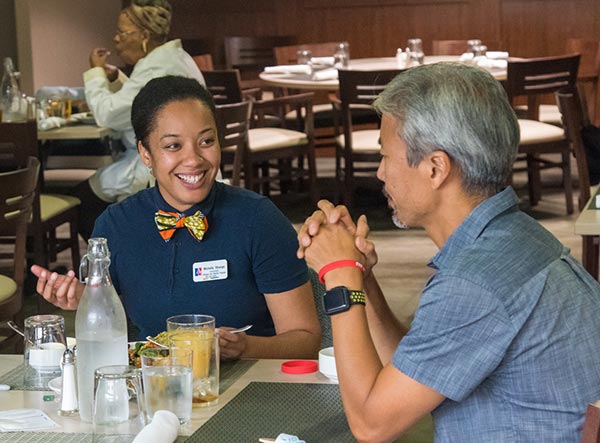 Would you like to enjoy a free lunch with your fellow faculty, staff, students, faculty emeriti, and alumni?  An allotment of passes are available for complimentary lunch in the University Club. This is what past attendees are saying:
"I really enjoyed the program. I was seated with an econ professor and an AU staff. The conversation was unexpected, smooth and pleasant…the talk really inspired many thoughts." – Fall 2019 international student participant
"I learned what it is like to live in Paris!" – Fall 2019 staff participant
Pull up a seat and join us!
(Watch this place for a future date)
Sophomore Experience Dinner
Calling all second-year students! You're invited to a Breaking Bread Sophomore Experience Dinner.
As part of a collaboration between the Offices of Finance and Campus Life, themed dinners will be hosted throughout the academic year, bringing second-year students together with senior administration, faculty, staff, and alumni.  
(Watch this place for a future date)
Faculty & Staff Collaboration Award
The Faculty & Staff Collaboration Award promotes and rewards outstanding collaborative efforts between faculty and staff at the university.
This award was launched in 2017 in addition to the existing staff awards sponsored by Human Resources, all of which serve to recognize faculty and staff whose collaborative efforts break down barriers and make American University an exceptional place to live and work.
Criteria
Nominations must include a minimum of one faculty and one staff member.
Collaborative efforts must exhibit a positive impact towards strengthening faculty/staff relationships.
Award Winners Will Receive
Award certificate
Invitation to a special luncheon during Faculty Staff Appreciation Week
Day off from work
$750 per person monetary award, not to exceed $5,000 for a group award (the monetary awards are considered taxable compensation to the recipient in accordance with the IRS code)
Photograph with the university president, provost, and their division vice president
Nomination Instructions
Please visit the University Awards website for more information.
Halfway to Graduation Celebration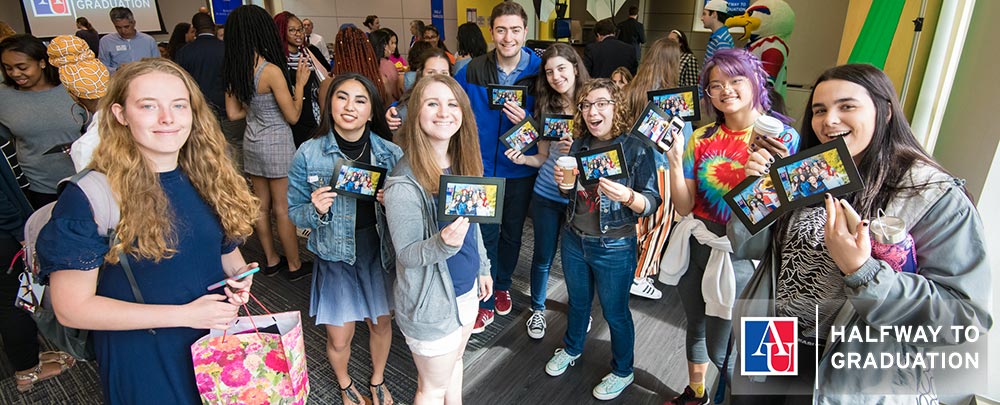 Congratulations! You made it halfway to graduation. You are cordially invited to mark the milestone of completing your sophomore year.   
(Watch this place for a future date)
AU Breaking Bread Initiative>
0:21
Free food! Break bread! Students, faculty, staff! Come together at the table for lunch at the new University Dining Club. Break bread, break barriers