Bringing faculty, staff, and students together




Breaking Bread
4400 Massachusetts Avenue NW
Washington
,
DC
20016
United States
Breaking Bread is a RiSE-inspired initiative that supports a "One AU" community between faculty, staff, students, faculty emeriti, and alumni. In promotion of an inclusive and relationship-centered environment, the initiative is intended to encourage a greater sense of satisfaction, recognition, and empowerment, while also allowing students to get to know faculty and staff better.
To achieve these objectives, the Breaking Bread initiative will sponsor events, collaborations, and awards throughout the year that are designed specifically to bring faculty, staff, and students together.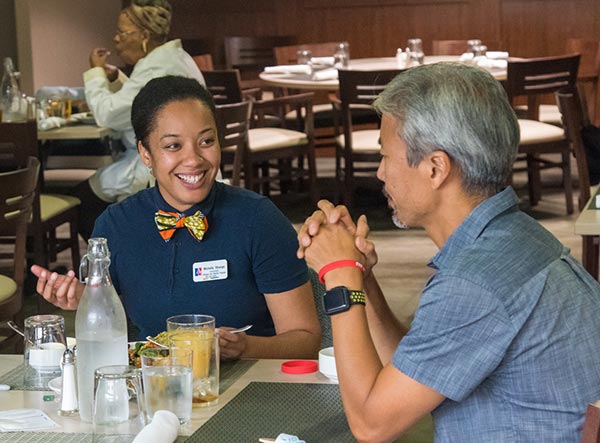 Would you like to enjoy a free lunch with your fellow faculty, staff, students, faculty emeriti, and alumni? An allotment of passes are now available for complimentary lunch in the University Club. Let's take time to learn about each other in a casual setting.
To sign up, simply click on the link below and input your information. Please keep an eye on your email, as you will receive confirmation of your lunch reservation via Eventbrite.
Fall 2018 Participants Spring 2018 Participants Fall 2017 Participants Spring 2017 Participants
Sophomore Experience Dinner
Attention all sophomore students! 
The Sophomore Experience dinner scheduled originally for February 18 is postponed until further notice.
However, stay tuned for a Halfway to Graduation celebration. More details coming soon!
Apr. 30 | 11 a.m. – 1 p.m. | Constitution Hall – Room I-III
Faculty & Staff Collaboration Award
The Faculty & Staff Collaboration Award promotes and rewards outstanding collaborative efforts between faculty and staff at the university.
This award was launched in 2017 in addition to the existing staff awards sponsored by Human Resources, all of which serve to recognize faculty and staff whose collaborative efforts break down barriers and make American University an exceptional place to live and work.
Criteria
Nominations must include a minimum of one faculty and one staff member.
Collaborative efforts must exhibit a positive impact towards strengthening faculty/staff relationships.
Award Winners Will Receive
Award certificate
Invitation to a special luncheon during Faculty Staff Appreciation Week
Day off from work
$750 per person monetary award, not to exceed $5,000 for a group award (the monetary awards are considered taxable compensation to the recipient in accordance with the IRS code)
Photograph with the university president, provost, and their division vice president
Nomination Instructions
The award nomination deadline is March 1, 2018. Please visit the University Awards website for more information.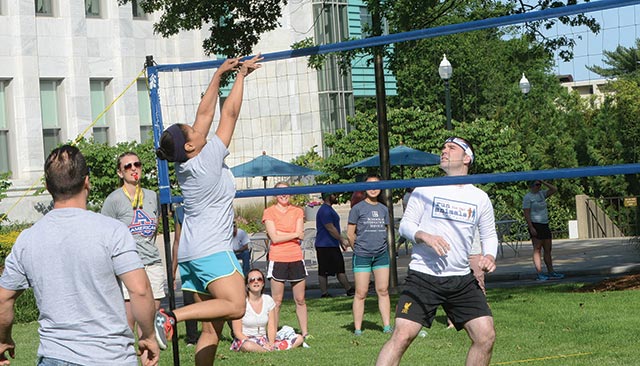 In the spirit of One AU, all faculty are invited to participate in the 2018 Staff Appreciation Week events June 4-8. Stay tuned for more information on the volleyball tournaments, picnic, herb giveaway, and more.
Halfway to Graduation Celebration
Congratulations! You made it halfway to graduation. You are cordially invited to celebrate a new American University tradition in your honor. Mark the milestone of completing your sophomore year.  
Save The Date!
Tuesday, April 30
10 a.m. – 12 p.m.
Constitution Hall 1-3
Casual attire. Brunch will be served.
RSVP at halfgradAU.eventbrite.com
AU Breaking Bread Initiative
0:21
Free food! Break bread! Students, faculty, staff! Come together at the table for lunch at the new University Dining Club. Break bread, break barriers