Facilities Management
4400 Massachusetts Avenue NW
Washington
,
DC
20016-8057
United States
Campus Construction Information and Updates
As part of American University's continuing efforts to ensure infrastructure throughout campus meets the highest levels of quality, reliability, and safety, AU will undergo a two-year project to replace the underground steam lines that bring heat to all main campus buildings.
Features of the new heating system and high-efficiency boiler plant:
Reliability and energy and carbon savings for the future
Decrease in fossil fuel consumption by more than 10 percent
Decrease in grid electricity consumption by more than 35 percent
50 percent reduction in campus energy carbon emissions
AU's new Hall of Science is also under construction currently. The three-story, state-of-the-art facility will house the university's biology, environmental sciences, chemistry, and neuroscience departments in a modern, centralized location.
While these initiatives are underway, portions of our streets and sidewalks on campus will be closed temporarily. We will do our best to minimize any inconvenience to the AU community, as we improve the reliability of our infrastructure.
Visit this page regularly for the latest updates on construction locations and schedules, as well as alternate routes where needed.
Hall of Science and Steam Line Project
While two construction projects are underway on campus, all buildings are still accessible. 
Construction on the Hall of Science is ongoing. While the area between Asbury and the Hall of Science is closed, all buildings nearby, including Asbury, remain open and accessible.

Construction on the quad is ongoing, but pedestrian and ADA elevator access will remain open.
If you can't find a wheelchair-accessible route or have any construction-related questions, please contact 2Fix.
How much is a 50 percent reduction in campus energy carbon emissions?
Equivalent to carbon sequestered by 5,000,000 trees each year

Saves 8,700 barrels of oil

Equivalent to removing the entire existing AU central heating system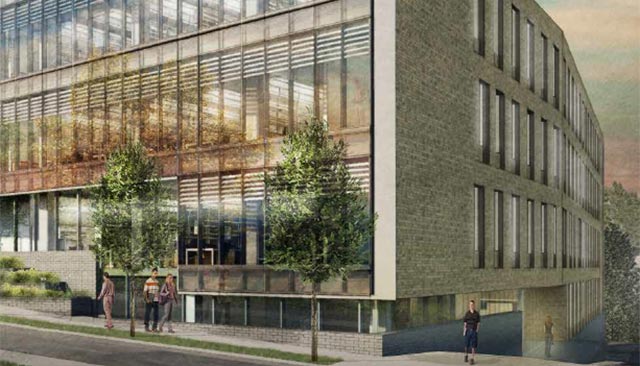 Visit the Hall of Science Building page for more information about ongoing construction.