Environment
AU Earns Tree Campus USA Designation for 10th Year in a Row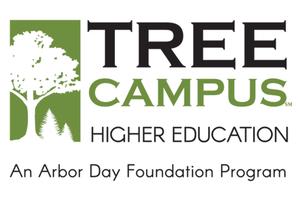 This summer, American University received the Tree Campus USA designation by the Arbor Day Foundation for the 10th year in a row. The designation honors colleges and universities and their leaders for promoting healthy trees and engaging students and staff in the spirit of conservation.     
"The Campus Tree USA designation is a recognition of the AU community's commitment and pride in our campus and our understanding of the importance and many benefits of having trees in our midst," said Mike Mastrota, Arboretum Manager.
"The fact that we've been recognized for the 10th year in a row is an indication of our level of commitment to trees on campus and makes it all the more special."
To earn the Tree Campus USA distinction, AU met five core standards for effective campus forest management:
establishment of a tree advisory committee
evidence of a campus tree-care plan
dedicated annual expenditures for its campus tree program
an Arbor Day observance (Campus Beautification Day)
the sponsorship of student service-learning projects
AU's Facilities Management staff maintains a tree care plan that includes a database of all trees on campus. With the help of outside consultants, the Facilities Management staff maintains the campus' more than 4,000 trees by pruning, watering, treating, and aerating surrounding soils. The trees on campus not only provide shade, shelter, and beauty, they also support a diverse wildlife population and help to reduce storm water runoff and filter the air in the urban environment.  
"We want everyone – community, our neighbors, as well as visitors – to view AU as a special place within the urban framework of the nation's capital. It is a place where students can thrive in a beautiful, natural setting while still taking part in all the city has to offer," said Mastrota. 
Founded in 1972 — the centennial of the first Arbor Day observance — the Arbor Day Foundation is the largest nonprofit membership organization dedicated to planting trees. Their more than 1 million members, supporters, and partners have helped plant more than 350 million trees throughout the world to ensure a greener and healthier future. The organization also promotes understanding and the usage of trees as a solution to improving air and water quality, climate change, deforestation, poverty, and hunger.
Note: This article has been updated to reflect the correct number of trees on campus. There are 4,000 trees on campus, not 3,000, as was originally published.