Environment
British Embassy Calls On AU Students' Expertise To Eliminate Single-Use Plastics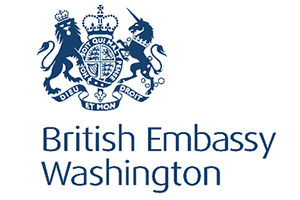 A chance meeting at a British Embassy event led to a collaboration with American University to help end single-use plastics at the embassy. 
Director of Sustainability Programs Megan Litke attended a social event recently where she struck up a conversation with Andrew Price, a British Embassy staff member who serves on the embassy's greening committee.  
"We chatted about my favorite topic – the growing problem of plastics in the ocean – and I learned that the embassy was given a directive to eliminate single-use plastics at all their foreign locations by 2020," recalled Litke.
Single-use plastics include bottled water, utensils, straws, and cups and present serious threats to environmental and human health. Of the 300 million pounds of plastic produced globally every year, only 8 percent is recycled. The remaining 92 percent ends up in landfills or the natural environment, where it can move through waterways to settle in oceans.
Litke and the embassy's greening committee decided to utilize AU's expertise in waste management to help the embassy turn away from single-use plastics. Environmental Studies majors Anna Johnson and Evan Raskin were chosen to lead the project, and Litke invited other students from the College of Arts and Sciences to be involved as part of an internship for credit.
With the help of AU's Zero Waste Manager Tyler Orton, students conducted a comprehensive waste audit at the embassy – based on physical and visual observations – to determine where and why plastics were being used. They also interviewed embassy employees to help identify alternatives and solutions.
The students ultimately presented their research and recommendations to embassy staff, including the deputy head of mission.
"Supporting students as they implemented an important sustainability goal was truly unique and inspiring. This collaboration is an excellent example of how we can advance sustainability by working together," said Litke.