Environment
East Campus Receives LEED Gold Certification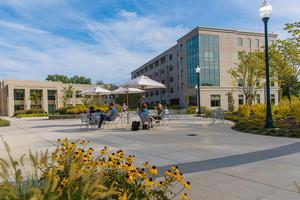 The four buildings on East Campus are the latest facilities at American University to receive LEED (Leadership in Energy and Environmental Design) Gold certification. Administered by the U.S. Green Building Council, the LEED Gold certification recognizes Duber, Constitution, and Federal residence halls and the Don Myers Technology and Innovation Building for meeting the green building rating system's requirements for design, construction, operations, and maintenance.
To receive its LEED Gold status, East Campus achieved the following:
100 percent of the buildings receive their power from green electricity
97 percent of on-site construction waste was diverted from landfill
27 percent more energy efficient than standard buildings
21 percent of materials used in its construction was sourced locally within a 500-mile radius
13,000 square feet of green roofs
Reacting to the campus' LEED Gold status, Sustainability Intern Maia Hatchett said, "I'm excited that East Campus is LEED certified.  As a Resident Assistant, one of my concerns is ensuring the well-being of our entire student body. It's great that LEED-certified residence halls are not only environmentally friendly, but also healthy places for students to live."    
East Campus utilizes a computerized thermostat to regulate the temperature, providing optimum air quality and thermal comfort. Additionally, the buildings use sealants, paints, and furniture with low volatile organic compounds (VOCs). By using materials with low VOCs, East Campus provides a healthier environment for its occupants. State-of-the-art ventilation and air filtration also further ensure air safety and quality.
Sustainability Analyst Courtney Stoner said, "Even though some of the sustainable features on East Campus aren't visible to everyday occupants and visitors, behind the scenes, they are integral to keeping the building energy-efficient and comfortable."  
The buildings' ultra-low-flow faucets, toilets, and urinals use 43 percent less water than standard buildings, saving about five million gallons of water annually. This helps to decrease the amount of wastewater that goes to energy-intensive wastewater treatment facilities. The native and adaptive plants in the landscape of East Campus also help to conserve water by reducing the need for irrigation. 
Considered a "sustainable site," East Campus also supports transportation methods and amenities that help to reduce the impacts of greenhouse gas emissions and air pollution. It is readily accessible to public transportation (shuttle and Metro bus, Metro rail, and bike share locations) and features a market, fitness center, and myriad green-friendly conveniences.
For more information about East Campus' LEED Gold status, contact The Office of Sustainability.
Leadership in Energy and Environmental Design (LEED) is a green building certification program used worldwide. Developed by the non-profit U.S. Green Building Council (USGBC), it includes a set of rating systems for the design, construction, operation, and maintenance of green buildings, homes, and neighborhoods.