Environment
AU Energy Savings To Be Maximized With New Underground Heating System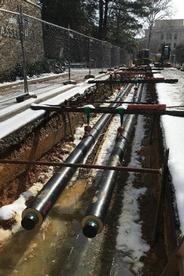 AU recognizes that students, staff, and faculty have high regard for a campus that propels itself into innovative technologies. In an ongoing pursuit to enhance its reputation in higher education for its energy efficiency and sustainability, AU's Facilities Management team has been hard at work overseeing the campus-wide conversion from a steam to low-temperature hot water (LTHW) heating system.
The low-temperature hot water system is designed to enhance campus energy efficiency and create long-term energy and carbon savings. A typical steam heating system consumes 40 percent more energy, as steam starts at 300° Fahrenheit with a pressure of 90 lbs/in2. In contrast, the new system operates at a temperature of 150° Fahrenheit, creating hot water but not steam. By lowering the temperature, AU can cut the heat lost during transportation of hot water to only 14 percent. The new pipes are pre-insulated and help to contain the heat within from getting lost to the surrounding ground.
Once installed fully, the new pipes – expected to last about forty years – will reduce campus carbon emissions by 50 percent.  This equates to about 5,000 metric tons of carbon dioxide saved each year. This also is equivalent to cutting the amount of greenhouse gas emissions that result from 12,224,939 miles driven by cars, according to the EPA Greenhouse Gas Equivalencies Calculator.
The new pipes also will create a safer environment for facilities staff, as the low-temperature hot water does not reach the high temperatures of a steam system and operates at a lower pressure.
The project's scale is one of the largest that AU Facilities has undertaken in decades. Along with the energy savings, the project also addresses the $8.5 - $10.5 million cost of upgrading the existing heating plant as well as the $3 million recommended to maintain the existing distribution system. The LTHW project, with a $28 million budget, will capitalize on the annual savings from reduced energy consumption and maintenance costs to produce a 10-year return on investment. 
The conversion currently is more than 50 percent complete and is expected to be fully functional by mid-October 2019.
AU's Facilities Management team looks forward to more cutting-edge energy savings projects like the steam to low-temperature hot water conversion and will continue to push to lead the way in sustainability to benefit the AU community and the environment.