Environment
AU Recognized By Climate Action Organization For Achieving Carbon Neutrality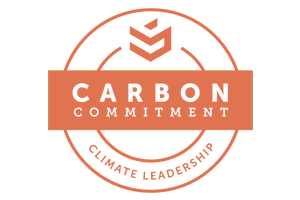 American University was recognized earlier this month by Second Nature for being the first urban campus, large institution, and research university to achieve carbon neutrality. 
Second Nature – an organization dedicated to accelerating climate action on campuses and across public sectors – gave the recognition to AU at the 2019 Higher Education Climate Leadership Summit. Hosted by Second Nature and the Intentional Endowment Network (IEN), the summit was a gathering of leaders in higher education, including presidents, trustees, CFOs, endowment/foundation officers, and sustainability directors. 
Director of Sustainability Megan Litke, who accepted the recognition on behalf of AU, said, "American University is proud to be a leader in working toward shared climate goals. Climate change is one of the most urgent issues of our time, and we are grateful to Second Nature for the recognition, but more importantly, for being a driving force for climate action in higher education."
The purpose of the gathering was to plan and equip for the large-scale solutions needed in the next decade to avoid the worst impacts of climate change. The focus of discussions was on finding ways to innovate, scale, and accelerate progress in climate action. Attendees examined how campuses can reduce their carbon footprint and increase their campus resilience to climate impacts.
Litke also gave a presentation on the university's offset purchasing strategy. She explained that American University pursues strategic carbon offset projects that match the theme of the emissions source with positive impact and investment. For example, to offset local emissions due to commuting, AU will plant 650 trees within DC city limits to benefit the local environment and community impacted by commuting. AU's four major carbon offset investments are in efficient trucking, tree planting, investment in cookstoves in Kenya, and landfill gas.