Environment
New Sustainability Initiatives Engage Hundreds of AU Students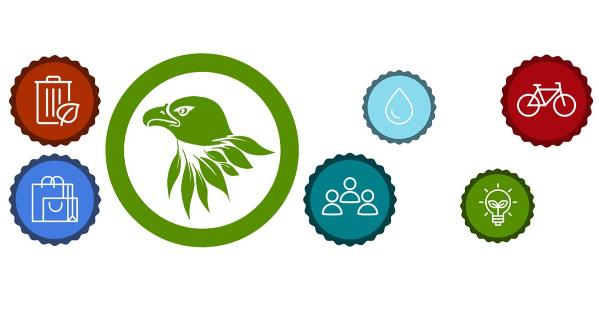 As part of American University's continued efforts to promote a culture of sustainability, this fall the Office of Sustainability launched the EcoRep and EcoPledge programs.   
About 40 students participated in the EcoRep Program and volunteered about two hours of their time weekly to promote sustainability and inspire personal behavior change among students, faculty, and staff.  Their efforts also included: 
promoting recycling and compost on campus and assisting with monitoring bins for contamination; 
distributing sustainability information through social media and other channels;  
assisting with sorting waste in the Terrace Dining Room and at large campus events such as Celebrate AU and Fall Festival; and 
staffing in-person outreach events to educate students about sustainability and promote the EcoPledge Program.  
Reflecting on her experience as an EcoRep Leader, Office of Sustainability intern, sophomore Cassie Rodrique said, "It has been so exciting helping run the EcoRep Program. It's amazing to see progress being made on campus by watching students engage with sustainability issues at our events." 
Coinciding with the EcoRep Program, the EcoPledge certification program was launched to encourage students to take action for sustainability on campus.  To become certified, students complete an online form and pledge to take at least ten sustainable actions on the AU campus and beyond during the year.  The actions help reduce waste and consume mindfully, conserve energy, save water, commute smarter, and build community.  At latest count, 250 students have become certified through the program.
"There is no 'right way' to take action on climate change. We need everyone to do something, whether that's reducing their personal use of disposable plastics or getting involved with a student organization to advocate for change on the local or federal level," said Tacy Lambiase, Sustainability Manager.  
"The EcoPledge Program provides students with ideas, prompts, and tools to help them make more sustainable choices on our campus and wherever else they live, work, and learn."   
Additionally, EcoRep volunteers also helped to launch the Campus Cup initiative at AU.  The initiative is part of a nationwide project to make menstruation and menstrual products more sustainable and accessible on college campuses.  The Office of Sustainability and the Health Promotion and Advocacy Center (HPAC) partnered with AllMatters, a sustainably-focused menstrual cup company, to offer free menstrual cups to interested students.  The campaign and the efforts of the EcoRep volunteers and HPAC's Peer Health Educators resulted in 452 students signing up to receive AllMatters menstrual cups.   
"Menstrual cups are reusable for two to ten years. So if all of the students who signed up make the switch to a cup, 238,656 disposable menstrual products could be avoided on campus over the next two years. This would help eliminate a significant amount of menstrual product waste from the landfill. It is really encouraging to see the impact that this campaign has on waste diversion at AU," said Rodrique.  
"Our primary goal with these new outreach programs is to engage as many AU students as possible in learning about and engaging with sustainability on our campus," Lambiase said. "We will only make progress on our campus sustainability goals if our entire campus community takes ownership of them. We want to empower students with the resources and opportunities to take action in ways that make sense for them, their lifestyles, and their interests."