Transportation Programs Newsletter
Capital Bikeshare Student Membership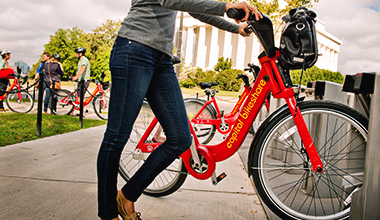 AU and Capital Bikeshare offer a student subscription with an annual cost of $25 dollars for any student with an active american.edu email. This subscription includes unlimited trips with CaBi's classic red bikes under 30 minutes. Capital Bikeshare has also released black pedal assist e-bikes currently deployed throughout DC, available for an extra $1 in addition to your student membership. Your subscription can be linked to the Lyft or Capital Bikeshare app. Click Here for instructions on how to sign up!
Lyft Ridesmart Program
The American University-Lyft RideSmart Program is replacing the previous carshare partnership to offer a sustainable, flexible, and cost-effective transportation alternative for faculty, staff, and students conducting official university business.
Departments will now be able to set up Lyft programs and utilize a central billing system for authorized users to book rides via the Lyft app. This allows students, faculty, and staff the flexibility to go off-campus when needed without worrying about needing a personal vehicle to get to their destination. Departments can set specific pickup and drop-off locations to ensure the program is only utilized for AU-affiliated business.
Visit the RideSmart page on AU's Transportation website or contact Parking & Commuter Services' TDM Coordinator to set up an account for your department.
Incentrip Pilot Program
Want to earn cash for your commute? Download and sign-up for incenTrip on the App Store or Google Play start earning rewards by commuting via multi-modal transportation options. Then turn your reward points into cash, up to $600 per year! You can also view your commute's environmental impact in the app. Just download and sign up for or into your Commuter Connection's Account, and make sure to select AU as your employer.
Shared-Moped Parking
Lime & Revel Shared-Mopeds should be parked in designated motorcycle parking zones, outlined by red lines, located in the Centennial Lower and Sports Center Level 3 Parking Garages. Drivers may receive a fine from the company if a scooter is left obstructing pedestrians or vehicles on campus. These mopeds may also be parked in any metered parking space neighboring campus.   
This a friendly reminder that all AU & WCL students, faculty and staff are required to park their vehicles in on-campus parking with a valid permit or payment. Parking on neighborhood streets is not permitted and a violation of AU's Good Neighbor Policy.
Rideshare (Uber & Lyft) Pick-Up/Drop-Off
Out of concern for AU community members' safety and traffic congestion on major roads near campus, AU asks that students, faculty, and staff request pick-up and drop-offs from rideshare companies within campus. Please use the following designated and light-blue curbed and signed locations:
East Campus Surface Lot
LL Letts Roadway
Hughes Hall Shuttle Cutout
Nebraska Hall
Calling rideshares to Nebraska, New Mexico, or Massachusetts Avenues creates congestions and drastically affects traffic flows around the university. Please be considerate of other commuters and AU's neighbors and call rideshares within campus. 
Shared Scooter & Bike Parking
Ensure that you are parking shared scooters and bikes (such as those offered from Helbiz, Jump, Lyft & Spin) at the designated geo-fenced bike racks on campus and locking them to the racks in order to be in accordance with DC's new scooter-locking law, which goes into effect October 1st, 2021. Whether you are parking them on or off campus, ensure they are out-of-the-way and not blocking pedestrian pathways on sidewalks in addition to being tethered to a bike rack or other permanent post.
3201 New Mexico & 4401 Connecticut Garages
Authorized AU staff members can now utilize the Self-Park Discount Code through the PayByPhone app to pay for hourly parking in the garages at 3201 New Mexico Avenue and 4401 Connecticut Avenue.
Staff members in both locations should be sure to check with their department administrator for authorization and access to their respective parking facilities. Once authorized, follow the instructions available on the Parking Website under "Virtual Self Park Code" to obtain the code for use with the PayByPhone app.
N2 & N4 Buses Back in Action!
The N2 and N4 buses have restored their regular pre-pandemic service during weekdays and evenings. The N6 will continue to run weeknights and weekends as it did before WMATA's pandemic service changes. Click here for additional service changes effective September 5, 2021. Find local WMATA transit schedules in your Lyft app.
Tenleytown Metro Escalator Project
Metro is replacing seven escalators at the Tenleytown-AU Station, including all four entrance escalators. Construction on the project began August 30, 2021 and is expected to take approximately 2 ½ years to complete.
To accommodate construction activities, and ensure the project is completed as efficiently as possible, the west side entrance will close on Saturday, October 2 and Saturday, October 9, 2021. Customers will be able to access the station using the east entrance and elevator. Metro does not expect construction to impact pedestrian passageways, traffic or local businesses during the entrance closures.
Parking Desk Updates
Please ensure you have your physical AUID with you and ready whenever you visit the Parking Office's front desk, located on the Terrace Level of Don Myers, immediately adjacent to the East Campus Surface Lot.
Summer Bike Collection
Over the summer, AUPD and Parking & Commuter Services collected suspected abandoned bikes around campus to ensure enough space for students arriving for the fall semester. If your bike has been picked up, it will be held until November 28, 2021 by AUPD. Bikes not claimed by close of business on the 28th will be donated.
Please call or visit the University Safety & Security Services front desk in the Terrace Level of Don Myers, next to the East Campus Surface Lot, to check if your bike was collected. Please have the serial number and description of the bike ready.
As a reminder, AU offers (and highly recommends) a free bike registration program in order to help identify and pair bikes with their owners and prevent theft. Please visit the Biking @ AU page on the Transportation Programs webpage for more information and instructions on how to register your bike.
Student Jobs: We Are Hiriing!
Parking & Commuter Services is looking for motivated and well-organized students who are interested in making the campus a greener and safer place. The PSA program offers an above-minimum starting wage, multiple leadership and promotional opportunities, and a great work environment for students. Help AU meet its sustainability goals by enforcing parking and meeting great people while doing it! PSA Positions start at 9 hours a week, with additional hours available through promotion.
If interested, email psaprogramsupervisor@american.edu for an application.
Good Neighbor Parking Policy
In accordance with Washington, DC regulations and the University's "Good Neighbor Policy," all guests, students, faculty, and staff driving to campus are required to park on campus with the appropriate parking pass or pay-as-you-go payment. Parking is prohibited on all neighborhood streets while visiting any university property. Abiding by this policy is a condition of enrollment and employment with American University.
Fall 2021 Transportation Survey — October 4, 2021
Check your AU email to see if you've been selected to participate.
U•Pass Fall Deactivation — December 29, 2021
U•Pass Spring Reactivation — January 7, 2022*
U•Pass Spring Deactivation — May 22, 2022*
*-Tentative