Alumni
Alumni Return for New Networking Event Across Business Sectors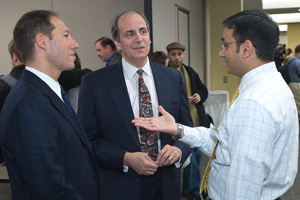 About 100 alumni will return to Kogod on April 6 for the school's brand-new, largest student-alumni networking reception of the year, "the kogod network."
Drawing on Kogod's strong alumni presence in the Washington area, the interdisciplinary event connects students and alumni across all business sectors, from accounting to real estate to information technology. Alumni will conduct mock interviews with students in the afternoon, followed by an evening networking reception.
"While attending Kogod, I was very impressed with the quality of students," said Rebecca Master, MBA '08, who now works for the audit, advisory and tax firm KPMG and will attend. "This event is the perfect opportunity to tell Kogod students about KPMG and show my employer the caliber of students that attend Kogod."
The last day to register for "the kogod network" event is Friday, April 1.
"Networking is one of the most important skills necessary for a successful job search, and this is especially true in a highly competitive job market," said Julie Neill, associate director of corporate relations for the Kogod Center for Career Development.
"Kogod is fortunate to have such engaged and loyal alumni. Students should definitely not miss this wonderful opportunity to connect with them and take full advantage."
Indeed, alumni from IBM, Deloitte Consulting, KPMG, Discovery Communications, FINRA, Chemonics, and many other organizations will be participating in the interview portion of the event.
Afterward, students and alumni can connect on a personal level over hors d'oeuvres and refreshments during the networking reception from 5:30-7:30 p.m. in Mary Graydon Center.
To register for the event, visit american.edu/kogod/network