Achievements
Student Snags Job in Finance Through NYC Trip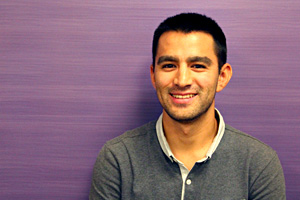 Jonathan Louey, BSBA '10, almost didn't go on the New York City Finance & Real Estate Trip last October. As a December graduate, he didn't want to miss three days of classes or fall behind on work. But eventually Louey decided to risk it.
Turns out, he ended up scoring a job as a junior analyst at Artio Global Investors Inc.
"It was all about being in the right place at the right time," Louey said. "You never know when an opportunity is going to arise."
Sam Dedio, MSA '91, is head of U.S. Equity Investments at Artio and had mentioned to Dean Richard Durand that he was in search of a new analyst. During a dinner on the trip, Louey learned of the opportunity.
"Since I was going to be a December graduate it seemed to be a good match," Louey said. "I forwarded my resume and a week later I was invited to an interview."
Louey began at Artio in January, analyzing 10ks, listening to earnings calls, attending industry conferences and IPO road shows, and staying abreast of industry trends.
"I have learned very much since I started work," Louey said. "I look forward to being able to contribute more in the future."
Louey recommended the NYC trip for any student interested in finance, saying it gave him the opportunity to understand how financial services firms operate, and to meet alumni who work in the field as well as other students interested in finance.
The NYC Finance & Real Estate Trip is co-sponsored by the Kogod Center for Career Development and the Alumni Relations office.