Education
Peer Learning Groups Help MBAs Tackle Economics, Finance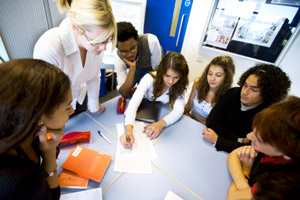 Students in Kogod's Fall 2010 peer learning groups reported they developed a greater understanding of concepts and increased problem solving abilities through the experience.
The groups' three peer leaders – Kelly Connolly, MA/MBA '11, Annie Hunziger, MA/MBA '12, and Matt Zeiger, MBA '11 – analyzed data and survey responses from the participants and presented their findings to the Kogod community on March 3.
The peer learning groups (PLGs) were launched as a pilot last semester, and were such a success that they were continued in Spring 2011 and paired with a financial management course.
PLGs were comprised of small groups of full-time MBA students who met each week with a peer leader to solve problems linked to the FIN-605 Managerial Economics course. The problems were separate from homework problems, but complimented coursework.
The voluntary groups are aimed at fostering problem solving, developing teamwork skills, and enhancing confidence. 95 percent of the Fall 2010 full-time MBA class chose to enroll in the groups, which met for two hours once each week.
Of the participants: 
44 percent reported their conceptual understanding greatly improved

39 percent reported that participation in the groups increased their problem solving abilities 
28 percent reported they developed new learning strategies 
26 percent reported their teamwork skills improved
According to one survey respondent, the groups nurtured skills that aided in other class projects. The leaders also saw anecdotal evidence that international students who began the semester more reserved were more likely to participate as the semester progressed.
Associate Professor Leigh Riddick, who taught the Managerial Economics course, said she saw a significant increase in the quality of class discussions and student questions last fall compared to previous semesters.
The peer leaders said Managerial Economics was well suited for PLGs since it was a combination of conceptual knowledge and math problems. They said the groups' low-pressure setting also reduced anxiety.
Taking into account feedback from students, group leaders, faculty, and the Graduate Programs Office, the groups are planned to continue in the 2011-2012 academic year.