Business
Kogod Graduate Heads to Indonesia on Fulbright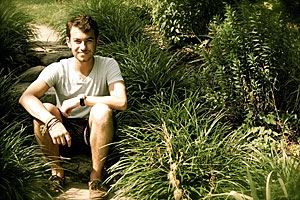 Like many young graduates, Taylor Saia, BSBA '13, will be moving over the summer. But unlike his classmates, he'll be moving halfway around the world.
Saia will begin a nine-month Fulbright scholarship to teach English and begin a community music project in Indonesia in August.
"The anticipation is a bit nerve-wracking, but that's part of the experience," he said. "I can't wait to go."
Business to Backpacking
Saia, who is currently a marketing intern at the National Geographic Society, has always enjoyed traveling; he spent his junior year abroad in France at the SKEMA Business School, located just outside Nice. It was this experience, he said, that inspired him to find a way to continue exploring other cultures.
"Fulbright gives you the opportunity to get off the beaten path, and that really excited me," Saia said. "Southeast Asia drew me in; it's just so culturally diverse."
Indonesia's more than 300 ethnic groups and more than 700 native languages are sure to keep Saia on his toes—but he's looking forward to the challenge.
"I've been watching a lot of YouTube videos and using Rosetta Stone to get the hang of some basic phrases," he said.
Saia's program will begin with a three-week course in basic Bahasa, the official language of Indonesia, and Indonesia culture before he moves to his yet-to-be-determined provided housing.
"[Scholars] are provided with a place to live, but that's the only guarantee," Saia said. "I could be assigned to a hut or a palace, it's just part of the adventure."
Forging His Own Trail
Saia, who is specializing in marketing at Kogod, will be the first to admit he is far from the typical business student. "I've definitely done my own thing," said Saia, who is also a member of the AU a cappella group On a Sensual Note. "But at the same time, Kogod has definitely helped me prepare for Indonesia."
He credits the faculty and overall diversity for encouraging his creativity during the past four years.
"The incredible exposure I got to internationalism while at Kogod only made me more interested in traveling," he said. "I definitely wouldn't have been accepted by Fulbright without the encouragement and recommendations I received from my professors."
Saia encourages other students to follow their own interests.
"It sounds cliché but the best advice I can give is to take risks," he said. "Find a way to make what you're passionate about fit in with school and a career, not the other way around."