Business
Kogod Alum Wins Prestigious Accounting Award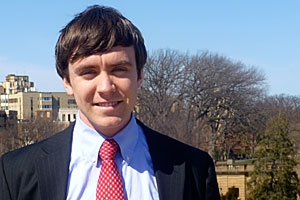 Of the 92,000 accountants-in-training who took the Certified Public Accounting (CPA) exam last year, William McGauran, BSA '12, was one of just 39 to win the prestigious Elijah Sells Award.
Named after one of the country's first CPAs, the award recognizes those high achievers who earn a cumulative average score above 95.5 across all fours sections of the exam.
Value of Hard Work
McGauran's success did not come without effort; he effectively made studying for the exam a full-time job during the summer after he graduated in May 2012.
"I took Becker Fast Pass [a CPA exam review course] at AU for six weeks after graduation, …going to class four hours a day, four days a week," he said. "After class I would go home and spend another three to four hours doing my homework."
With all the work McGauran put in, he expected to pass the exam—but he didn't anticipate winning an award for his performance.
"I was very confident that I was going to pass," he said, "but I never expected to do as well as I actually did."
Accountant-in-Training
McGauran originally came to AU from his native Chicago to study political science in the nation's capital. However, after taking Principals of Accounting with former executive-in-residence Sue Marcum his freshman year, he quickly realized that he had a stronger passion for accounting.
"She helped me fall in love with accounting," he said. "In the spring of my sophomore year, I took all business classes and formally switched to Kogod. Junior year, I declared my accounting major."
For McGauran, the core financial accounting classes were the most helpful in preparation for the exam. They were the most beneficial for understanding the logic behind the rules of accounting; everything beyond that is just decision making, he said.
Life After the Test
McGauran now works for Deloitte's Financial Advisory Services division in the forensic practice, which helps clients solve problems related to fraud and financial crimes.
"I owe my job to an information session [sponsored] by the accounting club [at Kogod]," he said. "The club hosted the Financial Advisory Services' forensic practices and encouraged anyone who was interested to apply. I did, and at the end of my internship I was offered a full-time position following graduation."
McGauran is already looking ahead to his next big exam—he's hoping to become a Certified Fraud Examiner by the end of the year.